Streaming Media: Opportunities and Challenges

Abstract

On April 1, 1999, Yahoo announced to acquire Internet audio and video broadcasting upstart Broadcast.com for $5.7 billion. News of the acquisition created big bang in the Wall Street, sending Broadcast.com shares soaring. This event also caused investors to quickly push upwards the valuations of related companies, from the branded, leading software solution and service provider RealNetworks, Inc., to small-cap, niche players such as Audiohighway.com and TCI Music, Inc. By delivering live or on-demand audio and video content over the Internet, streaming media technology has received strong acceptance from both Internet users and industry players ranging from ISPs to software vendors to content aggregators to network infrastructure providers. Traditional broadcasters are also monitoring its development since such technology may threaten traditional means of video distribution, especially given that broadband access is growing more ubiquitous and more affordable to both business and consumer users.

After the aggressive buying of Net stocks in late March and early April, shares of broadcast.com, RealNetworks, and other streaming media players, together with the whole Internet sector, had provided investors with a reality check by the time this paper was written (up again since October 1999!). However, the wealth creation opportunities of the dot-com gold rush and the potential of streaming media to the World Wide Web still remain very attractive, if not more so. Streaming media will not be a novelty but rather, an integral part of Internet services. It is the technological pathway to true media convergence. This paper reviews the history of streaming media, examines its market segmentation and value proposition, and analyzes streaming media's roles and opportunities in the Internet, its promises for new media, and the challenges facing it going forward.
Introduction

The last year of 20th century marked the beginning of broadband and streaming media frenzy. Splashes were made as Yahoo acquired streaming media content aggregator Broadcast.com for $5.7 billion in April, followed by a series of exciting events in the arena of audio/video distribution over the Internet.

Streaming media allows multimedia content to be played on computers as it is being received, rather waiting until the entire file is downloaded. Media that can be streamed include synchronized graphics, text, sound, video, 3D images, music and virtual reality environment. Although streaming media is still in its infancy and generated only about $100 million in revenue in 1998 (excluding adult content), it is a popular element found on many leading consumer-oriented web sites. Streaming media as a cost-effective way to distribute media-rich contents or broadcast live events is also gaining awareness among corporations, government agencies, and educational institutions. Media companies, old and new alike, are searching strategic alliances and creating game plans to rush into this fresh field of Internet and new media.



History of Streaming Media

Following the development of MPEG-1 and MPEG-2 and the invention of multicasting by Steve Deering in early 90s, streaming media entered the Internet in 1995 with its first delivery system by Xing Technology. Major historical events that highlight RealNetworks are outlined as follows:

1995
- Xing Technology Corporation (acquired by RealNetworks on August 10, 1999) developed StreamWorks, the first live and on-demand audio/video delivery system over the Internet, also known as "streaming" digital video.
1996
- Progressive Networks (renamed to RealNetworks in late 1997) announced the RealMedia architecture
* First cross-platform streaming media platform on the Internet
- 40 companies, including Progressive Networks and Netscape, to support Real Time Streaming Protocol (RTSP)
1997
- Progressive Networks (RealNetworks) announced RealVideo
* First feature-complete, cross-platform video broadcast solution for the Web
* More than 10 Million RealAudio users upgraded to RealVideo
1998
- RealNetworks announced RealSystem G2
- SureStream multiple bit rate encoding available
- More than 20 internet industry companies announced support for "Ask, Tell, & Help: Fair Practices and Convention for Handling File Formats on the Internet"
- Xing Technology Corporation released the first true high quality push multicast video servers
- Virage, Inc. released the first streaming video search engine


1999
- RealNetworks launched RealJukebox and announced the Gold release of RealJukebox and RealJukebox Plus
- Turning Internet PC's into the best way to experience music
- First complete digital music system provides users with everything needed to acquire, play, and manage their personal music collections
- RealNetworks introduced RealServer 7.0 and RealProducer 7.0, the latest advancement to RealSystem G2
- RealServer 7.0 delivers up to 250% improvement in server capacity

- RealProducer 7.0 delivers the quality of MPEG-1 video at half the data rate and delivers true VHS video experience at 800 Kbps
Applications and Market Segmentation

Streaming media applications span from sporting events, concert tours, movie clips, interactive chats, multimedia presentation, advertising, video conferencing, training sessions, corporate information dissemination, education, newscast, and live event broadcasting, etc. Applications can be live or on demand. Major market segments include corporate communication, commercial broadcasting, digital entertainment, and distance learning.

Corporate Communications

In the corporate market segment, streaming media is used for immediate and simultaneous distribution of important information such as human resource programs, CEO updates, company brochure distribution, new sales initiatives, video catalog, product demo, multimedia presentation, online help, press release, etc. In planning a major press event or an important internal speech, a corporation can invite reporters, investors and employees around the world to attend from their desktops.

Commercial Broadcasting

With significantly lower costs and world-wide coverage, live events broadcasting over the Internet has gained popularity. Trade shows, conferences, fashion premiers, and even live-baby delivery have been "aired" over Internet.

Digital Entertainment

Most excitement created by streaming media is new ways of distributing and enjoying music, movie, and other entertainment packages. With streaming media, the Internet is creating new digital entertainment frontiers. Music, movie clips, interactive games, sports events, etc., are entering the computer screens at a speed the current bandwidth can barely catch up with.

Distance Learning

A natural application and market segment of streaming media is web-based distance learning. Currently there are hundreds of web sites offering distance learning curriculums, from music lessons to computer programming to business administration credentials to professional license courses. The popularity of web-based distance learning is expected to keep rising with the spread of broadband access, which will make dazzling online graphics, including high-quality video. This will create great market potential for streaming media. Steward Skorman, president of HungyMinds.com, predicted that "five years from now, with broadband access, online education could rival the entertainment business. "
Value Propositions and Roles in Internet

Choice, effectiveness, cost savings, speed, flexibility, and reach represent the major advantages of streaming media. Streaming media over the Internet condenses geography, solves time zone conflicts, and provides an affordable supplement to videoconferences. It provides easy collection of viewing behavior statistics, allowing broadcasters and content providers to easily asses and maximize the attractiveness of broadcasts and content.

Internet broadcasting is about 60% of the cost of traditional broadcasting. Prices drop even further when ISPs deploy multicasting. Traditional broadcasting cost for a corporate CEO speech to 28 offices is $92,000, compared to $15,000 via Internet broadcast.

A scalable technology, streaming media can be scaled to run on a range of implementations: single user, department-sized multiple-server environment, or large system designed to serve many thousands of users.

Content and applications requiring security or privacy are not stored on users' computers. It eliminates the requirement for large storage devices to view media content and minimizes the wait for playback.

The next major improvement of the Web experience will be audio and video experiences. Streaming media promotes Web site usage. Research shows that users stay longer at sites that have streaming media, revisit these sites more often than the sites without streaming media.

Streaming media enhances web-based advertising and "push content". The commercial value of advertising is expected to increase for broadcast applications in conjunction with streaming media.

Jae Kim, an associate analyst at Paul Kagan Associates Inc., says the expanded multimedia market represented by streaming media will total more than $10 billion in the next few years. Kim says streaming media's economic impact goes beyond the traditional "units-times-price equals market revenue" calculation. "The real value of this lies in the realization of cost savings and the leveraging of a company's or individual's knowledge base across a multitude of new users.

The impact of streaming media on Internet will be huge. Currently Microsoft Audio and video sites on the Internet are already growing faster than traditional Web sites. Internet radio and television sites are proliferating faster than the Internet itself. A potentially big breakthrough in streaming media application is game business, which will be fueled by the streaming technology. Below are examples that show the roles and opportunities of streaming media in the Internet:

Internet Radio

The fastest growing segment of Webcasting is radio and radio stations streaming on the Internet. Traditional radio stations and new Internet radio companies are jumping on the Internet radio bandwagon in large numbers. There are over 1,600 live and on-demand radio stations on the Net. According to radio industry researchers, 4,168 radio stations in the U.S. maintained an online presence in 1998. This number is expected to double by the end of 1999. BRS Media, a full service Internet e-commerce firm that assists radio in building and branding on the power of the Net, estimated that the total number of radio Webcasters exceeded 2,700 during the month of September 1999. In a span of over 36 months the number of radio Webcasters leapt from 56 to over 2,700. One out of four radio stations with a site on the net are Webcasting live online. Forrester Research predicts that e-commerce revenues from Internet radio should grow from $64 million in 1998 to $750 million in 2002.

Internet users are responding. About 20% of all Internet users, or 6% of the entire U.S. population, have listened to radio stations on the Internet, according to Arbitron research. Nearly 70 percent who have visited the site once have returned to it again. About half said they listened one or more times per week. The average time spent online with an interactive radio station is eight hours per week."

Music Download
The Internet has created a long list of new-generation online music companies, and the digital distribution of music is just beginning to take off. Forrester Research estimates that the digital music download business will exceed $1 billion by 2003, while London-based Market Tracking International (MTI) projects that the Internet music market will reach $4 billion by 2004. According to Media Metrix, the number of people who listened to digital music on the Internet in August 1999 jumped to over 4 million, up from a few hundred thousand a year ago.

All the major portals - Yahoo, AOL, Microsoft - offer music download. Emerging companies in the digital music distribution list are: Musicmaker.com, EMusic.com, ARTISTdirect Network, MCY, The Orchard, CDuctive, MJuice.com, BuyMP3.com, Liquid Audio, Global Music Network, MP3.com, Tunes.com, RollingStone.com, etc. Musicmaker.com, headquartered in Reston, Virginia, is the largest custom compilation CD and secure digital download music site on the Internet. It offers music fans the opportunity to build their own CD's by selecting and organizing songs from a library approaching 200,000 tracks from over 100 labels, including EMI Recorded Music, Virgin Records, Capital Records, Zomba, Jive, Platinum, Fantasy, Rounder, Alligator, Roadrunner, and TVT. Musicmaker's library spans a wide range of music genres, including rock, alternative, pop, hip-hop, jazz, punk, classical, blues and country. Powerful search engines help find selections by genre, artist, title and label, and RealAudio allows tracks to be sampled before selection. CD's include up to 20 tracks or 70 minutes of music and can be personalized with unique labels as well as imprints on juke boxes. CD's range from $9.95-$24.95, depending on the number of tracks, and orders are taken through secure credit card links and are shipped within two business days. Musicmaker.com offers nearly 100,000 licensed songs in three secure digital downloading formats: Liquid Audio, Microsoft MS Audio 4.0 and a musicmaker.com proprietary secure MP3 format. Each digitally downloaded track is available at $1.00 per song. Musicmaker.com also has exclusive marketing agreements with Columbia House, the world's largest music club."

Movie Preview
There are over twenty Web sites that offer movie previews or full-length videos using streaming media. To name a few, Broadcast.com, MovieFlow.com, Sputnik7.com, Video Pipeline, WireBreak Entertainment, are companies offering or plan to offer streaming movies. Field in race to build cinemas in cyberspace has grown more crowded as additional companies announced plans to stream movies and other video on Internet. Santa Monica-based Trimark, independent studio with large movie library, signed a deal with Broadcast.com early 1999 for screening films on Internet. In August, Trimark announced CinemaNow, new subsidiary to form its own streaming video Web site. Trimark envisions CinemaNow to be "premiere online destination" for "independent, art house and niche-oriented feature-length motion pictures." Site also will sell DVD and VHS versions of films. CinemaNow will use Microsoft and RealNetworks technology to stream films.

Sports Events
To bring the real intensity of sports experiences to worldwide audiences, digital sports companies are creating comprehensive networks of sports programming available at a Mouse' click. Quokka Sports, a digital sports entertainment company and developer of Quokka Sports Immersion™, is poised to bring Web surfers a high-intensity digital experience that takes sports entertainment to a new level. After establishing a reputation with breakthrough coverage of the Whitbread Race, the company is now creating a comprehensive network of sports programming. Quokka has secured digital broadcasting rights for a wide variety of global sporting events -- events characterized by excitement, adventure and wide appeal to sports fans, with exceptionally attractive demographics for advertisers and sponsors.

Internet Communications
Email is the first communications tool offered by the Internet, followed by IP voice and instant messaging. The Internet is becoming even a more powerful communications platform with the capability of audio and video streaming. Event411.com creates comprehensive, easy-to-use event- planning Web sites that provide indispensable, interactive tools for hosts and guests involved in any important individual or organizational event. Event411.com provides access to listings of almost 1 million local businesses, and an online store offering thousands of gift items and event-related merchandise.

Travel
Streaming media brings virtual reality of travel attractions to cyber visitors. One company entering this field is PSAZZ.com. With "CyberTravel For The 21st Century", PSAZZ.com will be the first completely integrated web site for buyers and sellers of travel products. Cyber visitors will be hosted by the concierge of the company's virtual "Internet Travel Club," a unique service, where they will be able to access electronic magazines with on-demand videos, guided by travel experts, of virtually any destination. Content will also feature interviews with celebrities. Viewers will be alerted to and be able to purchase travel packages to unique, upcoming world events.

Distance Learning
With a 50% annual increase in demand for learning programs delivered online, streaming media is an ideal tool to implement distance learning. . Federal Emergency Management Association (FEMA) have used streaming media to deliver disaster training over the Internet at a significantly lower cost than sending experts to the field. GirlGeeks?, a career, training and empowerment community on Web, provides unique blend of interactive multi-media content with female IT leaders, on-line affinity groups, personalized training, and career-building resources to aspire and train young women in computing, the Internet and Information Technology.

Asymetrix Learning Systems, Inc., an online learning solutions provider, and click2learn.publisher, a new "browser-based" free authoring and publishing system that allows anyone to create and publish online courseware, and receive royalties on courses sold through the click2learn.com network, are working together to develop over 200 courses. Authors, instructors and subject matter experts can create courses using only a web browser and see their creation in a WYSIWYG environment before posting it to click2learn.com. Finished courseware is automatically published on click2learn.com, making courses instantly available to individual users of the site.

Real Estate
VideoHomeTours.com introduced its signature product VideoHomeTours which films and produces full motion walk-through tours of properties and places them on the Internet. VideoHomeTours.com offers customers a variety of tour packages - starting at less than $100 - that help minimize the time and effort it takes to buy and sell property and maximize return. Owners can choose to customize their home tours with voice-over narration from a professional tour guide, background music and digital editing. Packages include a listing on the
VideoHomeTours.com web site as well as links from other real estate related sites.


Value Chain and Major Players

The key areas of streaming media in its value chain are technology/software, network, and content.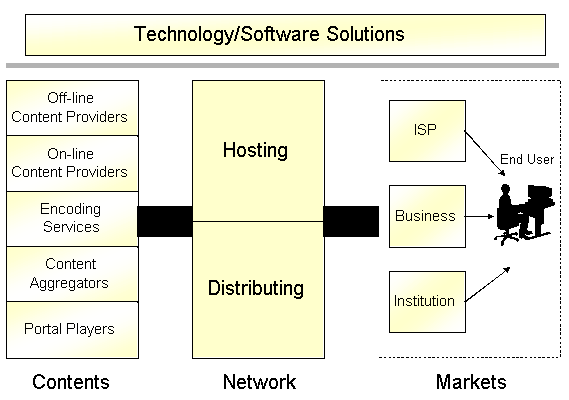 Figure 1. Value Chain of Streaming Media


Software
Streaming media software is the user interface tool that allows audio/video streams to be played while being downloaded. It can also be software and technology solutions for decoding, production, and network infrastructure. Major players that provide streaming media software and solutions are RealNetworks, Microsoft, Apple, Liquid Audio, Inktomi, a2b, Macromedia, and Starburst Communications. User interface software, or media player, is now mostly free to consumers, as software providers aim to accelerate market penetration and grab market share. Three leading brands are RealNetwork's RealSystem, Microsoft's Windows Media Player, and Apple's Quick Time TV. Microfost claims that it has over 40 million users of Windows Media Player, which is increasing at a rate of "more than one new user every second." By contrast, RealNetworks says it has 72 million "unique users" of the RealPlayer. In October, 1999, Nielsen//NetRatings said that RealPlayer outpaced Media Player by 10 to 1 and bested Apple's Quicktime by about 4 to 1. RealNetworks has topped 7 million downloads of the latest test version of RealPlayer. Over 10 million consumers have downloaded the QuickTime 4 player, driven by the high quality viewing experience of the "Star Wars: Episode 1, The Phantom Menace" trailer. Apple has the exclusive license for the Sorenson video compression technology used in QuickTime 4 that provides a high-quality viewing experience with minimal artifacts.

Network
Streaming media network consists of hosting and distribution of media content. As streaming media consumes lot of bandwidth, multicasting plays an important role in the network deployment. In the traditional streaming method called unicasting, a new stream is opened for each client, using up a huge amount of bandwidth. In multicasting, a single stream is delivered to a multicasting node, most likely on an ISP; the stream is then multiplied via a router to all the clients who are turning in. Traditional client-server networks are being replaced by more flexible networks using decentralized caching and mirroring to better support streaming media applications.

Major network providers that specifically target streaming media applications are RealNetworks, Broadcast.com, INTERVU, and VStream. Other companies that offer hosting and distribution of streaming media content include Akamai Technologies, Concentric Networks, Globix, InfoLibria, Digital Island, Activate.net, Skycache, iBeam, ACT Technologies, Astound Inc., Wavo Corp, Astounding.com, etc.

Content
To viewers, what counts is content. Software and network are tools to allow contents to reach viewers and allow for a best viewing experience. Content generation in streaming media involves with editing, encoding and compression of analog content into digital format. Other than few original streaming media content creators, most players in the content arena are the content aggregators. The list of content creator and aggregator is broadcast.com, Global Music Network, MP3.com, NetRadio, Image Radio, About.com, Audible Inc., Spike Networks, Rivals.com, Live On Line Inc., Spinner.com, Entertainment Boulevard, Quokka.com, WireBreak Entertainment, GlobalStream.com, Musicmaker.com, Emusic.com, iNEXTV, Audio Book Club, Isee3D, Streamland.com, Liquid Audio, Virgin Entertainment Group, On24 Inc., ForeignTV.com, etc.




Technologies and Protocols
Encoding, media player, servers, networking and delivery mechanisms are key areas that technologies play important roles in streaming media. Live on-site encoding is becoming the industry-standard, where racks of audio and video, computer encoding, and routing equipment placed in heavy armored, wheeled cases for live on-site encoding. Streaming media co-location is used to increase efficiency and facilitates the use of interactive streaming media. Multicasting and scalability features such as splitting are deployed in streaming media network, and satellites are used due to many benefits satellites offer including coverage and broadcast advantages.

There are three major network protocols:

TCP (Transmission Control Protocol)
- Transport-oriented protocol
- Reliability is first priority
- Treats audio/video as any other data type
> Does not require additional or specialized software
- Works well for small Web sites
- Not the optimum solution for streaming media


UDP (User Datagram Protocol)
- Works well for professional media companies that require high performance and specialized functions
- Adequate reliability - Looks for major problems only
- Requires specialized software
- Enables buffering, load balancing, live streaming, multicasting, random access play (interactive)
- Problems bridging firewalls


Real-Time Transport Protocol (RTP)
- Doesn't guarantee real-time data delivery
- Provides mechanism to send and receive applications to support streaming data
- Typically runs on top UDP
- General enough to support other protocols


Business Models
The business models of streaming media players mainly fall into four categories:

Technology and software players: companies are offering consumers free software download to establish market share; at the same time, businesses and Net players that plan to integrate streaming media into their platforms are required to pay to license the technologies and software.
Network providers: network providers charge a monthly fee and/or broadcast fee to host and/or distribute streaming media contents. Their major customers are businesses and portals. Depending on the archiving and streaming capacity required, a two-hour live event broadcast costs from several hundred dollars to several thousand dollars.
Portals: portals build streaming media sites to attract traffic. Usually contents are available to viewers free of charge, and the revenue source is mainly from advertising. Streaming video portals that are running subscriber-fee or pay-per-view models are mostly (or only) adult contents.
e-Commerce: typical example of streaming media e-Commerce model is digital music distribution. RealAudio and other media players allow listeners to sample tracks. Selections can be personalized with unique labels as well as imprints on juke boxes. Customers pay for their selected tracks or CDs, either downloaded or shipped.

Strategic alliances are being formed to combine leadership positions in technology, portals, and contents. Leading Internet brands such as AOL have signed marketing agreements with music or other streaming media portals such as Musicmaker.com to cross-promote music sales through reciprocal links, advertising and other marketing initiatives. Co-branded sites are being developed. The following profiles of several major players in different categories give a glimpse of what streaming media companies are doing.

Challenges and Issues
The biggest challenge of streaming media at the current stage is lack of sufficient bandwidth, especially the last mile connection. There are only about 2 million Internet users who have broadband Internet access, while Internet users who downloaded RealPlayer or Microsoft Windows Media have exceeded 20 million. Streaming media, especially full-screen video, is a bandwidth intensive application. It not only requires high speed Internet access, but also demands a highly reliable network. Some protocols, such as TCP, are not efficient for media intensive applications like streaming media, as continual data receipt conformations make it "chatty" and data recover takes a long time. Loss of packets and latency issues put heavy strain on streaming media applications. There are also specialized server requirements to work with limited bandwidth. Most of the media content currently hosted on intranets and Internet sites is in a downloadable format. Users must provide the massive memory necessary to store the content before and after playback and wait for the files to be copied from the server to their PC.

Due to the pressure streaming media puts on the network, many ISPs impose a fifteen-minute time limit on streaming media. This greatly slows down the penetration of streaming media and the pace of media convergence.

Divergence in the types of formats used and lack of industry standards creates market confusion. Although many portals have started to include encoded contents that match different formats, that requires viewers to either install all the media players or have the platform that covers all the standards.

It is also yet to see whether and how long before video over the Internet will eventually catch up with the quality and popularity of TV viewing. Streaming video technology views motion at 15-22 frames per second while in broadcast television the standard is 30 frames per second. Although technological improvement may not be difficult, there are issues related with consumer habits, interface problems, and ease of use.

Last but not the least challenge for streaming media going forward is the lack of content availability and the differences between contents for traditional media vs. new media contents. Currently streaming media production costs are quite high, and top-notch production caliber of webcasts is rare to find. Most streaming video content is produced in QuickTime and then converted to other formats. As bandwidth becomes more ubiquitous and bit becomes cheaper, content will remain the king.

Content availability is one of the streaming media industry's major keys to success. Control of content and distribution gives enormous value to vertically integrated companies. To be competitive, Web companies will have to generate more original content by evolving into media/web companies, or market share will be invaded by media companies with strong web distribution channels. A natural move will be merger of media companies and companies with VOD technologies and capacities.


Streaming media is revolutionizing the way organizations create, archive, deliver and display information. It is changing how media is distributed and the way people do entertainment. Demand for streaming media will grow as broadband access gains momentum. As broadband penetration increases and more and more Web-specific contents become available, interactive media and video-on-demand will become major streaming media enablers. Full user interactivity will create large market opportunities in distant learning, gaming, and video conference. With streaming media, TV, radio, and the Internet are on the way to converge into a single broadcast medium. Internet will deliver TV-like scheduled programming as well as video on demand. Streaming media will also increase Web advertising and e-Commerce revenues. As traditional media and entertainment companies look into ways to incorporate streaming media into their strategies, a new media is starting to take shape, with the Internet as a powerful delivery platform.




K. Lagana, RealSystem G2: management and Control of Streaming Media Over Corporate networks

The Forrester Report, Webcasting's New Model

The Forrester Report, Interactive TV Cash Flows

Jupiter Communications, Web Media: Confronting the Limits of Online Video

www.streamingmedia.net

www.itknowledge.com

---