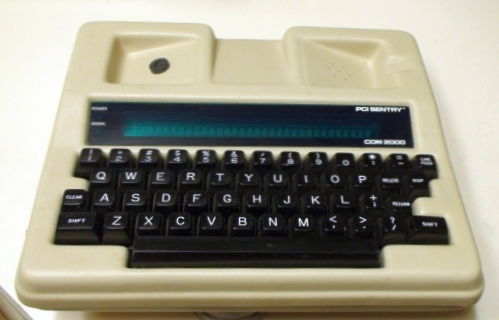 Photo C- 2012 SMECC
Need more information on this unit! Manuals, accounts of use, Date etc.
PCI SENTRY Com 2000 telephone device for the deaf (TDD or TTY) features: four row keyboard, 32 character bright green display with two modes of display, left to right or right to left, printer ready interface for hard copy printout. The Com 2000 includes NiCad rechargeable batteries for portable operation and a UL listed power adapter and dust cover. Size: 11 inches wide, 10 inches deep, 3 inches high. Cover made of high impact, crack resistant, ABS grade material. Weight - 3 pounds. Date transmission code; Baudot - 60 wpm (45.5 Baud), acoustical coupler. Complies with F.C.C. regulations. One year warranty. Optional carrying case available.
Price: 199.00.
Manufacturer: Precision Controls Incorporated
THIS IS OBSOLETE CONTACT DATA LISTED FOR REFERENCE ONLY!
Precision Controls Incorporated
PO Box 45
Haskell, New Jersey 07465
United States
Telephone: 201-835-5000.
Web: No known web address.

Some text from ABLE DATA