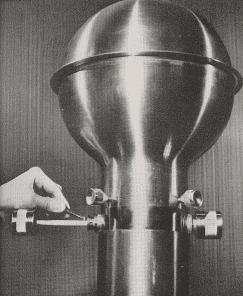 SPECIMENS TO BE OBSERVED IN THE TABLE MODEL ELECTRON

MICROSCOPE (SEE FRONT COVER) ARE INSERTED INTO THE INSTRUMENT THROUGH THE SMALL ROD SHOWN ABOVE.
---
A new, advanced model of the electron microscope, much lower in cost, less complex and only 30 inches high, has been developed by RCA and will be placed on the market later this year.
Features of the new microscope -its reduction in bulk, complexity and cost-are expected to appeal particularly to many colleges, hospitals and industrial laboratories.
In announcing the instrument, Dr. John H. Reisner, its designer; Dr. James Hillier, research physicist of RCA Laboratories and co-developer of the original RCA electron microscope, and Dr. Richard G. Picard, manager of the RCA Scientific Instruments Engineering, described its structure and principles, and demonstrated its operation.
Of special significance, Dr. Hillier said, is the fact that the lower end of the magnification range of the new instrument overlaps that of the conventional light or optical microscope, permitting the student to progress by stages from the known to the unknown. He may thus relate the particles and structural details he observes to those made familiar to him by the optical microscope, before advancing to higher magnifications which disclose a vast amount of new detail that he might otherwise be unable to identify.
Equally important, it was pointed out, is the simplicity of operation achieved in the new design, which makes the instrument safe for operation in the hands of a high school student or unskilled laboratory personnel. With no more than an hour of instruction, it was asserted, an operator generally familiar with the optical microscope should be able to insert specimens and produce well-focused pictures.
Dr. Reisner said that a unique advantage in time-saving and convenience is afforded by an engineering advance which for the first time permits insertion of specimens into the evacuated column, and their removal, without breaking the vacuum. In addition, he said, photographic plates may be changed without admitting more than a small amount of air to the column. As a result, pumping time between plates is reduced to only 90 seconds, which is just about enough time for the photographic development normally carried out between exposures.
Marked Simplicity Achieved
Marked simplicity, Dr. Picard said, is achieved without sacrifice of high-quality performance by means of a combination of design factors, including an entirely new electron optical system employing permanent magnet lenses instead of the conventional electromagnetic or electrostatic lenses. Through the use of permanent magnets, he explained, usual stability is permanently achieved and many controls and components are eliminated.
Incorporating "new approaches to the problem of energizing magnetic lenses, new means of introducing specimens and photographic plates into the vacuum enclosure, and a new means of alignment of optical components," he said, the instrument was developed specifically to meet "the microscope problems now clearly defined by experience, by simplifying constructional design to essentials, and by utilizing new materials in an integrated design".
By retaining the high voltage of the much larger Universal Model, Dr. Reisner explained that greater penetration of the specimen is achieved, thereby producing a more detailed image. Thick specimens such as replicas and tissue sections may be studied by means of the new microscope, he added.
Methods of mounting and introducing the specimen are simple and easily mastered. To change specimens the operator needs only to pull out of the column a sliding rod containing the specimen holder, make the change, and push the rod back in place. A new type of specimen holder facilitates pre-preparation of specimens, so that production-line procedures may be followed in running one specimen after another without any delay.
[© RCA - RADIO AGE Page 19, July 1950]
---