TELETYPEWRITERS MADE EASY!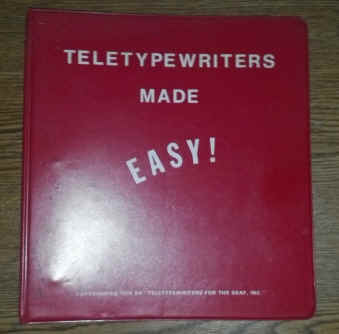 (C-SMECC: From the Paul and Sally Taylor Collection at SMECC.)
Teletypewriters Made Easy:

Bibliographic information
TELETYPEWRITERS MADE EASY! - How it came to be -
by Sally Taylor <from www.smecc.org>

The year was 1974. A realization came that with so many obsolete TTYs being distributed all over the United States, there was a need for knowledge on how to rewire the machines so deaf people could use them with the recently-developed TTY modem invented by Robert H. Weitbrecht. The St. Louis group had been fortunate to have John Woodard from Western Union, St. Louis, to train some of the guys to redo the machines. During discussions, they agreed that a manual would be a very helpful with lots of photos and less technical words to make it easier for those who wanted to learn. Paul Taylor shared this idea with Dr. Latham Breunig who was coordinating deliveries of TTYs throughout the nation (along with Jess Smith) and getting the machines registered by each new owner. At that time, Latham Breunig & Jess Smith were heading this organization called "Teletypwriters for the Deaf, Inc".

Breunig worked as a statistician for Eli Lily, and he was able to obtain a grant from the Eli Lily Foundation in Indianapolis to assist with the publication of the manual. The grant was for $10,000. Soon a manual-writing committee was formed.

Paul headed this committee, assisted by Robert Weitbrecht, who flew to St. Louis from California. Others who were enlisted were Tom Rule of Boston, an illustration specialist; three TTY maintenance men, Fred Stewart, Gene McDowell and Tom Schwarz of St. Louis; and Dan Skinner (the only hearing guy in this group) of the Southwestern Bell Telephone Company in St. Louis. Two deaf women, Sally Taylor and Peggy McLaughlin, were assigned to do the typing (pre-computer days), using an electric IBM typewriter. Another local deaf man who pitched in at the last minute was Tommy Markham who developed and printed pictures each evening after they were taken, and delivered to the guys each morning for work on the book.

One thousand copies of the manual, titled "Teletypewriters Made Easy" were printed. This "Red Book" as it was called, made its debut at the first TDI Convention in Chicago, in June 1974, and sold for $12.95. They quickly became very sought-after. Sally Taylor handled the shipping of the manuals from St. Louis, working closely with Dr. Breunig.

All of this was done on a volunteer basis.

Truly a labor of love!


(From the Paul and Sally Taylor Collection at SMECC.)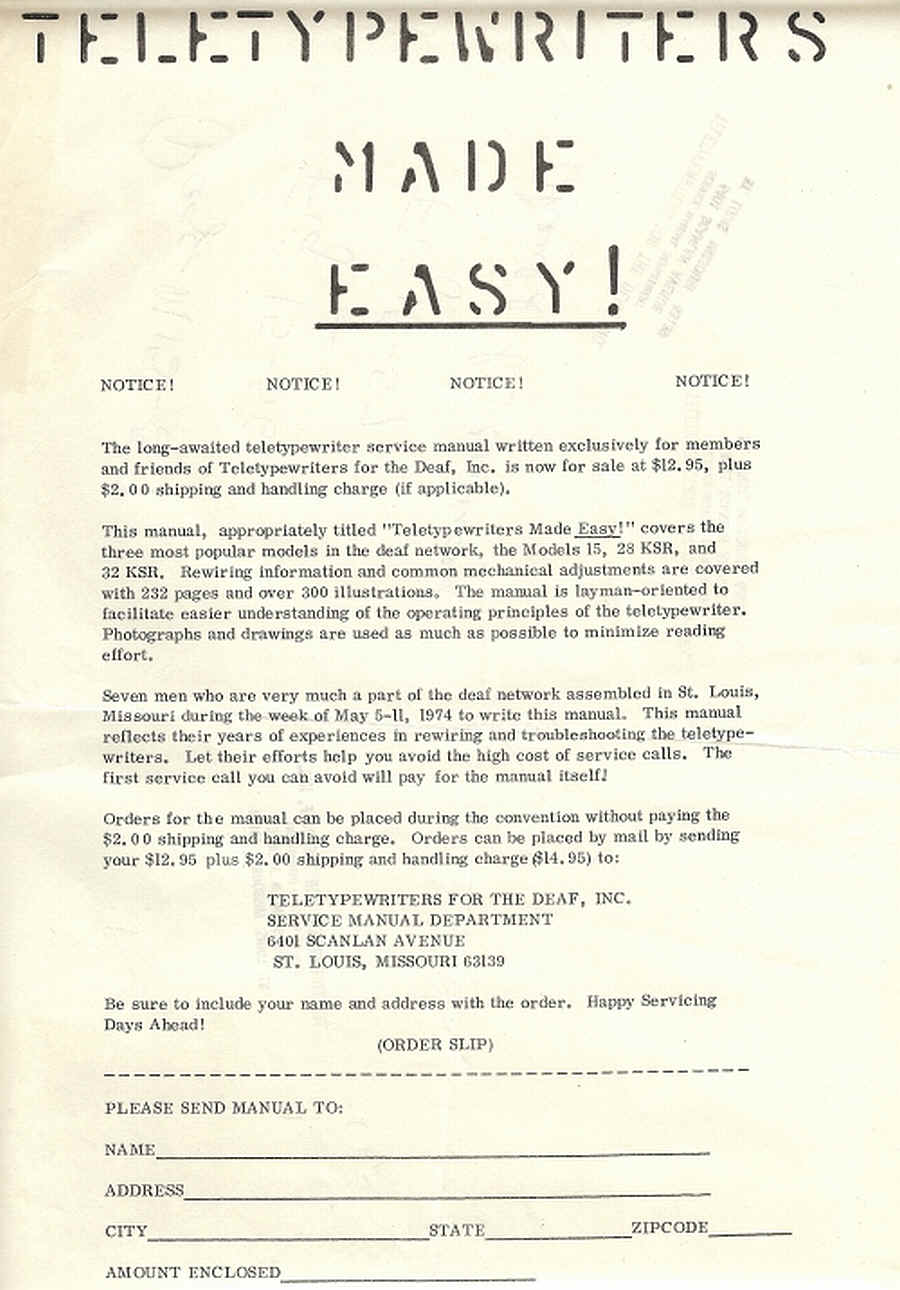 (C-SMECC: From the Paul and Sally Taylor Collection at SMECC.)
VOLUNTEERS COMPLETE NEW PROJECT TO HELP DEAF

By SHEILA RULE
Of the Post-Dispatch Staff

A small group or persons worked more than 100 hours each during the week in a cramped room at a motel here to make life easier for their special interest group.

Amid a clutter of photographs and printed materials, they put together a service manual for machines that enable deaf persons to use the telephone.  

Paul L. Taylor, a St. Louis en­gineer, organized the week-long workshop, formed to devise a 300-page book on the care of Te­letypewriters. The session was financed by the Lilly Endow­ment, a philanthropic organization.  

Taylor, who is deaf, was one of the first persons in the country to use the Teletypewriter system, which allows deaf persons to communicate by means of telephones connected to Tele­type machines.  

Now, 10 years after its inception, the communications network serves about 5000 families in all 50 states and in Canada, Great Britain, the Philippines and Israel. About 130 of the families are in the St. Louis area. 


Teletypewriters "allow deaf people 10 talk to other people with the equipment by typing back and forth on the machines over regular telephone lines," Taylor, 34 years old explained.

But most persons who use the machines have no easy-to-follow instructions on maintaining them, Taylor said. "The problem with most manuals is that they are too deep for people' to follow. We have tried to use simple instructions in ours. We have put much more emphasis on pictures than on words," he commented. "The hardest part has been trying to tell the average person, who doesn't know much about the Teletypewriters, how the machine works and how to take jot apart. In our manual, we're trying to bring the language level down to everybody's
level."

Five deaf mechanics who can service the machines live' St. 'Louis area, he said.
The Teletypewriters used in the network are outmoded, surplus machines donated by telephone companies and Western Union. They are distributed by Teletypewriters for the Deaf, Inc., a nonprofit organization of which Taylor is a director.
Bright lights flash when phone rings at Taylor's house. Taylor or his wife, Sally, who a l s o is deaf, answers it and places the handset into a device called an acoustical coupler. (This device allows a standard telephone to carry teletype signals by transforming characters into high - or low - pitched sounds.)
Taylor then turns on his Teletypewriter and types out an identification, such as "Paul Taylor here. GA (go ahead)." The caller at the other end then types out a message on his machine. That message is relayed by phone and typed onto the roll of paper in Taylor's machine.
If the Taylors feel like calling a friend who owns a machine, they simply dial the telephone and watch a monitor light on the coupler. The pattern of flashes denotes a busy signal or a ringing or answered telephone. Deaf persons may call non deaf persons on a standard phone through the use of an answering service that has a Teletypewriter.

All three of the Taylors' children, who have normal hearing, use the machine. David, 9 years old, and Lucy, 7, are old hands at typing by now: Even Irene, their 3-year-old, can turn on the machine and hit a key that will signal her parents to the phone.

"The only requirement is that a person be able to type," Taylor said. "We are pushing for the day when all deaf people can use the machine.
"But we don't have enough Teletypes available, and the cost of a person buying one is about $300. Many people can't afford this. And in small towns, no one knows how to hook them up. So it will take time."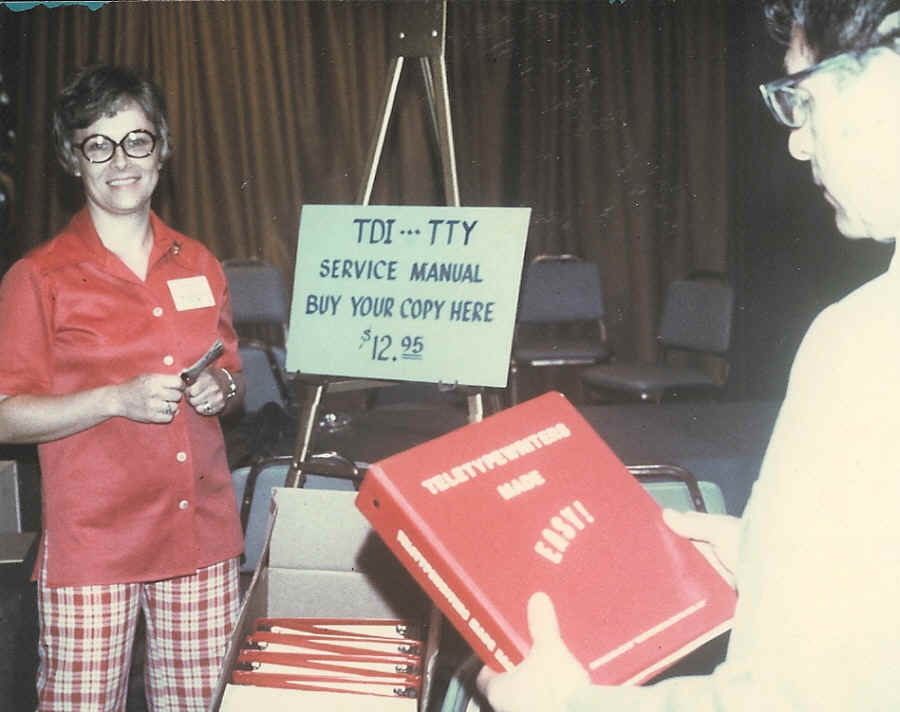 (C-SMECC: From the Paul and Sally Taylor Collection at SMECC.)
Sally Taylor selling TELETYPEWRITERS MADE EASY at the TDI Convention.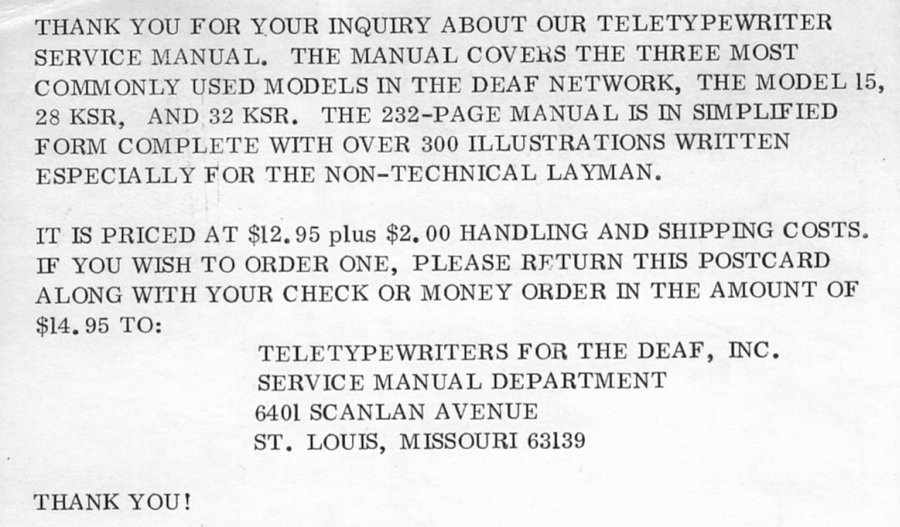 (C-SMECC: From the Paul and Sally Taylor Collection at SMECC.)
The Crew!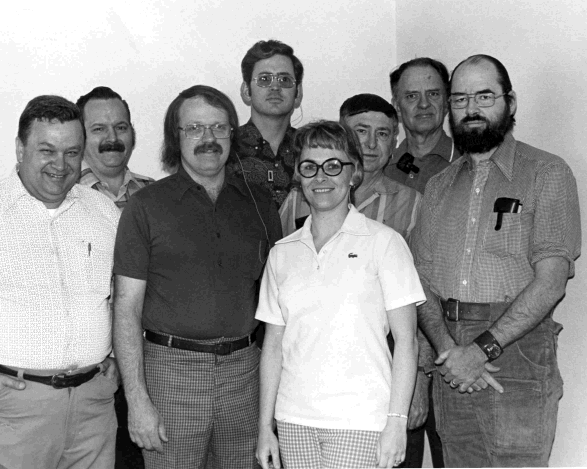 From left to right: Dan Skinner, Tom Schwarz, Gene McDowell,


Paul Taylor, Sally Taylor(towards front), Fred Stewart, Bob Weitbrecht, and Tom Rule.

(C-SMECC: From the Paul and Sally Taylor Collection at SMECC.)

(C-SMECC: From the Paul and Sally Taylor Collection at SMECC.)
Robert H. Weitbrecht




(

C-SMECC: From the Paul and Sally Taylor Collection at SMECC.)
Robert H. Weitbrecht



(

C-SMECC: From the Paul and Sally Taylor Collection at SMECC.)
Robert H. Weitbrecht


(C-SMECC: From the Paul and Sally Taylor Collection at SMECC.)
Paul Taylor




(

C-SMECC: From the Paul and Sally Taylor Collection at SMECC.)
Tom Rule



(

C-SMECC: From the Paul and Sally Taylor Collection at SMECC.)
Sally Taylor, always camera in hand ,
documents the making of the 'Book'



(

C-SMECC: From the Paul and Sally Taylor Collection at SMECC.)



(

C-SMECC: From the Paul and Sally Taylor Collection at SMECC.)



(

C-SMECC: From the Paul and Sally Taylor Collection at SMECC.)

(C-SMECC: From the Paul and Sally Taylor Collection at SMECC.)

Tom Schwarz and




(

C-SMECC: From the Paul and Sally Taylor Collection at SMECC.)



(

C-SMECC: From the Paul and Sally Taylor Collection at SMECC.)

and Robert H. Weitbrecht




(

C-SMECC: From the Paul and Sally Taylor Collection at SMECC.)

Tom Rule and Tom Schwarz




(

C-SMECC: From the Paul and Sally Taylor Collection at SMECC.)

Gene McDowell and Dan Skinner

TELETYPEWRITERS MADE EASY!
A Manual on Teleprinters Commonly Used in the Telephone Network for the Deaf

Compiled by a staff of teletypewriter devotees who, themselves, are very much a part of the deaf network.

Paul L. Taylor, Editor
Frederick N. Stewart, Assistant Editor
Robert H. Weitbrecht, Model 15
Dan Skinner, Model 28
J. Thomas Rule, Model 28
Eugene L. McDowell, Model 32
Thomas R. Schwarz, Model 32

Teletypewriters for the Deaf, Inc.
Indianapolis, Indiana May 1974
Copyrighted 1974 by "Teletypewriters For The Deaf, Inc."


From left to right: Dan Skinner, Tom Schwarz, Gene McDowell,


Paul Taylor, Fred Stewart, Bob Weitbrecht, and Tom Rule.

 

 

CONTENTS Page
Dedication i
Preface ii
Foreword iii
Introduction v
I GENERAL
Comments on Preparing a Teletypewriter
Machine for Use with an Acoustical Coupler G-l
Procedure for General Checkout of a
Teletypewriter Station G-2
Adjusting the Range Finder G-3
Comments on Maintenance and Trouble Shooting G-4
The Baudot Code G-6
Publication and Supply References G-7
II THE MODEL 15
(Refer to the MIS subcontents) Ml5-l
III THE MODEL 28
(Refer to the M28 subcontents) M28-1
IV THE MODEL 32
(Refer to the M32 subcontents) M32-1
V NOTES

To those dedicated servicemen who have devoted thousands of hours acquiring, transporting, rebuilding and rewiring ancient machines encrusted with grease and filth, and replete with broken, damaged, and worn parts; men who have hauled hundreds of pounds of equipment up and down rickety stairs and through dark passages to deliver these precious teletypewriters to their deaf recipients who never knew any other form of telephonic communications.

PREFACE
The preparation of these manuals was admittedly a crash program instituted to fulfill a pressing need. Perfection and completeness in the first printing was not expected. This is why the printing was done on standard loose leaf notebook paper •••
to facilitate corrections, revisions, and additions as feedback from field use dictates. An open forum will be maintained, with addendums issued in order of their pertinence or demand.

Paul L. Taylor
Frederick N. Stewart

 

 

FOREWORD

The teletypewriter (TTY) system with which deaf people
communicate over the regular telephone lines with each other,
with hearing relatives, and with organizations serving them,
has been largely based on old equipment which has been discarded
by the telecommunications industry as not worth repairing. One
consequence of using such old machines is that the service
manuals which provide instruction in reconditioning and maintaining
the equipment are not easily decipherable by the layman.
Requests have been received from time to time by Teletypewriters
for the Deaf, Inc. (TDI) for such service manuals, but
unfortunately we have been unable to do more than provide a referral
to individuals who possess such manuals and who are willing
to photocopy them. Such a solution has not proven to be very
satisfactory for one reason or another. The complexity of the
manuals and the technical language therein tends to limit their
usefulness to most deaf people who might be interested in reconditioning
and maintenance.

TDI is pleased to present herewith a set of service manuals
designed specifically for deaf people. They cover the basic
types of equipment used by most stations in the system. Such
equipment consists of the Model 15, the Model 28 KSR, and the
new Model 32 KSR. A section is devoted to each model; there are
three sections altogether in the manual. No attempt has been
made to include other types of equipment such as the Western Union
100 series, the Kleinschmidt, the Mite, and the Model 26 since they
are relatively scarce in the deaf network. The Lorenz machines

are basically an adaption of the Model 15.
This manual is designed and written not only for the serviceman,
but also for those individuals who are interested in simple
maintenance of their own equipment. To make it as useful as
possible to the largest audience, the pictorial or illustrative
approach has been emphasized with technical language reduced to
a minimum.

The preparation of this service manual was carried out during
a seven-day workshop in St. Louis, Missouri the week of May 5-11,
1974. Organized by Paul L. Taylor, Vice-President of TDI, the
workshop brought together a group of men possessing expertise and
experience in the various types of equipment. This group included
Eugene McDowell, Thomas Schwarz, Dan Skinner, J. Thomas Rule, and
Robert Weitbrecht. The photography was done by Tommy Joe Markham.
Fred Stewart assisted Paul Taylor in the editing and overall super-~
vision of the workshop. The typing was done by Sally Taylor
and Peggy McLaughlin. The members of TDI, as well as other individuals,
are grateful to them for their contributions.

The workshop and the publication of the service manuals were
made possible through a loan from TDI which drew upon a revolving
fund established by a grant made by the Lilly Endowment, Inc. in
1973. The repayment of the loan is expected to come from sales
of the manuals to interested parties.

TDI hopes that all users of the service manuals will find
them useful and that a need has been fulfilled. Comments from
readers are most welcome.

H. Latham Breunig, President
TELETYPEWRITERS FOR THE DEAF, INC.

INTRODUCTION

The Model 15 Teletype machine was manufactured by Teletype
Corporation of Chicago, Illinois, during the years between the
late twenties and the early fifties. It is a reliable heavy duty
teletypewriter, in use for years by news agencies, Bell System's
Teletypewriter Exchange (TWX), Western Union Telegraph Company,
the railroads, and the armed services - especially during WW II.
Hundreds of thousands of such M15 units have been produced.
The Model 28 Teletype machine, manufactured since the 1950's,
and still in production (also part of Model 35), is a modern
version of the earlier machines. It is fitted with a versatile
"stunt box"--which permits control of outside accessories such
as reperforators, call sequencers, even a coffee pot, or anything--
upon receipt of certain signals placed thereto. Hundreds of
thousands of such Model 28's exist.

The Model 32 Teletype machine is a low-cost, light-duty
type, made with many plastic parts. It is fairly reliable, and
should serve well for years on a 60-wpm network such as TDI has.
A similar machine, called the Model 33, is in wide use by computer
users, and parts are quite interchangeable.

This Manual concerns only the above three types. There are
other types, perfectly compatible, communications-wise with all
these types. Such include the Model 14 Teletype tape printers,
the Model 19 Composite Set (Automatic Send and Receive = ASR),
the Model 26 Teletype page printer, the Kleinschmidt 100, the
Western Union 100-series, the MITE Corp. teleprinter, the Creed,

the Lorenz, the Siemens, and the Olivetti. Thus, many makes of
machines are to be found in use in the TDI network. However,
Model 15 and 28 Teletype machines continue to be widely available,
with possible future availability of quantities of Model 32 units.
The Baudot Code was originated by Emile Baudot, a French
telegraph engineer, some 100 years ago. It is a 5-1evel code,
with 25 = 32 different combinations available. The modern 5-1evel
code is somewhat different in character assignments from the
original Baudot. Murray devised the present code, with start
and stop elements added to permit what is called "start-stop
telegraphy"--a distinct advance over the original Baudot which
required a multiplex scheme. Hence, some engineers call this
code a "seven element code". Actually, the code contains five
intelligence elements. Hence the term 5-level. It is one of
the simplest and most efficient signaling codes known, and
universally used to recent times by teleprinter manufacturers
around the world. No wonder there are so many different makes
of machines, all compatible to each other when geared to the
same speed, 60 wpm nominal, 45.45 Baud, as employed in our TDI
network.

Monsieur Emile Baudot would be proud to know that his machines
are making thousands of deaf people happy, in being able to 
telecommunicate with each other. Indeed, we are grateful to all
the makers of equipment, such as the Teletype Corporation, in
particular, for generous contributions to the welfare of 
Teletypewriters for the Deaf, Inc. and its network.

TELETYPEWRITERS MADE EASY!
A Manual on Teleprinters Commonly Used in
the Telephone Network for the Deaf

Compiled by a staff of teletypewriter devotees who,
themselves, are very much a part of the deaf network.

Paul L. Taylor, Editor
Frederick N. Stewart, Assistant Editor
Robert H. Weitbrecht, Model 15
Dan Skinner, Model 28
J. Thomas Rule, Model 28
Eugene L. McDowell, Model 32
Thomas R. Schwarz, Model 32

Teletypewriters for the Deaf, Inc.
Indianapolis, Indiana May 1974
Copyrighted 1974 by "Teletypewriters For The Deaf, Inc."

TELETYPEWRITERS MADE EASY! - PDF FILES

This Manual now in the SMECC Archives
was provided to SMECC By TDI - MANY THANKS!
This manual originally belonged to of Marcellus Kleberg

Compiled by a staff of teletypewriter devotees who,
themselves, are very much a part of the deaf network.

Paul L. Taylor, Editor
Frederick N. Stewart, Assistant Editor

Section I
Intro & General
CONTENTS - Dedication i - Preface ii - Foreword iii - Introduction v


I GENERAL
Comments on Preparing a Teletypewriter
Machine for Use with an Acoustical Coupler G-l
Procedure for General Checkout of a
Teletypewriter Station G-2
Adjusting the Range Finder G-3
Comments on Maintenance and Trouble Shooting G-4
The Baudot Code G-6
Publication and Supply References G-7

Section II
Model 15
Robert H. Weitbrecht, Model 15
Section III
Model 28
Dan Skinner, Model 28
J. Thomas Rule, Model 28
Section IV
Model 32 pt.1
Eugene L. McDowell, Model 32
Thomas R. Schwarz, Model 32
Section IV
Model 32 pt.2
Eugene L. McDowell, Model 32
Thomas R. Schwarz, Model 32