1. Operator comfort,
2. Operator convenience,
3. Human engineering,
4. Operating efficiency,
5. Ease of maintenance,
6. Appearance design, and
7. High reliability.

Moreover, we did not design the encoder in a theoretical vacuum. Rather, we took constant advantage of the expert consultation of bankers, specialists in banking procedures, product planning, and your communications and suggestions from banking circles across the nation.

The full field proof encoder is designed to be the finest piece of equipment of its type ever produced. It will fill a very real need in our banking processing systems. As with the other equipments I have described today, we have done our utmost to provide you with the handsomest, most compatible appearance design we would obtain, a good looking unit which will earn

a reputation for competence where ever it is installed.

Again, the most important news is last. The General Electric full field proof encoder should be available some time in February.

A number of other products also are underway in the Peripheral Engineering area. As Dr. Johnson has told you, it is most necessary that we produce

a large random access memory, a flexible disk memory, printers, optical character readers, and tape transports. These projects are under way as are other projects which we will bring to your attention at the earliest possible time. Each of them, we feel, will become an important part of a computer system, and each will give us a fuller share of the computer business.

When the General Electric Company made the decision to enter the computer field with the advent of ERMA, we were forced by circumstances to concentrate on the electronics of the data processing field. In the early days, the make or buy decision was often as simple as saying, 'If it's electro-mechanical, we'll buy.' But now, the Computer Department has come of age. Now, we have made a full-fledged entry into the peripheral field and we mean to stay there, grow there, and to complement our computer systems with every peripheral it is to our advantage to produce for ourselves.

As I have shown you today, we have started with some big jobs to fulfill major needs in our existing computer systems. Because of what we have accomplished with our sorter, our card reader, our character reader, and our encoder, we will have better banking and better business electronic data processing.

The other new peripherals which are under development also have been selected on the basis of value to our computers and your customers. We are not in business to produce gimmicks or gadgets.

What we build must be of a solid and substantial value. Therefore, looking ahead to 1962, 1965, 1970 and beyond, we invite you to join us in our search for and evaluation of those peripherals which would do the most to fill genuine data processing needs. The questions and the requests, the complaints and the suggestions you receive from your customers throughout the United States, properly sorted, studied, and weighed well may furnish us with the requirements that shall motivate many of our future peripheral equipment plans.

Thank you, Gentlemen for your attention.
---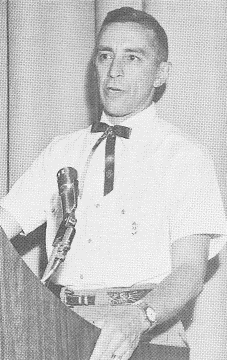 K. R. GEISER

A few weeks ago in the Wall Street

one of their feature writers wrote, 'Overseas the sun never sets on G. E.' s foreign operations.....' To those of us concerned with the domestic consumption of electric ranges, or computers, this innocent statement may have slipped by as little more than a writer's paraphrase. For, as far as most of us are concerned, the General Electric monogram is as much a the trade mark of being American as apple pie, as peanuts, popcorn, and the world series. Let those who must take coals to Newcastle, owls to Athens, or refrigerators to the Esquimaux, the General Electric Company has business enough here at home to keep us busy the rest of our lives.

Gentlemen, that may be true to a degree, but at most, it must be a half-truth.

Business we do have at home, and that business is important. Important, yes, but not the whole story. As the United States has been pulled into world affairs so has U. S. business.

Basically, there are two reasons for this migration, First, there are those exceedingly attractive market areas which have broadened throughout the world since the end of World War II, and to compete with low cost goods and equipments shipped into the country, we are going to have to move out into broader markets with those products we can create competitively by virtue of automation techniques.

Page 59

Regardless of typewriters, sewing machines and such, let's take a look at the facts as they are pertinent to General Electric. Last year, sales amounting to more than four billion two hundred million dollars placed us fourth among the nation's industrial concerns.

This means that nationally we topped in sales such major corporations as Socony Mobil, U. S. Steel, and Chrysler. The world picture was much the same with only Royal Dutch stepping into the hierarchy above General Electric.

Granting that this is quite an achievement, the big question remains, where do we go from here? What about 1962, 1965, and 1970. Does it not occur to you that if our company is to continue its dynamic growth, we can not concentrate solely upon the domestic market. That one computer in every bank, two refrigerators in every home, and 'keep the light bulbs burning' are not the sales philosophies which will provide the necessary answers to the over-all future of General Electric.

Rather, we must broaden the scope of our thinking, and by our thoughts and our actions, the scope of our markets. .. markets which must move off-shore, and I mean a great deal farther off shore than Hawaii or Alaska. Yes, gentlemen, the world has become much too small a place for any major U. S. company to continue its growth by catering only to a restricted market area encompassed by domestic boundaries.

Moreover, in many lines where low foreign labor costs result in sufficiently reliable products, a very significant trend has developed. The sewing machine industry has to all intents and purposes moved off shore and the typewriter business is showing strong indications of following the same route.

Therefore, giving up certain major products as home-produced items, it becomes increasingly important for us to concentrate upon the more sophisticated products which may be subjected to the most advanced of automation techniqueness with electronics as a prime example.

In the past few years, as you may know, Mr. Lasher, Mr. Averitt, myself, and others in the Department have made extensive trips abroad. The business planning operation has established a permanent Computer Department office in London under Mr. Jim Donovan who now has most of western Europe as his beat. Within the last month, I have returned from a flight around the world in connection with Computer Department plans, and I might mention in passing that I found business conditions in general better than the jet transport facilities which flew me here and there. For example, it took me longer to get out of the Tokyo airport after arriving than it took me to get from Hong Kong to Japan and a broken 707 windshield on an India bound jet set us down in Cairo for two days.

All this, however, is beside the point, and our business here today is to have a look at the foreign computer market, what our competitors are doing, and what we intend to do. Now the logical starting point, is of course, an estimate or prediction of what the computer industry outside the USA will amount to over, say, the next ten years. This chart shows our prediction of the world computer business. To get it in proper perspective, we have shown it relative to the USA prediction. The lower segment is the hardware prediction. . . and this includes maintenance, parts, and supplies. The extreme top area of each curve entitled, "Contract Applications" adds computing centers computing services. . . including machine time, programming, analysis, and contract facility operations.

The obvious question is, who is enjoying this business at the present time? This chart shows the major companies participating in the 1960 business. And while the U.S. off shore bar shows Remington Rand, Bull, I.C. T., and others making a significant effort, as might be expected IBM is getting the lion's share. Below this, on a world basis, the percentages get pretty small and have to be analyzed on a country by country basis.

The next question is, in what countries is this business going to exist in the future. . . and if we let 1970 represent a typical year in the future, the computer business apparently resides in the various countries shown in the bar at the right. The distribution between countries does not show as much variation as might be expected and this is partly due to the fact that the countries shown are those that

fall in the category of being the most industrialized, or most rapidly developing. The size of the market, of course, is not the only criterion that is important in determining whether or not a country represents

an attractive market area. Many other factors must be taken into account such as the stability of individual currencies, cost of labor, the ability to repatriate earnings, the risk associated with losing one's capital investment. All of these have been gathered into a single category termed monetary considerations.

Another category also representing a combination of many considerations, we have labeled, national political and this includes such factors as: the country's feeling concerning the acceptance of equipment manufactured in or by another country, trade barriers designed to eliminate equipment from other countries, whether nationals from other countries would be tolerated working in that particular country, and other conditions of a generally nationalistic nature.

The fourth criterion which has been applied to each country is an estimate of how well competitors . . . that is, competition from the U. S., or competition from companies of that country. . . how well these competitors are entrenched, and how good a reputation they already have established.

As you observe, this chart shows these criterion rated on a scale from one to ten, where one is the least desirable and ten the most desirable. Also,

Page 60

to put these ratings in proper perspective, we must consider their relative weightings. Market size, of course, is more important than either monetary considerations or the national political factor, and we have given it a weighting of twice as much. How well entrenched the competition is, is of still greater importance, and we have given this a weighting of three times as much. Summing all these up, Australia emerges as the number one market, Canada as number two, Great Britain as number three, West Germany as number four, Japan as number five, and Italy as number six. With that covering the broad view of the world market and our competition there, it might be of interest to you should we exchange our telescope for a microscope and examine a couple of specific areas of the foreign market problem in more detail.

First, considering General Electric's long relationship with Japanese industry, it no doubt came as something of a surprise to you that Japan showed up fifth on a list of six international markets. So, let's have a look at some of the factors that made this occur. Peculiarly, Japan is one of the few highly developed industrial countries where there is still no convertibility of currency. There is, it is true, the bright note that thinking people in Japanese banking circles believe this may be remedied by 1963.

Currency problems notwithstanding, the data processing business in Japan is getting a lot of foreign attention as the following chart indicates. The first box, IBM Japan is of particular interest in that it is ninety-nine percent owned by the IBM World Trade Corporation but is validated to manufacture punched card equipment only. So, in the next series of blocks with bird tracks between them, we note that IBM has licensing arrangements with five domestic Japanese concerns, including reciprocal arrangements with Toshiba for the manufacture of their equipments. As will be noted, Remington Rand has invested in Toyo and Nru as also have Toshiba and Mitsui. Nru will rent and sell imported Remington Rand equipments and Toyo will manufacture. Meanwhile Mitsui is the franchised distributor of General Electric process control computers while negotiations are underway to establish a similar arrangement for Marubeni to distribute our general data processing lines.

If this is not enough of an oriental maze, learned on my recent trip to Japan that Nippon Electric, the most experienced electronic company over there, is negotiating an exchange of know how agreement with Minneapolis Honeywell. Hitachi whom we already have listed above in connection with IBM has firmed an exchange of know how agreement with RCA while Oki is working out the same sort of arrangement with Burroughs.

As the gentlemen from Japan themselves would admit, or perhaps, it was the King of Siam, the whole affair is a 'puzzlement. ' Nevertheless, the further industrialization of Japan is progressing at a phenomenal rate and the ministry of international trade and industry which essentially dominates the industrial scene has laid out a five year plan to get Japanese industry into the electronic data processing business. So far, in the first year, they have accomplished more than they had planned to do and they are now making a vigorous entry into their second year.

Now, let's do a little continent hopping to glance at the most advance data processing complexes as they exist in Europe. In the British Isles, for example, there are eleven major companies well entrenched who have produced to date some 397 computers and computer systems with ICT responsible for the lion's share of 225, or somewhat more than half. It is interesting to note here that ICT is the result of a 1959 merger of Power-Samus and the British Tabulating Company, the latter of which was formerly a part of the IBM World Trade Corporation who chose to break away from IBM and IBM patents, know-how and sales facilities. . . only to beat them at their own game. So note, gentlemen, that regardless of any thoughts to the contrary, that beating IBM not only can be done, it has been done by at least one British company.

Other important British concerns include Elliot Brothers, Emi and Ferranti, all of whom produce excellent computer equipments for the European market, the latter under such colorful names as Perseus, Pegasus, Orion and Sirius, perhaps so the Greek gods can help them.

In Germany, there is also a strong computer picture. Telefunken, a subsidiary of Aeg, is a strong contender who will become stronger, particularly in view of their contract to automate the West German postal system. The TR-4 is a good system and the TR-5 will be better, although some of their handcrafting, point-to-point assembly systems seem fantastic to those of us who have visited their operation. Standard Electric at Lorenz, a subsidiary of

I.T.and T., also is producing strong, effective products as is Olympia to whom we should pay particular regard for their relatively small, low cost computers of good reliability.

So much for our brief leap-frogging between countries. We'll return to specific foreign markets later. But now, let's take a look at one of our competitors in the world market. . . the one, IBM.

The IBM World Trade Corp. operates in 87 countries with 36 served by nationally incorporated companies and the rest by branch offices and sales agencies. With some 33, 000 employees, only about 370 are located in New York. And that, Gentlemen, means that nearly 99 percent of IBM's foreign operation is overseas with its effective power where it belongs in the various market areas. As a measure of its effectively, we may observe that for the last five years for which figures are available, IBM's World Trade's growth has averaged more than 22 percent per year.

IBM's World Trade Organization is a very well thought-out, well implemented setup. They are manufacturing and buying in many countries, and they are selling almost anywhere a computer may be

Page 61

sold. For a given market in a given country, they are assembling components and peripherals from the nearest possible locations thus availing themselves of the lowest possible manufacturing costs for a given market area. And this gentlemen, should interest you, for, in spite of such low cost maneuvers, they are continuing to sell at New York prices, and firming their sales with a maintenance and computer services backup comparable to that which they maintain in the United States. Laid out in chart form, this presents a plan in strategy unparalleled by other manufacturing companies of the world.

In fact, before we leave the subject, I can't resist mentioning that so ingenious have been some of the efforts of IBM's applications people, that Tom and Dick Watson, the presidents of IBM and IBM World Trade, respectively, recently have received from Pope John XXIII, the Grand Cross of the Equestrian Order of Saint Sylvester, for the use of IBM computers to speed the indexing and analyzing of the complete works of St. Thomas Aquinas. I further understand that while Tom and Dick were in Rome, they also posed for their holy pictures. It's one of the facts of life of the computer industry which we can not ignore that IBM got there first with the most. As we have discovered, it is just as true abroad as it is with your home markets. The question is what are we going to do about it?

Before we get down to computers in particular, however, let's make a brief survey of the General. Electric Company on the international scene.

For more than three-quarters of a century, General Electric has participated in international business. First through exports from the United States, then with investments in foreign enterprise, off shore manufacturing operations, and licensings. During this long international experience, world conditions, as we know too well, have faced continual change. Industrialization from a few bright spots in the British Commonwealth, on the continent, and in the United States, has come to encircle the globe. Governments, national sentiments, economies, and markets, all have changed, and changed again. And with these complex evolutions across the face of the earth, General Electric's international activities have learned to adapt to survive, and to grow.

In 1959, the increased importance of the world wide scope of the company was recognized by the consolidation of all international activities into a single company group under one vice president, Mr. James Goss, at the president's level.

INTERNATIONAL GROUP LOCATIONS

The chart before you delineates the division by function of the international group. These divisions consist of the major manufacturing subsidiaries which report directly to Mr. Goss, and a component for the development of existing and new manufacturing organizations through which they report during their formative or transient periods. The international group embraces a complete export sales operation capable of handling anything in the General Electric business line form individual items to complete systems and maintains sales offices and agents in the major trade centers of the business world. Supporting functions include. . . licensing, know-how and technical data service to licensees. . . international finance, international portfolio management, and legal and patent operations. Many off shore markets are growing even faster than U. S. Markets in 1960, the company's foreign sales, including exports, the sales of Canadian General Electric, Ltd., and other foreign affiliates, amounted to $600, 000, 000. It is expected that the total sales of the international group will reach the $1,000, 000, 000 level. In 1960 more than $257 million U.S. export orders were received, representing a 23 percent increase over 1959 in heavy equipment and producer goods, and 15 percent in consumer goods. The latter was achieved despite loss of almost the entire Cuban market, and substantially reduced sales in Venezuela as a result of economic conditions.

While we are starting to increase our export business, some markets can only be reached by domestic manufacture. Where the exportation of U. S. finished products is not practical in the face of such controls as high import tariffs, quotas and currency restrictions, our investment in foreign subsidiaries to serve their markets has grown substantially. For many years, the General Electric Company has invested abroad in manufacturing plants and sales subsidiaries. During 1960, we have stepped up our investment in markets where the potential for local manufacturing is good and where export sales to such markets are foreclosed. Our total foreign investment exceeds $250,000, 000 on a conservative evaluation basis and the number of employees is approximately 40,000, with facilities located around the free world.

There are service shops in subsidiary companies and technical field representatives in the

62

following countries. . . United Kingdom, Iceland, Norway, Denmark, Germany, Belgium, Netherlands, Portugal, Spain, France, Switzerland, Turkey, Italy, Greece, Yugoslavia, Morocco, Union of South Africa, Formosa, Philippines, Japan, Australia, Mexico, Venezuela, Uruguay, Brazil, Puerto Rico, and Argentina. It is estimated that some five hundred General Electric personnel exclusive of any IGE employees are involved abroad in service areas.

Major manufacturing subsidiaries are in operation in Italy where the Compagnie Generale Elettricita and its subsidiary fair manufacture apparatus, appliances, electronic equipment and lamps. In Canada some 13,000 people in five million square feet in eight communities are engaged in manufacturing essentially the same broad complement of products.

The operations in Brazil (about 7000 personnel) produce small apparatus, appliances, radios and television sets. Mexico, Uruguay and Argentina with 1700, 1500 and 1700 people respectively manufacture similar classes of electrical and electronic equipment. Smaller factories also are operating in Portugal, South Africa, Turkey, England and Columbia. Our total facilities outside of the continental U. S. occupy some twelve million square feet of factory and office space. In addition to this, we are represented by over 200 independent agency and distributor outlets throughout the world.

At present, thirty manufacturing plants in ten countries will be expanded and the volume of locally made General Electric goods will increase substantially by the establishment of additional facilities in these and other countries.

The General Electric philosophy is to form an integrated world manufacturing and sales organization which is linked together by the total General Electric resources and its patent and know-how strengths. The strongest effort will be applied to the international needs for technologies, processes and procedures emphasizing industrial automation and all phases of data communications and computation.

Now, where do the Computer Department's plans fit into the international picture of General Electric activities. First, let me point out an important evolution which is currently taking place in the company's world wide philosophy. This emerges from the fact that our enormous diversity of products are not in many instances best served through a single international agency. Granting the valuable know how the international group possesses, its ability to act for the entire company, its enormous and beneficial backup in strength of personnel throughout the civilized world. There exist, nevertheless, certain specialized product areas which may be better served at a department level.

The General Electric Company and its international group are well aware of this condition. Vice President James Goss has a series of organizational plans on his desk which he plans to implement progressively in the interest of eliminating much of the bottleneck which has existed. Generally, it is the intention of these plans to put more and more of the responsibility on certain key operating departments and allow them to take care of their own off shore operation. The General Electric Computer Department is one such department and toward that end we have been making substantial progress to begin with, we have established our goal, and it's a good one. For, it is our aim to obtain twenty five percent of the off shore computer business by whatever means are required to get it. We have formulated a number of steps for our master plan, and more are in progress. Moreover, it is our intention to implement them as rapidly as possible. For example. . . as you are no doubt aware, Canadian General Electric has made the decision to go into the manufacture of electronic data processing equipments. These will be computers generated by the Computer Department. In France, CFTH has decided they are about ready to manufacture electronic data processing equipments. As you may know, Compagnie Francaise Thomson-Houston is essentially a sister organization as the result of a 1918-1981 agreement with General Electric which gives them the right to design and manufacturing know-how on any GE product delivered to a customer. In return, they pay a fixed percentage to General Electric. Under such circumstance, it is, of course, to the Computer Department's advantage to work very closely with CFTH as they enter the electronic data processing field, and this we intend to do. Before we leave the subject of CFTH, one word of caution, gentlemen. The agreement of which I have spoken does not obligate us to provide CFTH with financial, business, or commercial information.

In Italy General Electric has its subsidiary company. Cogenal, and although no firm commitments have been made in the area of computers, when we are ready to take steps into the Italian market, the way is open to us.

In Australia, the Australian General Electric Company has been reactivated, and the new president of this company will be moving there from New York in the near future. Here IBM is not so well entrenched and we not only have opportunity to be first, but are in an excellent position to move forward.

These are some key areas. They represent concrete and successful operations on which the Computer Department may depend. But they are by no means our entire world plan.

Undoubtedly, for example, we will be able to sell a few Phoenix made computers at New York City prices in many countries, but the disparity of labor is such that we can not in the long run consider doing business with American cost against foreign labor costs. This means that we must take steps to manufacture in the various countries we intend to serve. And this brings up one factor to which I have not given sufficient consideration in my talk so far. This is that the problem of getting established abroad is not so much that of adequate manufacturing facilities. . . I have already mentioned a few of our ways to such an end. . . as it is. . . First, where do we obtain the applications personnel, second, where do

Page 63

we acquire programming experience capable of programming in the language of the country, and third, how will we provide adequate service backup for our equipments at an economical figure. We believe we have the answers to these problems.

Two other items which have entered into our considerations are the availability of established in-place sales and distribution organizations closer to the computer market than our own international group has been. And the immediate need for a source of relatively unsophisticated tab equipments to serve the potential customers of future computer systems.

Also, in the off-shore market area, there is a very definite requirement for smaller size computers. For here, the ratio of small businesses is larger than we usually find in the United States. And here, too, we have made our plans.

Now, before I say, 'Good Morning', it is important that we both recognize the fact that what I have shown you here of our plans is about as much as you would see of an iceberg. . . that is the one-sixth you can observe above the surface of the sea.

The important thing, however, is this. As our plans become accomplished facts, you will be the first to know. Today, you are our representatives across the face of the nation, tomorrow, no doubt, you will be instrumental in helping the General Electric Computer Department to circle the globe.

I thank you now for the time you have given me on this spring day of year one in the Computer Department's international operations.
---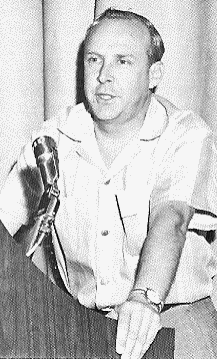 B. D. CREEDE
Ken Geiser has given you an excellent survey of the computer world as we see it at the present time.
It may seem so complete in fact, that you may wish to ask what we in sales are doing and what our relationship is to this department planning on computers.
In my talk today, I will try to do two things.. first, to explain our export sales plan and its relationship to the long range business planning. Second, explain where we are in our sales program.
There are details where the business planning operation and sales differ in analysis and approach, but in general this is due to the different restraints under which we work.
We in sales are, I must say, a little jealous of business planning who have seemingly boundless resources from our point of view since in making their plans they can, conjure up wealth and facilities, assuming the establishment of subsidiaries, acquisition of complementary corporations, or a joint venture with a top notch foreign company.
We in sales on the other hand, are confined to the stark, gray realism of available funds and recourses. Further, we must, in achievement of our goals, avoid commitments which would prejudice the inconstant and incomplete long range big picture. To do this we must work closely with business planning so that we will know their thoughts and contribute to them from our experience. . as we go ahead. As will be illustrated by our foreign selling activities to date, our most powerful source of business information is what we have learned by doing. We may get bruised a bit, but we learn.
In the past we have made substantial contributions to the business planning and in turn look to business planning to provide us with new resources with which to work as we go along in the future.
In beginning our activities abroad about a year and a half ago, we in sales took what we had to work with and with our understanding of the foreign market and began with little steps.
Our neighbor, Canada, was obviously the easiest step, and we started our efforts there in the fall of 1959. In Canada we had a wholly-owned company which was interested in expanding its product lines for the future. They had a mature organization with complete resources, trained people, equipment facilities, a nation wide sales offices, stable management, and a good currency. They did not however, know our business.
Our competitors were mainly American companies, some with substantial Canadian operations. In spite of a preferential tariff, English competition was low because of American technical superiority and closeness. There was peripheral (tab and typewriter) manufacture in Canada but no computer assembly.
I should, however, point out here that even in the case of Canada where we can go on vacation without passport, visa or money problems (except the problem of having enough). Even in Canada we are dealing with a different country with its
Page 64
different laws, money exchange fluxuations, tariffs and in most areas markedly differing practices and traditions.
For instance, we tend to accept our banking system as the obvious way to do the job, but really it is unique in the world. Other countries could and some will follow our lead, but they do the job differently with different controls and laws. In Canada, for instance, you can write checks on your savings or interest account and for most small short term loans you simply get the bank's permission to overdraw your account to the amount needed. You thus have, in effect a plus and minus interest and balances on a checking account. Checks are not normally returned and must be physically retained as long as twenty years by the bank. Trust work and home and automobile loans are not within the charter of commercial banks.
The customer is a super king compared to the U.S., because in effect, there are only five banks in Canada each with hundreds of branches all located across the street from one another. Lastly, even a lowly adding machine is not normally seen around the teller's cages, and people are used rather lavisly.
In Canada we can no longer deal in the same manner as we do at home even though two markets may lie as close together as Windsor, Ontario and Detroit, Michigan. Because the General Electric Company U. S. A. dare not for tax reasons own property, lease equipment or solicit sales in the dominion. Initially, Canadian GE had no computer organization, but by virtue of receiving the cooperation we had expected from CGE, we have been able to go ahead substantially meeting our goals for getting them into business; handling their' own sales, applications engineering, product service and financing, further, in accomplishing these objectives, we learned a good deal and established many principles of operation.
Looking back, three things stick out. . . one we found that our representatives management, although they may be "tops" in their own business, must be shown the unique features of the computer business, especially the traditional customer service requirements. two... because of the pattern of leasing set in our business, a separate company chartered in the country must normally purchase the imported equipment, lease it, and service it. The normal IGE sell from New York approach cannot be used. Three. . . . computer sales tend to be consummated more slowly abroad than at home because, acceptance of computer, is less complete than in the U.S.A. for many reasons.
Our second project, early in 1960, was Australia, with the help of IGE who had been studying the country for about two years, we in sales decided to probe for opportunities.
I think a little historical background would be in order here. In 1953, GE had sold its operation in Australia which was a joint venture owned by its mature daughter, the Associated Electric Industries limited of England and Australian General Electric. AGE then became only a corporation folder in a lawyers file in Sydney and AEI carried on the business and acted as our sales representatives. About 1958 it became evident that the growth of the Australian economy made it an important area for new General Electric effort and a thorough study was begun by IGE.
Late in the winter of 1960, the AGE was reactivated and we began our market cultivation by sending Jim Wylee down even before AGE actually had an office.
In Australia we found some conditions similar to Canada but there were major differences. We had a more equalized position with our U. S. competitors since there was no Australian manufacture of computer of peripheral items.
Here, however, we would really face the British preferential tariff since we were about equal to their transportation distance. Money was more tightly controlled and the Australians had a more pronounced individualistic national and political position.
We have had a full-time man in this market since February this year expect our first order within the next six months.
AGE now is going ahead with plans for an extensive marketing and manufacturing build-up with headquarters in Sydney.
The Computer Department is a pioneer in the new Australian General Electric Company, a company which is welcomed as a large step in Australia's much needed industrialization.
Again we learned a few more important things in Australia. For instance. . . . .
One. . . we found that sales could not be made by sending even a top sales engineer into a market for a few weeks of months. Sales were consummated too slowly for trip-selling techniques and as soon as our man left the market even for a brief return trip home, we, in effect, abandoned our prospect to competition.
Two. . . we learned also that international computer customers demand local roots as well as a local support organization.
In the spring of 1960, Bob Davidge, Far East power systems sales specialist of IGE and
I planned to go after electrical utility computer business which was seen to be coming up in Japan. We approached it by beginning with the stimulation of GE' s traditional Japanese distributor, the very large trading company named Mitsui Busan Kaisha. I can calibrate very large for you by saying that their gross sales are two billion plus per year. After discussions with Mitsui they agreed to send two men to Phoenix for training, one for process
Page 65
computer,
one for business data processing.
Our batting average on this project was only an even five hundred, but in addition to this we learned a lot about the business data processing situation in Japan and made strong friends. The tangible results all accrued to process computers ---four orders to date which total about a million dollars. We learned from our contacts with one of our Japanese trainees that Mitsui was a financial partner with Remington Rand in a computer venture in Japan and because of this we dropped our business data processing plans with Mitsui, at least for the time being. We goofed a bit here, but again we learned.,
You may have seen the two new Japanese visitors around our plant recently. These men are from Marubeni-Iida Company, our new distributor also a very large trading company. Mr. Honda is in our sales training course. . . Mr. Ichikawa who has now gone back is an application engineer here to help sell a GE 225 to his company's Osaka, Japan office, he will return for further training to become an application engineer for GE computers.
Again to illustrate the differences we encounter, I would like to mention a few points about the banking business in Japan. There is no personal check transit between banks. Banking is a trading function and your signature is an impression from a personalized and unique carved ivory stamp. I got a kick out of this stamp which is about the size of the last two joints of your index finger because its handle is hollow and inside it is a small stamp and handle, whose impression is about the size of a lead pencil eraser.
On a contract the large stamp would be used for the signature. . The little one would be used for changes. All legal signatures are made with these stamps, even inter-office letters.
Japan is a different world for computers requiring the oriental appreciation and understanding of his own business ways, and sales approach but benefiting from the help of American consultation in areas of advanced methods.
WE are making progress in Japan now, in a market, which is as Mr. Geiser pointed out, complicated by unique historic company relationships, government intervention, currency nonconvertability, language difficulty and oriental paperwork methods.
I see possible solutions for each of the above problems and possible success if we make the correct moves.
In Japan we got our first good view of the problem of language and customs and the need for us to consider them carefully in our planning. We also got a better understanding of our two major competitors especially the so- called international B. M. In the Fall of 1960 as a result of a request for a proposal from an old friend of General Electric, the Puerto Rico Water Resources Authority, I looked at Puerto Rico as a market for us to consider, IGE has a sizable marketing facility there. On the surface it looked easy to reach, easy to support, financially solid and an expanding market. I found, however, that our two major competitors had substantially neutralized the market for the present and the foreseeable future and this area was removed from our list for actions.
Our latest project Spring 1961 is Europe which is the most complicated and expensive market to reach, but should be the most rewarding of our foreign sales opportunities. You may think that the European common market will simplify our efforts greatly, but generally it will tend to make life easier for our competitors with local factories and more difficult for us in the early stages of our getting started. This will be true because of the rather limited European facilities which we have at the present time.
Here again a little more history. For some sixty years prior to 1953, General Electric had major interests in European operations through ownership, portfolio investment and licensing. By World War Two, however, the growth of strong local manufacture of electrical apparatus, appliances and lamps in Europe brought importation of General Electric U.S. made equipment to practically zero. Anti-Trust activity against General Electric caused the company to reduce its ownerships of foreign companies, even those it founded, to minority portfolio holdings, and previously broad licensing arrangements were curtailed as a result of decentralization. This contraction of relationships and European operations involving the company's traditional product lines occurred concurrently with the growth of international interest and a competitive European build-up in Europe in new product areas such as computers.
Our major U.S. competitors have on the other hand concentrated on their international penetration. I.B. M. for instance has factories in Germany, France, Italy, and England, and its total European sales and manufacturing personnel will run to more than 23,000 people. Strong foreign competition also exists in Europe.
I believe that you see that we have here, a challenging situation. It is much the same as your own with the added features previously mentioned. On our side is the fact that all levels of the company are interested in the development of international business in our new product lines, jet engines, atomic energy and automation... the latter including business data processing. We thus have top level support for our war. Business planning is working on allies and we are carrying on local actions with the volunteers we have and can recruit.
During the last year General Electric has purchased control of Compagnia Generale Elettricita of Milan and we are presently trying to work out a basis of cooperation with that Italian company. We also have other approaches in process which are short of the alternative of just buying your way in. That approach is, of course, very costly.
During the next few months we will be testing
Page 66