A totally new television advertising concept,
created and refined by KT AR Television staff
members, has proven highly successful for
Berge Ford, of Mesa, Arizona.
Behind that simple fact stands an interesting
and effective blend of creativity, sales counsel-
ing, cooperation and faith between an advertiser
and a television station.
Phoenix, like any of a number of major
television markets, is marked by strong and
constant competition among automobile deal-
ers. Television is a key part of the campaign
of many dealers, and Berge Ford was one of
the pioneer users of the medium in the Phoenix
metro area.
But the key point is that Berge was willing
to accept an approach, a concept, toward tele-
vision advertising that was radically different
from anything seen in the market - and willing
to let KTAR-TV exercise considerable creative
leeway in the campaign.
The effort centers, from the start, on Emmett
Lancaster, Creative Director for KTAR Tele-
vision. Working with Roy Borden, KTAR-TV
sales account executive, Emmett was the main,
figure in a brain-storming session, a few years
back, aimed at developing a commercial for
Berge Ford.
Far more than a commercial emerged from
the session, which involved a number of the
station's staff members with creative respon-
sibilities of one kind or another.
A concept was born - a concept of animated
art, . coupled with advertising messages that
were institutional, long-range in nature, in
contrast to the "buy-this-car-right-now" ap-
proach prevalent in the market.
The art, created by Lancaster, moves me-
chanically, on cue, in direct relation to the
soundtrack for the spot.
And - in another revolutionary step - the
spots were designed as SO-second commercials,
rather than the traditional 60's.
The founder of Berge Ford, C. M. Berge,
and his associates accepted the concept, and
a campaign was off and running - a campaign
that has proved highly effective, and which
has had added to it new dimensions of cre-
ativity and impact over the months.
. There has been great pay-off for Berge,
and for KTAR-TV:
(When Brent Berge, another member of the
family, opened a Mazda dealership, the com-
mercial campaign centered in the station's
creative area. So did the Desert Toyota dealer-
ship in Tucson.)
The informal creative partnership continues
- between Craig Berge, General Manager of
Berge Ford, and Jerry Dineen, General Sales
Manager, on one side, and Emmett Lancaster,
Roy Borden and the KTAR- TV production
team, on the other.
And, like all good stories, this one has a
j kicker:
Looking for a bright close to the most recent
spot in the series, Emmett transposed "Berge
Ford" into "forge bird." That transposed phrase
became the figure of an animated bird, playing
the auto firm's jingle on an anvil to close the
. spot.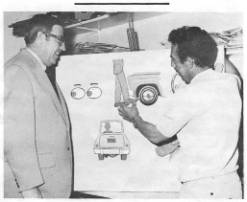 Emmett Lancaster ,(right), Creative Direc-
tor, KTAR-TV, demonstrates newest piece
of "animated art" for Berge Ford Ceneral
Manager, Jerry Dineen, prior to filming.

COMBINED COMMUNICATIONS CORPORATION