TV KITCHEN FUN
with Gretchen Schwensen

••

TUESDAYS THURSDAYS 11:00 am .

KTVK Channel 3 ARIZONA

Arizona Public Service COMPANY

Supplying ENERGY for Arizona's Progress

(need more info on her email info@smecc.org )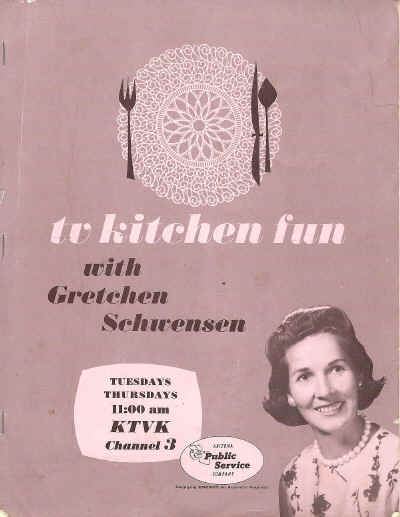 Dear Friend:
I'm your hostess for TV Kitchen Fun Classes. I will
have a young guest each week and I invite you to learn to cook
with us. We'll be preparing good tasting foods for family
meals and party-time too.

This booklet includes all the recipes we'll be doing
in the television class. I hope you'll try them at home. It
also includes a dictionary of cooking terms you'll want to know,
and some suggestions to help you use the appliances in your
kitchen.

Cooking can be lots of fun and your mother will be
pleased with the good foods you learn to prepare. She'll
be very proud of you as you learn good safety habits, and the
importance of cleanliness in food preparation and kitchen
clean-up.

Tune in Channel 3 Tuesday and Thursday at 11 o'clock
for TV Kitchen Fun.

Sincerely,
Gretchen Schwensen

GS:ma
---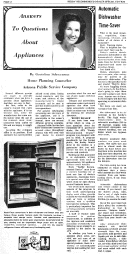 ran in print in AJO