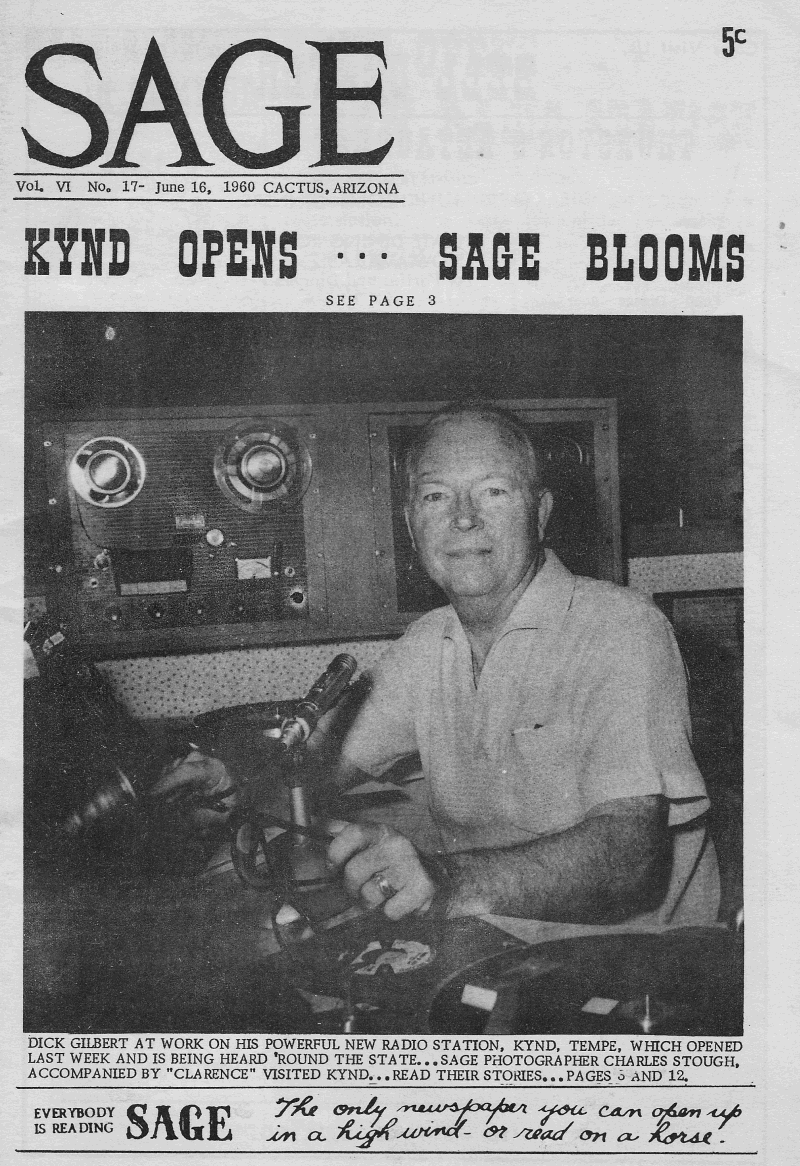 GILBERT AT WORK ON HIS POWERFUL NEW RADIO STATION. KYND. TEMPE, WHICH OPENED
LAST WEEK AND IS BEING HEARD 'ROUND THE STATE ••• SAGE PHOTOGRAPHER CHARLES STOUGH.
ACCOMPANIED BY "CLARENCE" VISITED KYND ••• READ THEIR STORIES ••• PAGE 3 AND 12.
By Chas. S. Stough

Last week the Salt River Valley got a brand new radio station. The home town of the new station is Tempe, and it is Arizona's most powerful station-- 10,000 watts, non directional.
After two years of negotiating Mr. Dick Gilbert secured KYND, a 1580 Kilocycle station, and you find it at the top of your dial- -1580.

Dick Gilbert, a native of Louisville, Ky., spent most of his youth in New York City, where he first entered radio way back in 1922. It was at Radio Station WDT. New York City, Gilbert started his career. This station was owned by Vaughn D. Leith, a well known performer of years ago. Gilbert was a singer of popular songs in those days. In 1923-24-25 he averaged 1000 programs a year.
It is interesting to know that he was the first to be called Disc Jockey. Now the term is generally accepted and Singularly, Gilbert is still a D. J.

Mr. Gilbert pursued show business generally, doing stints as Editor of Metronome (popular music mag) and was music editor of Variety. He came west in 1946 and was with KTYL for eight and a half years. Later he organized and directed KPOK •• Scottsdale •• selling out in 1958.

KYND, which he calls the KIND station, will be a station of service, says Gilbert. "Call us if you need help of any kind because we are pledged to serve this valley." United Press International News Service will be used for news.

Mr. Gilbert has Dick Williams, Bob Early, Wayne Vance and Ron Edwards with him in the operation of the station, and Mrs. Alma Gilbert, Dick's Wife. will be actively associated with the station. They have a son, Gary, aged 13.

"If you are interested in Music (not noise) tune in KYND. the kind station •• Kind to your ears, at 1580 on the top of the dial," says Dick Gilbert. And we agree with him KYND does sound good --that is, if you like real music. (This is from SAGE Vol. VI No. 17- June 16. 1960 CACTUS. ARIZONA )

-~Chas S. Stough
------ OK - Buck Owens comes on scene...
1965 - Owens buys KYND - AM, a small daytime radio station in Tempe, Arizona, for $350,000. Located in a converted Sizzler Steak House in Hayden Plaza, the station broadcasts middle-of-the-road pop music. Owens converts the programming to country and changes the call letters to KTUF. The station has 14 full and part-time employees, housed in 500 square feet of communal office and production space. Source http://www.knixcountry.com/pages/promo/40th_anniversary/timeline.html#ixzz3JV242bDv
1967 - Owens buys another station in the Valley -- this time FM, which sets him back $ 75,000. This one he calls KNIX (the NIX from PhoeNIX). Again, he immediately initiates a country format -- "the only thing I knew anything about."
KNIX-FM at the frequency of 102.5 goes on the air on August 27, 1968. KNIX takes over the frequency of a classical music station. KNIX calls the format "America's Music". Still true today.
For years KTUF and KNIX operate out of a shanty near the Salt River bed. Employees travel down a dirt road to get to work. Administrative staff, disk jockeys, and sales staff are located in one big room. They battle for the use of phone lines. The 50,000 - watt transmitter is located just outside the back door. Source http://www.knixcountry.com/pages/promo/40th_anniversary/timeline.html#ixzz3JV242bDv
HISTORY OF SAGE NEWS PAPER THE KYND RADIO ARTICLE CAME FROM (This is from Vol. VI No. 17- June 16. 1960 CACTUS. ARIZONA )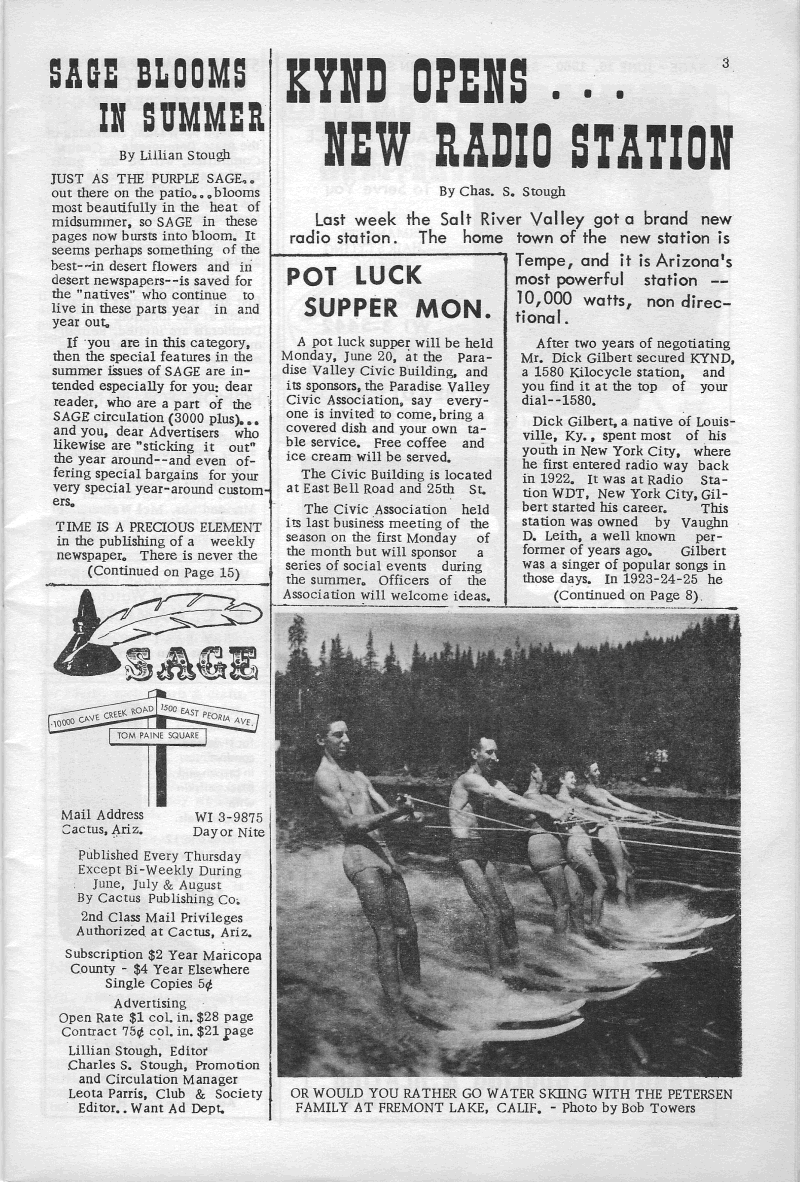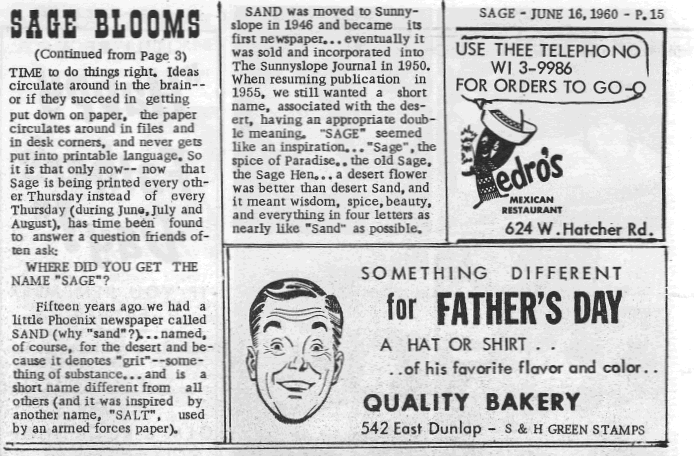 (BELOW IS A HISTORY OF THE "SAGE" NEWSPAPER" AND IT'S PREDECESSORS)
SAGE BLOOMS IN SUMMER

By Lillian Stough
JUST AS THE PURPLE SAGE... out there on the patio... blooms most beautifully in the heat of midsummer, so SAGE in these pages now bursts into bloom. It seems perhaps something of the best- -in desert flowers and in desert newspapers+-Is saved for the "natives" who continue to live in these parts year in and year out.

If ·you are in this category, then the special features in the summer issues of SAGE are intended especially for you: dear reader, who are a part of the SAGE circulation (3000 plus)... and you, dear Advertisers who likewise are "sticking it out" the year around--and even offering special bargains for your very special year-around customers.

TIME IS A PRECIOUS ELEMENT in the publishing of a weekly newspaper. There is never the TIME to do things right. Ideas circulate around in the brain-­or if they succeed in getting put down on paper. the paper circulates around in files and in desk corners, and never gets put into printable language. So it is that only now -- now that Sage is being printed every other Thursday instead of every Thursday (during June, July and August), has time been' found to answer a question friends often ask:

WHERE DID YOU GET THE NAME "SAGE"?

Fifteen years ago we had a little Phoenix newspaper called SAND (why "sand"?).. named of-course for the desert and because it denotes "grit"--something of substance... and is a short name different from all others (and it-was inspired by another name, "SALT", used by an armed forces paper).

SAND was moved to Sunnyslope in 1946 and became its first newspaper... eventually it was sold and incorporated into The Sunnyslope Journal in 1950. When resuming publication in 1955, we still wanted a short name, associated with the desert, having an appropriate double meaning. "SAGE" seemed like an inspiration... "Sage", the spice of Paradise... the old Sage. the Sage Hen... a desert flower was better than desert sand, and it meant Wisdom, spice, beauty. and everything in four letters as' nearly like "Sand" as possible.
===========================================

Mail Address
Cactus, Ariz.

Published Every Thursday
Except Bi - Weekly During
June, July & August

By Cactus Publishing Co.

2nd Class Mail Privileges
Authorized at Cactus, Ariz.

Subscription $2 Year Maricopa
County - $4 Year Elsewhere
Single Copies 5˘

Advertising

Open Rate $1 col, in. $28 page
Contract 75˘ col, in. $21 page

Lillian Stough, Editor

Charles S. Stough, Promotion
and Circulation Manager
Leota Parris, Club & Society
Editor.. Want Ad Dept.