Memorabilia Related to REA including stamps, first day covers, posters pins cookbooks..... anything is fair game! - Ed
---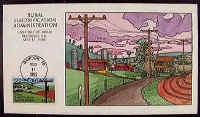 2144 22c Rural Electrification Administration Collins hand painted cachet #X901.
---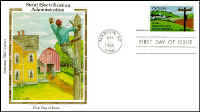 First Day Cover: First day issue. "Rural Electrification Administration" stamp, postmarked Madison, SD, May 11, 1985 w/cover design, "America's Golden Light" Colorado Silk Cachet.
---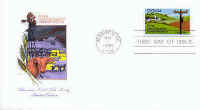 FDC Scott Catalog No: 2144, 1985 - 22c Rural Electrification Administration, 50th Anniversary, House of Farnam cachet, unaddressed.
---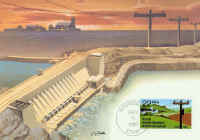 Unicover Maxi card: Rural Electrification 1985
---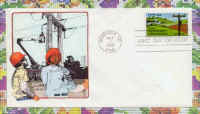 The cover was designed by Rick Chase of DRC handpainted cachets. It is based on the PO's 1985 Rural Electrification Administration stamp, Scott # 2144.
---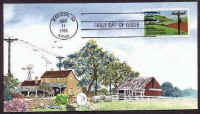 Award-winning cachet maker Lois Hamilton, or HAM, hand painted a delicate, rural scene serviced by electricity thanks to the Rural Electrification Administration, the subject of her #2144 FDC.
---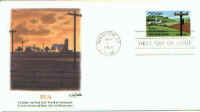 FLEETWOOD CACHET: NICE UN-ADDRESSED FIRST DAY COVER OF SCOTT #2144--RURAL ELECTRIFICATION ADMINISTRATION
---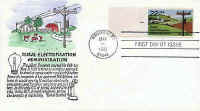 Torkel Gundel's Hand-painted First Day Cover for Scott #2144 "Rural Electrification Administration Plate Number Single"....
---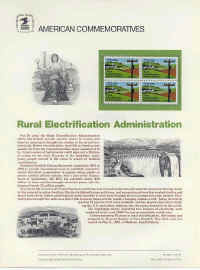 RURAL ELECTRIFICATION ADM. PANE -4 MINT STAMPS


---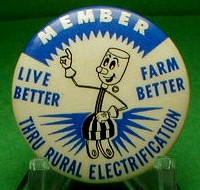 Pinback is advertising rural electrification. It pictures Willie Wiredhand in the center and reads "Member - live better-farm better thru rural electrification".
---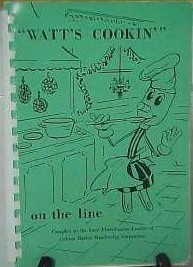 WATT'S COOKIN' COOKBOOK - on the line; compiled by the Rural Electrification Leaders of Jackson Electric Membership Corportation. Contents include: Appetizers and Dips, Beverages; Breads; Candy; Cakes; Cake Frostings; Cookies; Desserts; beef; Meats; Pork; Poultry; Seafood; Pickles; Pies; Miscellaneous; Fruit Salads; Meat Salads; Vegetable Salads; Salad Dressings; Sauces; Vegetable Casseroles; and Vegetable and Rice. 200 pages, paperback, spiral in fair-good condition
---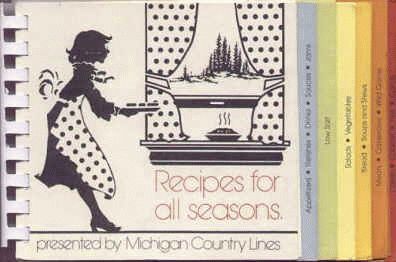 RECIPES FOR ALL SEASONS
PRESENTED BY MICHIGAN COUNTRY LINES
1935 - 1985
50 YEARS RURAL ELECTRIFICATION
MICHIGAN ELECTRIC COOPERATIVE LADIES ORGANIZATION
238 Page Stiff Softcover Spiral Bound Book
Copyright 1984, Mason Printing, Mason, MI

"This cookbook is like a giant backyard potluck supper. It's filled with your neighbor's favorite recipes - the ones they like to cook and you like to eat. Some of the recipes are fancy, some are simple, but all 800 have been tried and tested in the kitchens of rural Michigan. You can be sure they're someone's favorites!"
- Jean M. Chapin (Mrs. William) -
President
Michigan Electric Cooperatives Ladies Organization
Marvelous Collection of Signed Recipes in all categories, including Casseroles & Wild Game
---

A not so famous cousin of REDDY ....WILLIE WIREDHAND....a small charm from Illinois
---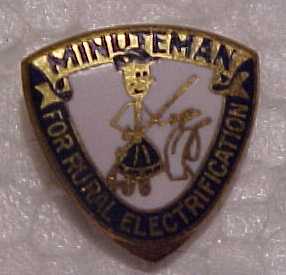 1/2" Minuteman Pin "For Rural Electrification"
---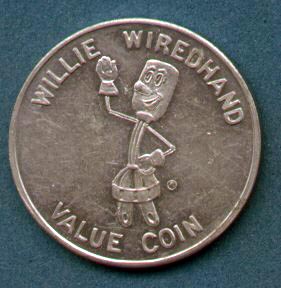 Aluminum, measures approx. 32mm. Silver Jubilee Token.
---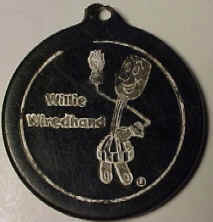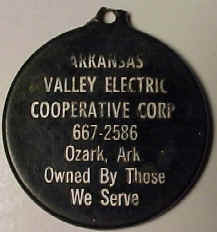 "ARKANSAS-VALLEY ELECTRIC-COOPERATIVE CORP.-667-2586-OZARK, ARK.-OWNED BY THOSE WE SERVE"
---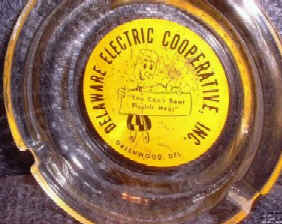 4 1/4 " diameter clear glass ashtray with slots for 3 cigarettes vintage Delaware Electric Cooperative Willie Wirehand advertising item.
---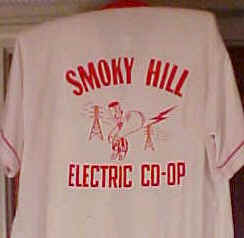 Bowling shirt with a picture on the back of Willie Wiredhand and the words "Smoky Hill Electric Co-op".
---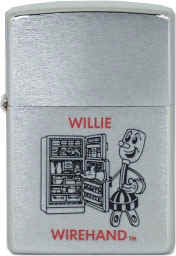 ---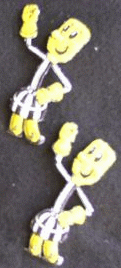 Iron on patches of Willie Wiredhand.
---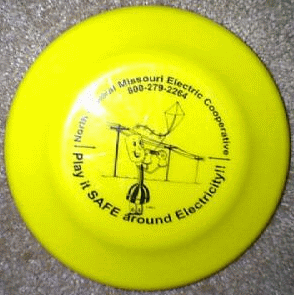 Yellow Willie Wiredhand Frisbee. Missouri Electric Cooperative - Play it SAFE around Electricity!!!
---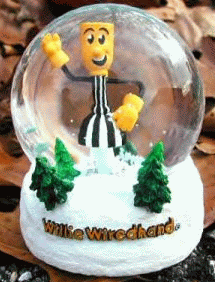 Great glass snow globe of Willie Wiredhand skating on a frozen pond. Measures about 4 inches high by 3 1/4 inches
---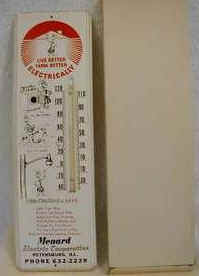 Thermometer given by Menard Electric Cooperative in Petersburg, Illinois
---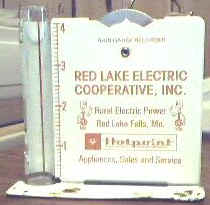 From the Red Lake Electric Cooperative. Inc. in the small town of Red Lake Falls,Mn. between Crookston and Thief River Falls.
---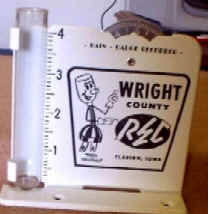 Another Rain Gauge!
---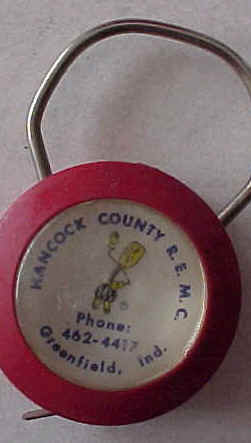 1960's Era 1" wide by 2" long heavy plastic & metal tape measure keychain picturing the famed rural electrification mascot Willie Wiredhand on front from the "Hancock County R.E.M.C. Greenfield, Indiana
---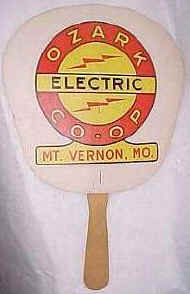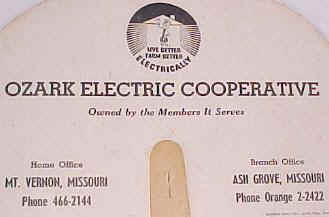 Old Ozark Electric Co-Op Mt. Vernon, MO. Advertising hand Fan. It has a colorful front side and the back side has a Willie Wiredhand ad that reads " Live Better, Farm Better - Electrically" along with listings for the home office in Mt. Vernon and a branch office in Ash Grove, Missouri.
---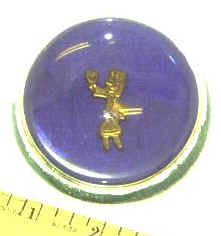 Willie Wiredhand Paperweight!
---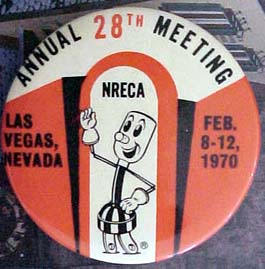 2 1/4 inch in diameter Willie Wiredhand NREC Annual 28th Meeting Las Vegas, Nevada Feb. 8-12, 1970 Pinback Button with union label curled under on edge.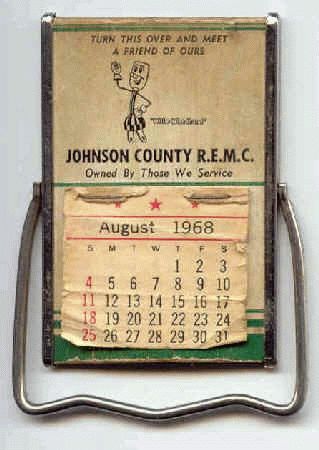 2 3/4" x 3 1/4" metal and mirror item. Reverse side is a mirror. A neat Johnson County, KY piece.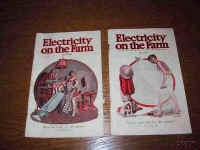 "Electricity on the Farm from 1928"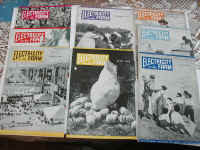 "Electricity on the Farm from the 40's"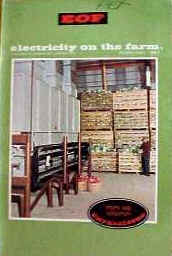 February 1967 issue of Electricity on the Farm

---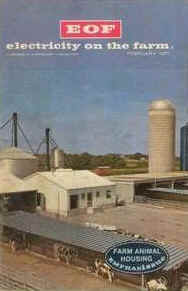 EOF - Electricity on the Farm 1971
---


Very old metal ruler from Agralite Cooperative in Benson, Minnesota. Has picture of Willie Wiredhand on left hand corner of ruler.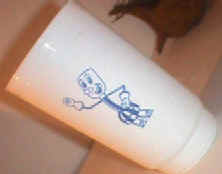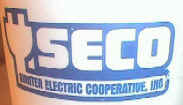 Willie Wiredhand plastic promo cup
---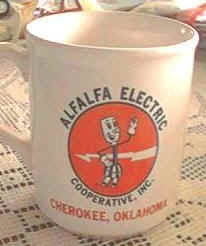 Willie Wiredhand cup from Alfalfa Electric Cooperative (formerly Rural Electric Coop) in Cherokee, Oklahoma.
---


PLASTIC SILVERWARE TRAY WITH WILLIE WIREDHAND LOGO AD FOR SUMTER ELECTRIC COOPERATIVE... LARGE 12 X 13 INCH SIZE...
---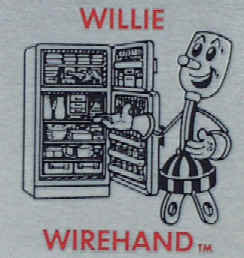 ---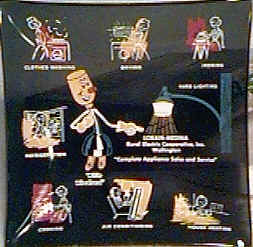 Tray measures 5" x 5", This item is from the Lorain-Medina Ohio area.
---
BALLAD (Braham Minn.)

If you have never been to Braham,
Home of Willy Wiredhand,
From the north, left on 4
Then you have three miles more,
Up 65 turn at the 'Y'
Time to have a piece of pie.

CHORUS:
Apple Pie, Cherry Pie,
You're the Rhubarb of my eye.
(repeat)
The world's longest homerun
Was hit in Brahm in '41,
It flew into a box car door,
And traveled to the Great North Shore,
Some still say it's on the fly
Looking for a piece of pie

A flaky crust, that does melt,
Will surely loosen up your belt,
Lots of lard, make it quick,
A little flour if it sticks
Fold in fours, me oh my,
My first love was a piece of pie.

BRIDGE...
And I can't
wait until
we go walking
through the fields....
With a super, dooper, pooper scoop,
Egg beater made in a chicken coop,
Micro-film, machine-picked spuds,
Cows in the meadow who chew their cud
Layin' bets to win a prize
Where's my cow and her fresh pie?

The railroad came in '99
Changes come with the pass of time,
Leveled by fire, in '08
Got so hot the town did bake,
Now we have the Park Cafe,
Servin' pies every day.

Before there was a 35
From the Cities folks would drive,
to the lake, on weekends,
stop in Braham, make new friends
Once a year, in July
They all come back for a piece of pie.
---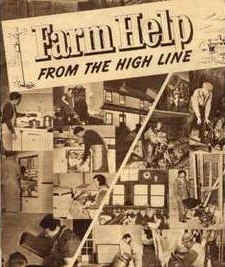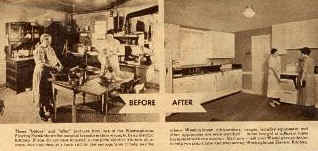 Farm Help From the High Line
Westinghouse Electric & Manufacturing Company
(PA or OH?: Westinghouse, circa 1930s). Very good condition, stapled self wrapper, slight edge or surface wear. Illustrated by photos. Paperbound. 19 pages.

Nice sepia toned pamphlet which measures 8.25 inches wide by 11 inches high. Sales brochure for rural electricity. "Wired Help...The Cheapest Hired help!" Photographs and text document the Proving Farms and Proving Installations in agricultural settings, average households (sections on light bulb use, electrical ranges and ovens, roasters, vacuum cleaners, fans, irons, hot water heaters and other home appliances), etc.
Section on refrigerators highlights a housewife in Greer, South Carolina who, like other farm women, claims her cost savings and economy is in addition to not having to go into town as often to shop ("Saves Trips to Town!"). Cost and energy savings are also stressed in the illustrated pages on milk coolers, heaters for work shops and poultry houses, electric motors, etc. Item is identified as Cat. 837-A
---
1952 Electric Wiring For Home Or Farm Book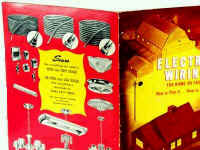 A really neat little book put out by Sears, Roebuck & Co. in the early 50's, when the Rural Electrification program had taken hold. The pages are filled with illustrations of contemporary electrical appliances and text explaining how much labor-saving can be accomplished with the conversion from old-fashioned, manual methods (outhouse, hand pump) to the modern (indoor plumbing, electric stove).
---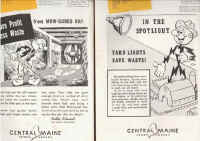 Two full page Reddy Kilowatt farm ads appearing on the back cover of Electricity on the Farm Magazine, May 1950 and November 1950.



Travel Salt & Pepper Shaker Set!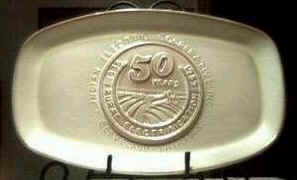 This is a beautiful 50th Anniversary Plate. It measures 14" long and 8 1/2" in diameter. As you can see, the shape is oblong, the color is, what I think to be, Desert Gold. On the front of the plate, the first circle reads: INDIAN ELECTRIC COOPERATIVE, INC. CLEVELAND-FAIRFAX. The second circle reads: RURAL ELECTRIFICATION 1935-1985. The third circle reads: 50 YEARS. Underneath the 50 years marking, there is what appears to be telephone poles and a field or pasture, I'm not sure. The back reads: FRANKOMA 5QS
---
More Frankoma REA items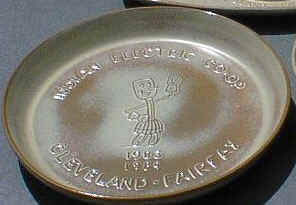 3 Very Nice Pieces of Frankoma Pottery. They were all made for Indian Electric Co-op & are in the Desert Gold Glaze which has been discontinued All pieces are in excellent condition with no chips, cracks or crazing & they are all dated. The first piece is a Pie Plate measuring 10" diameter & is 2" deep. It says: Indian Electric CO-OP 1983-1984 Cleveland Fairfax. The next piece is a large Platter measuring 8&1/2x13&1/2" & says: Indian Electric Cooperative 50 Years Rural Electrification 1935-1985 Cleveland-Fairfax. The last piece is a Serving Bowl measuring 7&1/2" diameter & is 3" deep & says: Indian Electric Cooperative Inc.1986.
---
Small Commemorative Oil Lamp Rural electrification 50 Years, 1935--1985.
Stands about 8-1/2 inches high.

---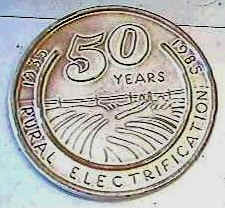 Frankoma - hot plate holder
6" across the front. It says 50 years 1935 rural electrification 1985
---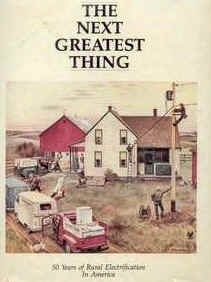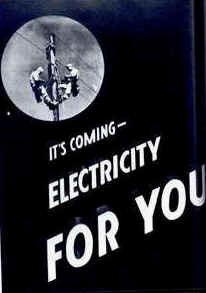 50 years of rural electrification in America.Copyright in 1984
John Mellencamp Rural Electrification Tour 1999 Tshirt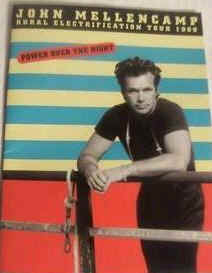 The Tour Book!
1999 Press release....
Great River Energy salutes John Mellencamp
Three-Month Tour to celebrate Rural Electrification
Elk River, MN (May 17, 1999). Great River Energy, a Touchstone Energy cooperative, proudly welcomes Grammy Award-winning recording and performing artist John Mellencamp to the Twin Cities. Dubbed "The Rural Electrification Tour," the three-month tour of areas and outdoor venues will also feature special guests Son Volt.
In launching the tour, Mellencamp explained, "In the thirties, rural electrification brought electricity to farmers and other rural dwellers for the first time in their lives, and along with that electricity came radios and record players: Music! We're lucky enough that for the last 20 years we've had the opportunity to play our own small part in bringing music to people: to entertain them and have a lot of fun in the process."
Generations ago, friends and neighbors joined together in communities all across America to build their own electric utility to power their lives. As these areas grew, electric cooperatives grew with them. Now, electric co-ops serve 30 million people in 46 states.
"We are thrilled that John Mellencamp is touring the country to celebrate rural electrification," said Kandace Olsen, manager of communications at Great River Energy, a Touchstone Energy cooperative. "For more than two generations, electric cooperatives across the country have been providing their customers, large and small, with quality, state-of-the-art technology and personalized service at affordable rates. We believe "The Rural Electrification Tour" celebrates the valuable contribution that electric cooperatives have made to their communities."
Since the release of American Fool in 1982, John Mellencamp has maintained a consistent hold on the charts while his fans have remained loyally steadfast. In addition to his 37 gold, platinum, and multi-platinum awards, Mellencamp has been nominated for 12 Grammys, most recently in the Best Male Rock Vocal Performance category for "Our Life Is Now," a track from RIAA-certified gold John Mellencamp.
John Mellencamp will be performing at the Target Center in Minneapolis, Minnesota, on Wednesday, May 26.
Great River Energy is an electric generation and transmission cooperative based in Elk River, Minnesota. The company serves 29-member distribution cooperatives that in turn provide electricity and related services to more than 1.5 million people in Minnesota and part of Wisconsin.
Touchstone Energy® is an alliance of local, consumer-owned utilities across the country committed to providing superior service at affordable rates to all customers, large and small. Touchstone Energy® serves more than 5.6 million households and businesses reaching more than 15 million people in 36 states from coast to coast.
---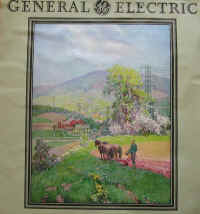 1931 GE CORP CALENDAR titled "ELECTRICITY COMES TO THE FARM". This poster is a print from a painting by the well known Artist Walter L. Greene of Schenectady, New York. He worked as an illustrator for GE and the New York Central Railroad Company. This poster is 18" by 16" in total area. The print area is 14-3/4" by 11-1/2".
---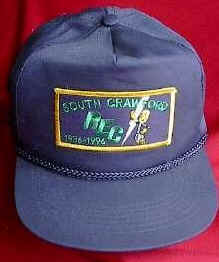 This Rural Electric Co-op cap with Willie Wiredhand on the front is from South Crawford County in Iowa. It is dated 1936-1996 so is commemorating their 60th year.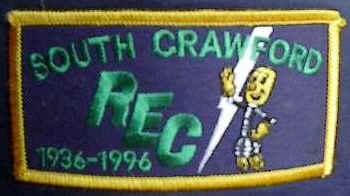 ---