ELLIOTT

COMPUTER ACHIEVES SIGNIFICANT SAVINGS IN STEELWORKS

By agreement with Samuel Fox &

Co. Ltd., Elliott Automation announces that the indications are that the Elliott Electronic computer control of the billet cut-up line at Samuel Fox's steelworks at Stocksbridge, which has now been in use for six months, is fulfilling the expectations of the Management.

The installation is the first application of an electronic digital computer to an actual steel process anywhere in the world and the first such application to any industrial process in the United Kingdom. At the time

the installation was announced, it was said that significant cost savings were expected as a result of reduced wastage in the cut billets.

It can now be said that the

evidence so far available does show worthwhile savings in material yield.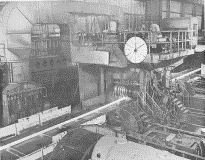 Click Photo for larger view....

Ref. 8690

A white hot stainless steel billet passing through the mill at Samuel Fox &

Company's steelworks where the Elliott computer control of the cut-up line is installed. This is the first installation of an electronic digital computer for the control of an actual steelworks process anywhere in the world and the first such application to any industrial process in the United Kingdom. The installation is said to be fulfilling the expectations made of it.

Acknowledgement

Photograph by courtesy of Samuel Fox &

Co. Ltd., a subsidiary of the United Steel Companies Limited.

For further information and copies of photograph:-

John Geddes,
Elliott-Automation Limited,
34 Portland Place,
London W.1.
Telephone: Langham 9271

91/Bh
The Panellit 609 was based on the Elliott 803 computer. You'll see lots
of info. on the 802/803 machines at the appropriate pages (E3) of:

http://www.ourcomputerheritage.org/wp/

For your info., I've extracted a few items of interest from these web
pages, plus a couple of paras from Chapter 4 of my draft book.
All this stuff is appended below. Let me know if you need more info.

I'd be interested to see more of your 609 stuff, and especially the:
> ...interesting press release date 30/11/61 detailing the "first
> application of an
> electronic digital computer to an actual steel process anywhere in
> the world".


Regards, Simon.
_________________________________________

Professor Simon Lavington,
Lemon Tree Cottage,
High Street, Sproughton,
Suffolk, IP8 3AH.
01473 748478. lavis@essex.ac.uk
http://cswww.essex.ac.uk/staff/lavington.htm

________________________________________


+++++++++++++++++++++++++++++++++++++++++++++++++++++++

Info. extracted from the CCS Pilot Study and from Chap. 4 of the forthcoming
book 'Moving Targets' by Simon Lavington.

The 800 series machines were sold direct by Elliott's Computing Division for
scientific/engineering applications, via NCR Ltd. for commercial
data-processing applications, and by Elliott's Process Automation Division
for incorporation in their 609 and ARCH systems. The majority of installed
computers were in fact the 803B variant....

In parallel with the success of the 800 series, Borehamwood had been
refining its long-held belief in the need for better industrial control
systems and process automation. The way ahead seemed to lie in the
development of a hierarchy of control equipment, comprising customised
selections of modules ranging from simple analogue computing elements to
complete general-purpose digital computers. Accordingly, in September 1959
Elliott Brothers approached NRDC for help in developing what was to become
known as ARCH: the Articulated Control Hierarchy. In November 1959 NRDC
agreed to make available up to £150,000 for one half of the cost of the ARCH
project.

The technical details of ARCH and the incorporation of 800 series and 900
series computers in ARCH systems are covered in more detail in Chapter **.
The purpose of mentioning the project here is to round off the account of
how NRDC interacted with Elliott Brothers and Elliott Automation during the
1950s and 1960s.

ARCH was launched at a Press Conference held at the Savoy Hotel, London, on
7th May 1962. The first public demonstration of ARCH was at the
Instruments, Electronics & Automation Exhibition at Olympia, London, from
28th May to 2nd June 1962....


803B The enhanced 803A, first working in 1960. The 803B employed more
parallel paths
(separate registers) internally instead of the bit-stream approach, and had
hardware
floating-point. The majority of '803s' sold would have been 803Bs. The
selling
price (1960 values) was £29,000. The 803B was said to have been "an
immediate
success. It was small and simple and completely transistorised. As a
result, the
power consumption of the basic machine was only 3.6KW. The transistor/core
logic
proved extremely reliable" (ref. 8). A total of 211 of the 803 systems
(including
803A, 803B, and the ARCH 8000 and Panellit 609 Process Control variants)
were
delivered between 1960 and 1966.

The Elliott Panellit 609 process-control computer was based variously on the
802 or 803 computer (see refs. 6 and 13). The Elliott ARCH 8000
(Articulated Computing Hierarchy) process-control computer was based on the
803.

The 803's instruction set is identical in arrangement, except that in the
803 Group 6 instructions are (a) floating-point arithmetic operations, and
(b) a short divide and a hardware square-root instruction. The latter were
specifically incorporated for process control applications (ARCH systems).
For general scientific and commercial applications they were disabled.
66 n DIVSH divide acc by operand, placing 13-digit quotient in
acc. (NB - only for Process Control applications).
67 - SQRT extract square root of acc, placing 13-digit root
in acc. (NB - only for Process Control applics).

Some 803/ARCH/609 installations of interesr are as follows (* an asterisk
indicates on-line control):

1960:
Samuel Fox & Co. Ltd. * Billet cut-up optimisation

1961:
Richard Thomas & Baldwins Ltd. Operational research in steel making.

1962: 803:
2 computers: Richard Thomas & Baldwins (Spencer Wks) * Scheduling & slabbing
mill control.
Richard Thomas & Baldwins Ltd. Systems development.

1963: 803:
United Steel Co. Ltd. Operational research.
+++++++++++++++++++++++++++++++++++++++++++++++++++++++++++
+



Simon, Ed.

Some more information on the Panellit 609/Elliott 803.


The Elliott Process Control Computer at Stocksbridge

This computer was used to optimise steel bar/biller cutting at Samual Fox &
Co, Stocksbridge, near Sheffield in South Yorkshire. The works is still
there as Corus Engineering Steels, Stocksbridge. This was a simple
application of process control to optimise the length of bar cut so as to
maximise yield. I guess it drew upon earlier research at the British Iron
and Steel Research Association. The paper on it shows annual savings from
yield gains more than outweighed the total initial cost of the scheme -
including software, implying a very rapid payback on the initial
investment in equipment and programming.

The key paper is:
R.H. Baulk, R.J. Jakeways and K.C. Padley, "Experiences with an on-line
process control computer in a steel works", in Instrument Society of
America, Digital Computer Applications to Process Control, New York:
Plenum Press, 1965, pp.207-232

I can easily copy this if either of you want it. There are duplicate copies
of the volume in one of our University Libraries.

I worked for Corus Engineering Steels as a consultant for 12 years on a
completely different issue so it should be possible to track down some
early photos.