David Breneman In the Pacific northwest relates a TK 41 tale....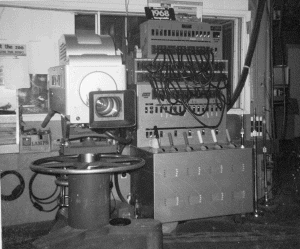 Photo by David Breneman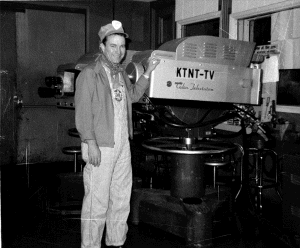 The fellow in the railroading costume
is KTNT kid's show host "Brakeman Bill." (I was there to see
the show with my Cub Scout troop.) I was going to take a
picture of a TK-30 sitting in a corner with all the panels
open, and he said, "Don't waste a picture on that! Get the
color cameras!" I can just imagine what the guys in the
booth did when they saw me standing in front of one taking
a flash picture into the lens! Photo by David Breneman



OK, here's the story on the TK-41s. KTNT in Tacoma was the first
TV station opened in the Pacific Northwest after the construction
ban was lifted. Prior to that, the only TV station north of
San Francisco and west of Chicago was KING in Seattle. A friend
of my parents, Max Bice, who was also an avid ham operator, was
the station manager. He had friends at RCA, and they let him
literally go through the warehouse and pick out equipment that
wasn't due at its destination for months, and divert it to his
station. So KTNT came on the air fairly quickly after the ban
lifted, as the northwest's CBS affiliate.

As such, they had a pretty lucrative operation, and jumped into
color pretty early in the game. But in 1958, Bonneville
Broadcasting's Seattle station, KIRO, got their TV license.
As the long-standing CBS radio affiliate in Seattle, they were
able to yank the CBS affiliation from KTNT in nearby Tacoma.
As a result, and as sort of a consolation prize, since the CBS
coaxial cable to KIRO ran through KTNT's plant, and they got to
air those CBS shows KIRO didn't want - usually a handful of
daytime soaps and game shows.

KTNT was left to live by their wits with syndicated shows and
old movies, and some local daytime programming, like Romper
Room, the Don St. Thomas Show (a local hour of interviews and
news) and, as pictured, Brakeman Bill. Like I said, Mr. Bice
set up the tour for our Cub Scout troop, where I took the
pictures (including the one attached).

Later on, when I was in my early teens and showing an interest
in broadcasting, I got to spend a few days at the station.
Mr. Bice put me in the care of poor Mr. St Thomas, who had to
answer my barrage of questions while doing prep for his show.
(By this time, the TK-41s had been replaced with TK-44s, and
the older cameras had been donated to the local voc school
which broadcast many of the "in classroom" educational shows
in the days before PBS.) I'm sure Mr. St. Thomas was thrilled
when, after his show, I showed an interest in the work of the
film editors, and he left me in their care for a few hours.
A lot of what they did was to screen 16mm prints of shows
like "The Beverly Hillbillies" and "Dick Van Dyke" on Movieolas,
and splice in commercials off the call sheets in the appropriate
locations. The commercials were stored on 50' reels in huge
filing cabinets. After a commercial's run was over, it was
dumped. I was lucky enough to be there on culling day, so I came
home with about 4000' of commercials in two big boxes, and a
real prize - in IB Technicolor print of the "Laramie" NBC
Peacock which they'd had to cut out of a program they bought
from NBC.

Anyway, fast forward a few years. I'm now about 18. KTNT was
being sold by its owner, the Tacoma News Tribune, due to an FCC
ruling that the same organization couldn't control radio and
TV stations, and a newspaper, in the same city. I wrote for,
and got, one of their station ID slides which I still have (the
call sign changed to KTVW with the new owners). I also asked
about a TK-30 which I'd seen a few years before sitting under
a table in the lunch room. It was still there, I was told, but
unfortunately is was on the inventory, so it had to stay. (The
new owners later told me they wanted to keep it, "Maybe for
shooting titles or something.") However, did I know that the
old TK-41s were being surplussed by the Voc school because
they'd received a huge government grant to become a public
broadcasting powerhouse and were putting in all new plant and
equipment? (This empire-building venture lasted 1-1/2 years;
they're now the local Fox affiliate.)

So, I high-tailed it down to KCPQ, the public station, where I
talked to their chief engineer. Did I know that only on of
the cameras worked? Fine, I'll have one for parts. Did I know
that each camera needed a rack full of equipment? Yes, I want
that, too. Etc., etc. So he said he'd talk to the board of
honchos who make such decisions, and get back to me. Two weeks
later, he called me. "I'm sorry," he said, "But since we're a
public station, they didn't want to give the equipment to a
private party. I had to call around to every other 'charity
case' broadcaster in three states to see if any of them wanted
the equipment. They all said no, but they still won't let me
give you the camera. I'm really sorry."

Here's the tragedy:

Less than a year later, I ran into an acquaintance who was
taking the 3rd class radiophone course at the Voc school. I
asked him if he knew what had happened to those TK-41s. "Oh,
yeah! They gave the good one to the first year students to
play around with, and some idiot wired the power supply wrong,
and blew out every cap in the camera! It caught fire!" They
ended up stripping them both down, and gave the optics and
dichroic filters to the photo lab, and junked the rest.

This was about 1977 or 78. I really appreciate the attempt
that the station manager made to save them by giving them to
me, but in the end, bureaucracy and the "public broadcasting
mindset" destroyed them. I encountered the same thing when I
tried to rescue an Ampex VR-1000 from the public station in
Seattle at about the same time. They'd rather scrap it than
give it to me because a was "A private entity" and not part
of their Muppet clique. I'm sure it ended up on the scrap
heap, too.