PTL Network with Jim Bakker , RCA TK-47's
and Vinten Fulmar and Chapman Crane


Postcard from the SMECC Archives www.smecc.org

Ed Sharpe says: Post Card - PTL Network with Jim Bakker yes? Who were the cameramen? ? Tell me more please! I do know the Cameras are RCA TK-47's and the Pedestal is a Vinten Fulmar (one of the finest.)

Fred Kovach tells us: Here's what I have so far from the PTL forum. This pic has generated quite a bit of discussion!

One person said that PTL acquired a lot of RCA cameras and VTR's in 1975 or 76. However, the TK-47 was not introduced until 1978, and I recall an older TK-44 being used as a fixed wide shot in the "Barn" Auditorium which was attached to the same control room as the main PTL studio. So that camera as well as the other TK-44s might have been a part of the original purchase in 1975 that they are referring to. He gave me the name of someone to ask, so I'll keep you posted. I still think the TK-47s were acquired in the early 80's.

This is almost certainly a staged shot. They noted that the cameras are not pointed at Bakker, nor is he in the camera monitors. They said that there might be several such staged shots per day for things happening around PTL. One lady thought that he was holding a "Heritage Herald" which was the daily paper I was referring to. Another person felt certain that this shot was taken for the cover of Broadcast Magazine, (or perhaps the occasion of having made the cover of that magazine) and that he was holding a copy of that magazine. But it doesn't look like there is a picture on whatever he is holding. So I think it might be the Heritage Herald or some similar paper

Everyone does agree on the names of the cameramen: Ricardo Valle is on Cam3 and Rick Auten is on the boom. They aren't sure who took the picture, as there were four photographers on staff at the time. However, Phil Eggert was the chief photographer at the time.

No one seems to dispute my assessment of the time frame, nor have they narrowed it down any.

I'll keep you posted if I receive any more revelations.

Fred Kovach

Broadcast Technician

---

---

---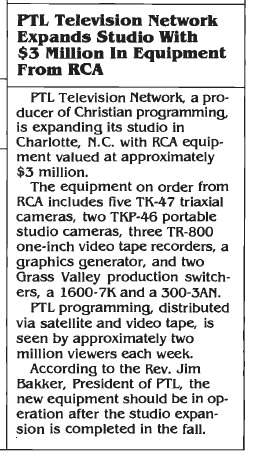 (PTL RCA equipment install talked about in Oct. 1982 RCA Broadcast News magazine in the SMECC Archives )
PTL Television Network Expands Studio
With $3 Million In Equipment From RCA

PTL Television Network a producer of Christian programming, is expanding its studio in Carlottte, N. C. with RCA equipment valued at approximately $3 million.

The equipment on order from RCA includes five TK-47 triaxial cameras, two TKP-46 portable studio cameras, three TR-8OO one-inch video tape recorders, a graphics generator and two Grass Valley production switchers, a 1600- 7K and a 300-3AN.

PTL programming, distributed via satellite and video tape, is seen by approximately two million viewers each week.

According to the Rev. Jim Bakker, President of PTL, the new equipment should be in operation after the studio expansion is completed In the fall.
---
---
---
A LATER DATED MAGAZINE WITH PTL FINISHED INSTALLATION ON THE COVER.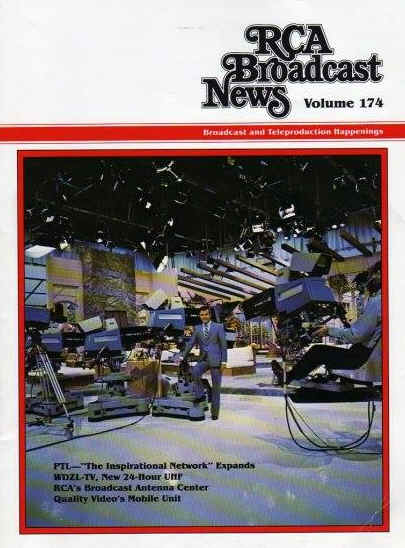 From: Fred Kovach

Broadcast Technician
---
---
---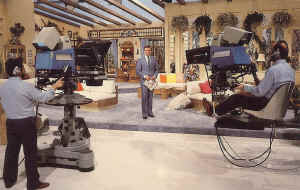 Postcard from the SMECC Archives www.smecc.org
Click - this gets huge. LARGE FILE!