MOBILE TV TAPE RECORDER FOR MAKING
QUADRUPLEX TAPES IN STUDIO OR FIELD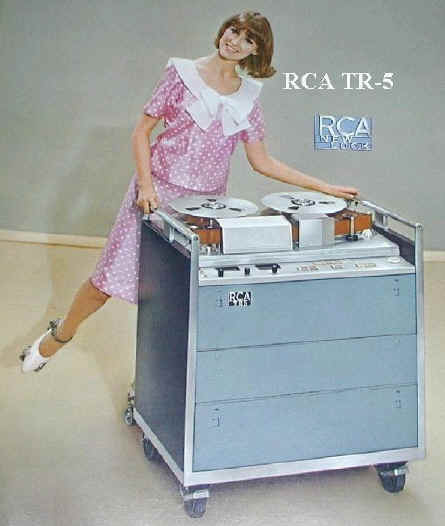 Mobile Tape Recorder TR-5
The TR-5 TV Tape Recorder "on wheels" is an RCA "New Look" equipment especially designed for recording of video tapes, color and monochrome, at various locations in the plant or in the field. It is small in size and mounted on casters for easy movement from one location to another. The recorder conforms to highest broadcast standards. Tapes recorded on it are fully compatible with all standard broadcast quadruplex recorders. For closed circuit applications it comprises a complete recording and playback facility. It may also be used for on-air playback by adding a signal processing amplifier.
Description
The RCA Type TR-5 TV Tape Recorder is engineered to produce TV Tapes that faithfully reproduce the high quality monochrome and color pictures now provided by new, improved TV Cameras. It employs standard RCA transistorized, interchangeable modules. It accommodates cue record/playback and electronic splicer accessories.
Switchable Standards
The TR-5 is equipped for operation on international (switchable) or domestic standards. To change from one standard to another, an operator merely moves the standards selector switch to the desired position. This master circuitry provides instantaneous switchover from 525 to 625 to 405 TV line standard.
Built-In Two Speed Operation
Circuits to permit choice of operating speeds, 15 or 7 1/2 inches per second, are built into the TR-5. Recording time of up to 60 minutes at 15 IPS and 120 minutes at 7 1/2 IPS is possible with the 12 1/2 -inch tape reels.
Interchangeable Sub-Assemblies
The modular construction of the TR-5 mobile recorder means that many of the sub-assemblies are interchangeable with the TR-3/4 and TR-22 recorders. All modules are completely accessible and by means of a module extender it is possible to service the machine while in operation.
Transistorized for Reliability
Advanced transistorized modular circuits are used through the TR-5. These solid state circuits operate on lower voltages and require much less power and generate less heat. As a result power supplies are small, efficient units, and air conditioning requirements are reduced. Transistors have proved extremely reliable and stable. All TR-5 circuits are conservatively rated, and permit semi-automatic "pre-set" type of operation. Warm-up time is greatly reduced, practically eliminated, since no warm-up cycle is required.
Record/Playback Circuitry
The record circuitry of the TR-5 includes a standard modulator and four standard record amplifiers. Each of the amplifiers provide quadrature delay as well as FM level control. Color or monochrome video signals are recorded wi th amazing realism. The playback circuitry involved includes playback quadrature delay, four-channel equalization and head switching. Switchlock is also featured as part of the basic machine. For direct on-air broadcasts it is recommended that a signal processing amplifier be utilized. The equipment is designed with built-in audio playback for line drive as well as earphone level monitoring. Stable video playback of any properly recorded quadruplex tape is achieved. Com pact-Transportable
The Tape Recorder is contained in a small cabinet on casters measuring only 31 inches high (37 inches with casters), 33 inches wide and 24 inches deep. It weighs approximately 475 pounds. It may readily be moved from one studio to another or transported to remote locations.
Ease of Servicing
TR-5 modules can be easily removed for repair or replacement. They may also be checked without removing through use of module extenders supplied with the equipment. Spares can be inserted as fast as one can pull out the module and plug in another. This standardization of modular circuits permits interchange of many modules between various RCA models in multiple equipment installations. Furthermore, complete modular spares can be stocked for emergency use.
Horizontal Tape Transport
The low contour of the TR-5, so essential for ease of transportation to remote locations has been achieved not only by the compact transistorized circuitry, but also by a horizontally mounted tape transport. This transport has all the conveniences and fine performance qualities of the TR-3 and TR-4 Tape Recorders. Air lubricated guide posts provide long tape life, while tapered guide post flanges aid tape threading. The transport panel is hinged for complete access to components.
Finger Tip Controls
Push-button operating controls are conveniently located. They afford complete mode control of play, record, fast forward, fast reverse, and stop. In addition there is a two-speed indicator, local and remote switch, audio/mike switch and (tone wheel! switchlock) indicator. A switchable audio-video VU meter and metering facilities for control track phasing can also be used for measuring sync tip frequency. Three front panels provide complete access to mode control modules, the module bank, and the base of the equipment where power supply and air system are located.