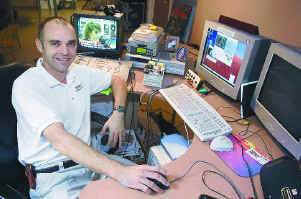 Todd Atchison said it would have been impossible to move his high-tech startup, StreamerNet Corp.,
to Kuttawa, Ky., without broadband Internet service. Kentucky officials expect more businesses to
locate in rural areas as such service expands across the state.
Todd Atchison had lived in Louisville for 10 years, but he was still at heart the country boy who had grown up in Lyon County next to Western Kentucky's Lake Barkley.
So when his hometown business partner urged Atchison to move their high-tech startup, StreamerNet Corp., to Lyon County, Atchison said he had one big question: "Can I get DSL?"
Without a broadband Internet connection such as DSL from the phone company or a cable Internet connection, the move couldn't happen, said Atchison, whose business develops software that allows live video transmissions over cell-phone networks. ...