---
Interesting Book on Joe Meek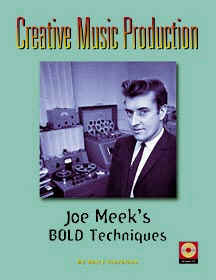 Vallejo, CA – artistpro is proud to announce the release of "Creative Music Production: Joe Meek's Bold Techniques," the latest in the popular MixBooks line of music titles. This special book has been years in the making, and promises to be the definitive title on the music career of Joe Meek. Also included is a CD containing Meek's "I Hear a New World" album, not available in its original form since 1961!
Legendary British producer and technical innovator Meek–the man behind the hits "Telstar" and "Have I the Right?"–has become a cult figure since his death in 1967, with fan clubs, CD collections, and retrospectives growing in popularity every day. Although much attention has been paid to his unusual life story and tragic passing, "Creative Music Production: Joe Meek's Bold Techniques" is the first book that gives the details on the methods that led to Meek's influential hits.
Written by veteran music journalist Barry Cleveland, this book takes an industry perspective on Meek's life. It explores his 12-year professional career in great depth, with special attention paid to the equipment he used and the effect that his work had on the people around him.
The book is available from the author at http://www.barrycleveland.com
,