What is WCSC-ETV? and the Dage TV Camera

Dage TV Camera
Tell us more! More photos and detail on this page HERE and info archive
we have gathered thus far...
Who was WCSC-ETV?
Anyone out there worked for them?
Any Photos or news articles? Yes! We want to
re-create the 'proper look?' in the display here,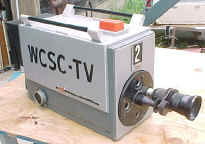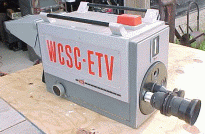 DAGE Model 520 Television Cameras
We have two of these DAGE 520 Cameras here in the museum's collection. we are looking for DAGE catalogs and sales literature, maintenance manuals and spare parts. It would be really special to find the CCU rack mounded unit that went with these cameras.
We would also appreciate photos of these units actually in action out in the broadcasting world.
But... most precious of all would be your remembrances of using, selling, or manufacturing these units.
These 2 cameras had been used at WCSC-ETV...

What is WCSC-ETV?
well... We found where they came from!
Follow the link below...
Tell us more! More photos & detail
on this DAGE Televison Camera HERE