The Servicing of Television Receivers
Philco 1946
Philco Television WPTZ Philco built Camera
on cover covering a Football game See More HERE
(Book from SMECC Collection)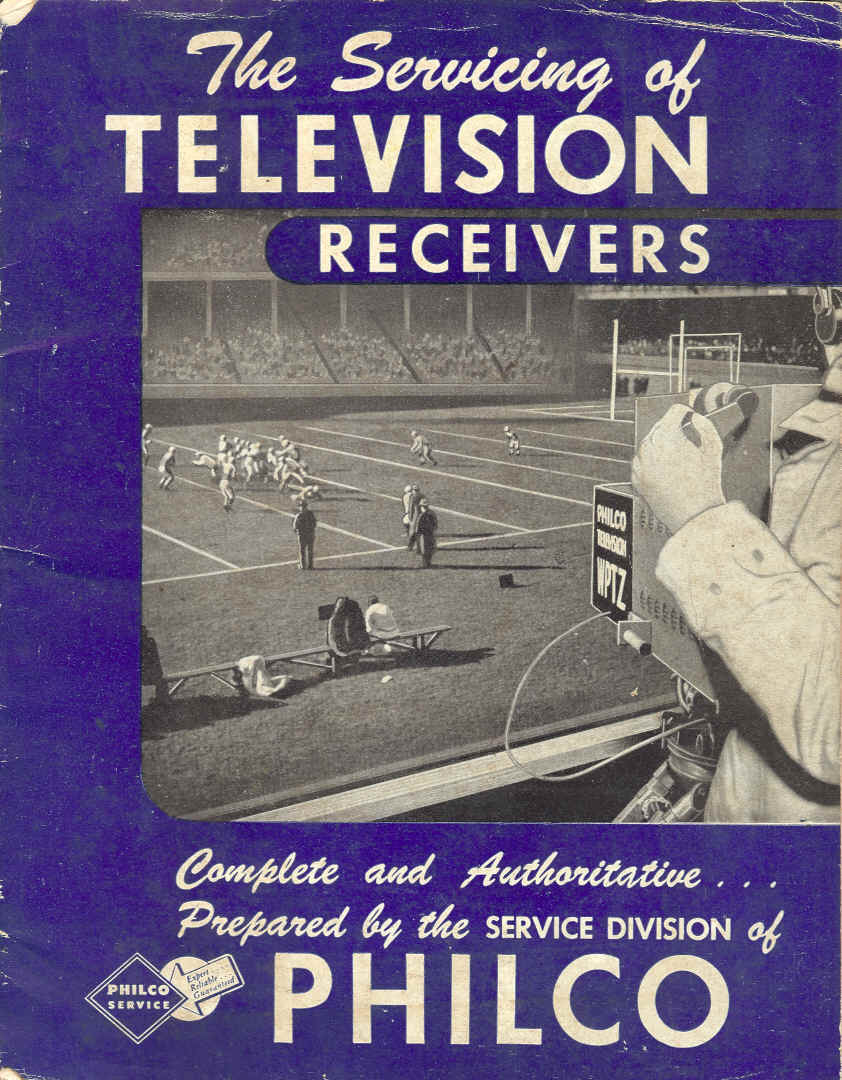 History from wikipedia (http://en.wikipedia.org/wiki/KYW-TV)
[edit]
As WPTZ-TV
The channel 3 facility in Philadelphia is one of the world's oldest television stations. It began in 1932 as W3XE, an experimental station owned by the Philco Corporation, a local company known for manufacturing early radio and television sets. Philco engineers created much of the station's equipment, including cameras. In 1941, it began sharing programs with W2XBS (later WNBT and now WNBC-TV) in New York City, becoming NBC's second television affiliate, and creating a link between the station and the network that would last for 54 years.
On July 1, 1941, W3XE received a commercial license—the third in the United States, and the first outside New York City—as WPTZ-TV. The station signed on for the first time on September 1. The station originally broadcast from a tower in the Philadelphia suburb of Wyndmoor. It significantly cut back operations after the U.S. entered World War II, but returned to a full schedule 1945. It then became one of three stations (along with WNBT and WRGB in Schenectady, New York) that premiered NBC's regular television service in 1946 (WRGB is now a CBS affiliate). The Westinghouse Electric Corporation, owner of Philadelphia's NBC radio affiliate KYW (1060 AM), purchased WPTZ-TV in 1952 (The WPTZ call letters are now those of the Hearst Television-owned NBC affiliate in the Burlington, Vermont/Plattsburgh, N.Y. market).
[edit]
As an NBC-owned station
In June 1955, Westinghouse traded WPTZ-TV and KYW radio to NBC in exchange for Cleveland's WNBK television and WTAM-AM-FM. NBC had long sought an owned-and-operated station in Philadelphia, the largest market where it didn't own a station. It had made several offers over the years for the Philadelphia stations, but Westinghouse said no each time. After being rebuffed by Westinghouse on several occasions, NBC threatened to drop its affiliation from WPTZ-TV and Westinghouse's other NBC television affiliate, WBZ-TV in Boston, unless Westinghouse agreed to the trade. When NBC took over in February 1956, channel 3's call letters were changed to WRCV-TV (for the RCA-Victor record label; KYW radio adopted the WRCV calls as well).
Shortly after NBC took control of channel 3, the Federal Communications Commission (FCC) collapsed the Lehigh Valley, most of northern Delaware and southern New Jersey (including Atlantic City) into the Philadelphia market. NBC realized WRCV-TV's existing tower was inadequate for this enlarged market. In 1957, channel 3 moved to a new 1,100-foot (340 m) tower in Roxborough. The tower was co-owned with WFIL-TV (channel 6, now WPVI-TV) and added much of Delaware, the Lehigh Valley and southern New Jersey to the station's city-grade coverage. Along with the transmitter move, NBC upgraded channel 3 from black-and-white to color transmissions.
However, almost immediately after the trade was finalized, Westinghouse complained to the FCC and the United States Department of Justice about NBC's coercion and an lengthy investigation was launched. In August 1964 NBC's license for WRCV radio and television was renewed by the FCC—but only on the condition that the 1956 station swap be reversed. Following nearly a year of appeals by NBC, Westinghouse regained control of WRCV-AM-TV on June 19, 1965. Westinghouse had moved the KYW call letters to Cleveland after the swap, and upon regaining control of the Philadelphia outlets channel 3 became KYW-TV. Group W, as Westinghouse's broadcasting division was known by this time, took over a transmitter facility far superior to the one it relinquished in 1956. To this day, KYW-TV insists that it "moved" to Cleveland in 1956 and "returned" to Philadelphia in 1965—in fact, some staffers who worked at KYW-TV in Cleveland (talk show host Mike Douglas and news anchor Tom Snyder among them) moved to Philadelphia along with the call letters.[2][3][4]
[edit]
As KYW-TV
Despite its status as NBC's largest affiliate, KYW-TV spent much of the next thirty years pre-empting many NBC programs, choosing to air local or syndicated programming instead. The production arm of Westinghouse Broadcasting was partially responsible for the pre-emptions, as channel 3 aired shows produced and syndicated by Group W, such as The Mike Douglas Show, The David Frost Show and Hour Magazine. Pre-empted network programming was usually lower-rated daytime game shows, soap operas or reruns of primetime programs with an average of two hours per day. At one point, in the fall of 1980, KYW-TV preempted NBC's entire morning schedule after the Today Show. Over the years, NBC contracted independent stations WPHL-TV, WTAF-TV/WTXF-TV, WKBS-TV and WGTW-TV to air programs pre-empted by channel 3. However, NBC has been far less tolerant of pre-emptions than the other networks and was rather perturbed at losing valuable advertising in the nation's fourth-largest market.
Like most affiliates that pre-empt poorer performing network programs, KYW-TV used the pre-emptions in order to gain an increase in local advertising rates which potentially come with ratings increases. This proved to be a very profitable decision at first, as KYW-TV was either first or second in the Philadelphia television ratings for most of the 1960s and 1970s. However, the station (and NBC) faltered in the late 1970s, and by 1980 KYW-TV was the lowest-rated network affiliate in Philadelphia. By 1985, NBC had recovered, but channel 3 hadn't. For the rest of its NBC affiliation, KYW-TV was NBC's lowest-rated major-market affiliate during a very successful period for the network as a whole. It continued to heavily pre-empt NBC programming, much to NBC's chagrin.
In 1994, sister station WJZ-TV in Baltimore lost its affiliation with ABC after that network announced a deal with the E.W. Scripps Company to switch all but two of Scripps' television stations to ABC. One of the Scripps-owned stations joining ABC was Baltimore's NBC affiliate, WMAR-TV. This did not sit well with Westinghouse, who felt betrayed by ABC after nearly half a century of loyalty. As a safeguard, Group W began shopping for affiliation deals of its own. Group W eventually struck an agreement to switch KYW-TV, WBZ-TV, and WJZ-TV to CBS (Westinghouse's two other stations, KDKA-TV in Pittsburgh and KPIX in San Francisco were already CBS affiliates). CBS was initially skeptical about including KYW-TV in the deal. While KYW-TV was a poor third, CBS-owned WCAU-TV (channel 10) was a solid runner-up to dominant, ABC-owned WPVI-TV. However, after Westinghouse offered to sell CBS a minority stake in KYW-TV, CBS agreed to move its affiliation to channel 3 and put channel 10 up for sale.
[edit]
As a CBS-owned station
On September 10, 1995, KYW-TV and WCAU-TV swapped network affiliations, part of a more complex affiliation/ownership deal involving NBC, CBS and Westinghouse. Group W and CBS formed a joint venture which assumed ownership of channel 3, with Group W retaining majority interest. NBC then traded its stations in Denver and Salt Lake City to the Group W/CBS partnership in return for WCAU. Group W/CBS and NBC also traded broadcasting facilities in Miami to compensate each other for the loss of stations. While channel 3's Group W stablemates in Boston and Baltimore had aligned with CBS in January, the switch had been delayed in Philadelphia after NBC discovered it could not buy WCAU outright without going over the FCC's ownership limit of the time. The final NBC program aired on channel 3 was a rerun of Saturday Night Live, which began at 11:30 PM on September 9, 1995.
Under the terms of Westinghouse's deal with CBS, KYW-TV began carrying the entire CBS schedule in pattern with no pre-emptions except for local news emergencies. Westinghouse bought CBS outright in early 1996, making KYW-TV a CBS owned-and-operated station.
In 2000, the combined company was purchased by Viacom. The Viacom deal brought KYW-TV under common ownership with Philadelphia's UPN station, WPSG, and that station moved into the KYW-AM-TV facility on Independence Mall. On January 1, 2003, KYW-TV went into compliance with the CBS Mandate and officially rebranded itself as CBS 3. The 5AM Station ID is now the only place where the KYW branding is heard. When Viacom spun off CBS Corporation in 2006, KYW-AM-TV and WPSG, along with the rest of Viacom's broadcasting interests, became a part of the new company.
[edit]
Digital programming
| Channels (virtual/physical) | Programming |
| --- | --- |
| 3.1/26.1 | CBS |