Bell Labs Receives Technical Grammy(R) Award for Its Pioneering R&D Contributions to Sound Recording and Digital Communications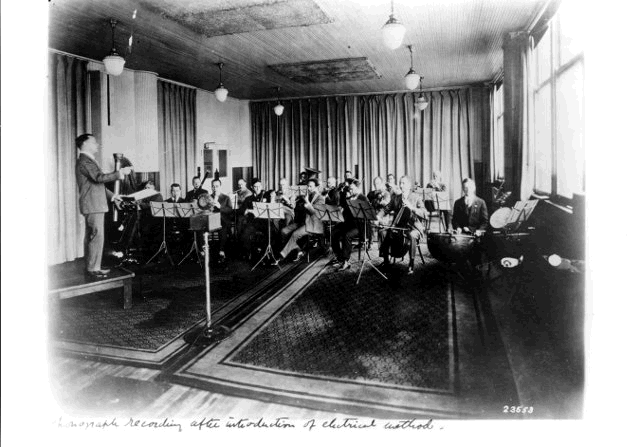 In this 1925 Bell Labs photo, musicians record a performance using an early system to electronically capture, amplify, and record sound onto a wax disk, making the recording session more natural and also dramatically improved the quality of the recorded sound. Prior to this innovation the musicians needed to all huddle around a large cone which would directly transfer sound vibrations to a wax disc with no electronic amplification or filtering. (PRNewsFoto/Lucent Technologies Bell Labs)
MURRAY HILL, N.J., Jan. 10 /PRNewswire-FirstCall/ -- Bell Labs, the
 research and development arm of Lucent Technologies (NYSE:   LU), today
 announced it has been awarded a Technical GRAMMY(R) Award by The Recording
 Academy(R) for its outstanding technical contributions to the recording field.
 This is the first Technical GRAMMY ever awarded to a communications research
 laboratory.

     The award is a Special Merit Award presented to individuals and/or
 companies who have made contributions of outstanding technical significance to
 the recording field.  Technical GRAMMY Award recipients are determined by vote
 of the members of The Recording Academy Producers & Engineers Wing and The
 Academy's Trustees. The Technical GRAMMY Award will be presented on Feb. 7, at
 the Wilshire Ebell Theatre.  The 48th Annual GRAMMY Awards will be held on
 Wednesday, Feb. 8, at STAPLES Center in Los Angeles, and will be broadcast
 live in high-definition TV and 5.1 surround sound on CBS from 8 - 11:30 p.m.
 (ET/PT).

     From the invention of the telephone, the first device to electronically
 transmit and receive sound, to its more recent R&D projects for digital sound
 capture and delivery technologies, Bell Labs has been a consistent pioneer in
 both the foundational and applied technologies of modern sound recording,
 electronic transmission, and digital communications.  Seminal Bell Labs sound
 and audio inventions include high fidelity recording (1925), single groove
 stereo recording (1933), stereophonic recording on film (1941), the laser
 (1958), today used in all CD and DVD players, the electret microphone (1966),
 and advances in audio compression to facilitate digital radio technology
 (1992 - 1999), which allows AM, FM, and satellite stations to broadcast
 near-CD quality music.  For a complete timeline please visit
 http://www.bell-labs.com/sound

     Bell Labs continues to innovate in this space.  Current research and
 development at Bell Labs has expanded to include audio as part of a blended
 multimedia experience, work on new digital compression technologies for
 delivering music and other medias over a wide variety of networks and devices,
 nano-based "micro-microphones" for dynamically directional, high quality sound
 recording, and flexible and tunable hypersensitive recording arrays for
 improved sound capture.  Some of Bell Labs' longer term research projects in
 this area include the investigation of new types of lasers, materials, and
 processing formats that have the potential to yield the next generation of
 high density media storage and advanced digital playback technologies.
     "Bell Labs continues to be laser-focused on communication innovations, the
 fruits of which continue to enrich our everyday lives by providing continual
 improvements for how we create, capture, and enjoy digital entertainment such
 as music," said Sid Ahuja, Vice President of Software Media Research whose
 center oversees current multimedia, digital entertainment, acoustics, and
 speech research efforts.  "We are honored to be receiving this Technical
 GRAMMY and we look forward to making many more contributions to the field in
 the years ahead."
 
     About Bell Labs and Lucent Technologies
     Bell Labs is the leading source of new communications technologies and has
 been for eighty years. It has generated more than 31,000 patents since 1925
 and has played a pivotal role in inventing or perfecting key communications
 technologies, including transistors, digital networking and signal processing,
 lasers and fiber-optic communications systems, communications satellites,
 cellular telephony, electronic switching of calls, touch-tone dialing, and
 modems. Bell Labs scientists have received six Nobel Prizes in Physics, nine
 U.S. National Medals of Science and eight U.S. National Medals of Technology.
 

     Lucent Technologies designs and delivers the systems, services and
 software that drive next-generation communications networks.  Backed by Bell
 Labs research and development, Lucent uses its strengths in mobility, optical,
 software, data and voice networking technologies, as well as services, to
 create new revenue-generating opportunities for its customers, while enabling
 them to quickly deploy and better manage their networks.  Lucent's customer
 base includes communications service providers, governments and enterprises
 worldwide.  For more information on Lucent Technologies, which has
 headquarters in Murray Hill, N.J., USA, visit http://www.lucent.com.
 
 

SOURCE  Lucent Technologies Bell Labs