SAGE BUIC
The following fact sheet is from a memo in the Burroughs Corporation Collection (CBI 90), Product Literature (Box37) at the Charles Babbage Institute for Computer History, Minneapolis, MN.
FROM:
BURROUGHS CORPORATION
Detroit, Michigan 48232
Phone: 875-2260, Ext. 2234
or contact:
Richard J. Brady
Defense, Space and Special Systems Group
Paoli, Pennsylvania
Phone: NIagara 4-6962
_______________________________________________
FACT SHEET
AN/GSA-51 Radar Course Directing Group for the Back Up Interceptor Control System (BUIC)
FUNCTIONAL DESCRIPTION: BUIC is a semi-automatic backup to SAGE which provides for conduct of the air battle in the event that portions of SAGE become inoperative. Burroughs Corporation is providing the AN/GSA-51 Radar Course Directing Group which functions as the central control for Air Surveillance and Weapons Control for the BUIC system and includes the following general capabilities:

Air Surveillance



Acceptance of radar data from long range radars.
Formation of tracks based on radar input presentation of this data for evaluation by operators.
Provision of capability for manual track information and automatic maintenance of tracks.



Weapon Control

Display of available weapons to permit pairing with tracks and manual commitment.
Automatic analysis of commitment to assure intercept ability.
Automatic transmission of pre-launch and fire command based on operator input.
Automatic generation and transmission of guidance commands.
The AN/GSA-51 consists of a Burroughs D825 modular data processing system. It is in the modular data processor that the operational program is stored and executed. For the BUIC application, two computer modules, six memory modules and three input/output modules are utilized. Data exchange occurs simultaneously between any memory and any computer or input/output module. The modular nature of the equipment not only permits operation of the system when some modules are inoperative, but also permits convenient expansion to increase capability. The data processor can be readily expanded to up to four computers, 16 memories and 20 input/output modules with no obsolescence of hardware or software. Input/output modules for the BUIC system consist of message processors and controller-comparators.
BUIC accepts radar information from long range radar sites via the message processors. The data is temporarily stored, formatted into computer words, and transferred to core memory via a controller-comparator. Controller-comparators handle data transfers between core memory and all devices except computers.
A computer, operating on the data stored in core memory, performs all the computations necessary for generating appropriately formatted display data. The display data, stored in core memory, is transferred via a controller-comparator to the display fields of a drum, which in turn automatically presents this data to each display console 30 times each second. To accomplish all of this, the computer executes a succession of program segments called up from the drums.
Display data available at each display console, which includes up to 12,288 symbols or vector segments, is selected by an operator by means of 15 category selectors. Radar data displayed includes current data together with up to seven history points to permit track initiation. Once the operator initiates a tracking action by means of a light pen on the display, the computing system automatically maintains the track by prediction and examination of incoming data for correlation. Height requests are automatically generated and transmitted based on track priority, or may be operator initiated.
When it is established that defensive action is to be taken, the operator can call up weapons status information, which is being continually updated via card reader inputs. He can then call upon the computer for solutions to possible intercepts, the solutions being made to appear at the requesting display console. Once a weapon is assigned, the computer generates the necessary launch and guidance commands, and the track on the weapon is initiated automatically. The launch and guidance commands, stored momentarily in core memory, are accepted by the message processor, formatted, and transmitted over the appropriate communication lines. All the while, messages are being exchanged as required with adjacent air defense sectors.
Peripheral equipment performs support functions. Magnetic tape units are used for simulation inputs and recording for training, and backup storage for programs. A typewriter is a backup input for the card reader and is also used in system maintenance. A status display console presents indications of which units are "on-line," or "in test," or in a failed state. It also houses the central power control to assure orderly system shutdown without loss of stored data in the event of a power failure. A line printer provides high-speed printout to permit rapid program evaluation and change, and evaluation of test missions. Simulator message composers are training aids for weapons director, for both initial training and maintenance proficiency.
Since the D825 is a functionally modular data processing system, it is possible to achieve increased availability without full duplexing. This is accomplished by providing additional modules of the computer, memory, input/output module and an additional display. While the operational program is functioning, an error recovery program is being cycled in one computer, one memory, and one controller-comparator.
Computers are continually exchanged between the "backup" and operational group and other modules are continually checked. The operational program continually stores "safe data" to permit recovery from a temporary computation interruption. If an error is indicated, the operational computation is temporarily suspended and the system is turned over to the error recovery diagnostics program, which identifies the faulty module and notifies the operator via the status console and typewriter printout. The system is returned automatically to the operational function with information on what modules are available for use, and the operational program reconfigures, utilizing the safe data previously stored. This recovery period will vary from about 15 to 30 seconds. The failed module is then further analyzed, repaired and returned to the operational system.
---
Back-up Intercept Control (BUIC) Training and Installation Data

31 January 2010

Robert W. Nelson, CMSgt. USAF Ret. tells us:

During the period between 7 January 1964 and 14 November 1965, I was a TSgt. Team Chief serving in the 2866 Ground Electronic Engineering Installation Agency (GEEIA) Squadron at Kelly AFB, TX.

The Air Force decided it would install the BUIC II. However, the Air Force had no computer installation people within the GEEIA organizations.

GEEIA was to train the following in house Air Force Specialties for the installation of the BUIC II Project:

303X1 Radar Repair Technicians


304X1 Nav-Aids Repair Technicians


304X2 Ground Radio Repair technicians

I do not recall the exact number of personnel selected to attend training, since it has been 45 years. But ultimately there would be 5 man teams consisting of personnel provided by several GEEIA Squadrons trained then each team would spread out across the nation to do the installations, perform a 72 hour Hot Check and then turn the BUIC over to the operating site personnel.

The BUIC had well over a half million electronic component parts. For the Hot Check, the BUIC had to operate 72 consecutive hours with a very limited number of failed parts and had to achieve strict operational parameters.

Our team had very good luck on the two installations we completed.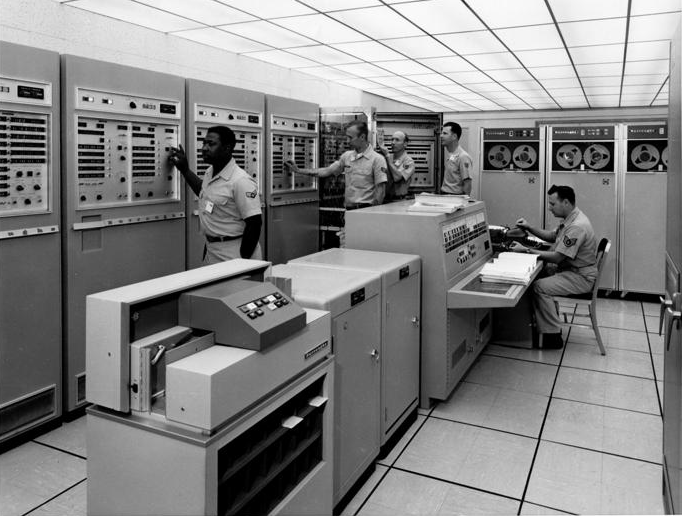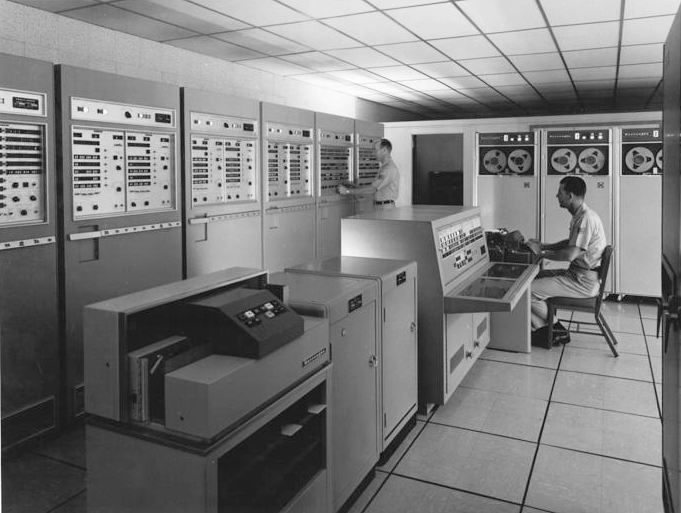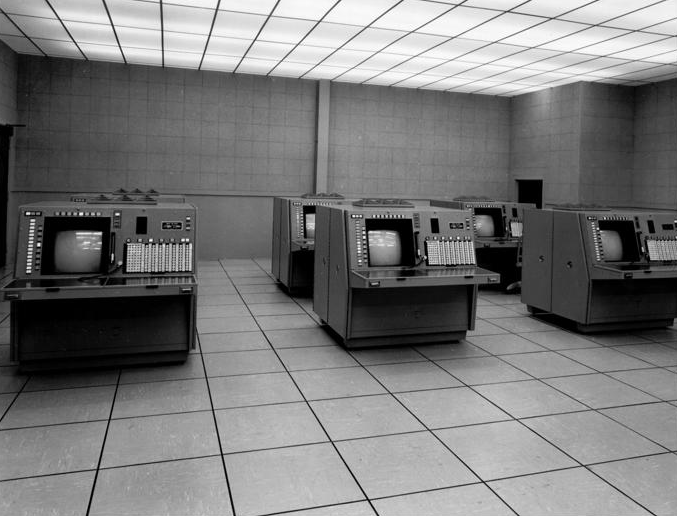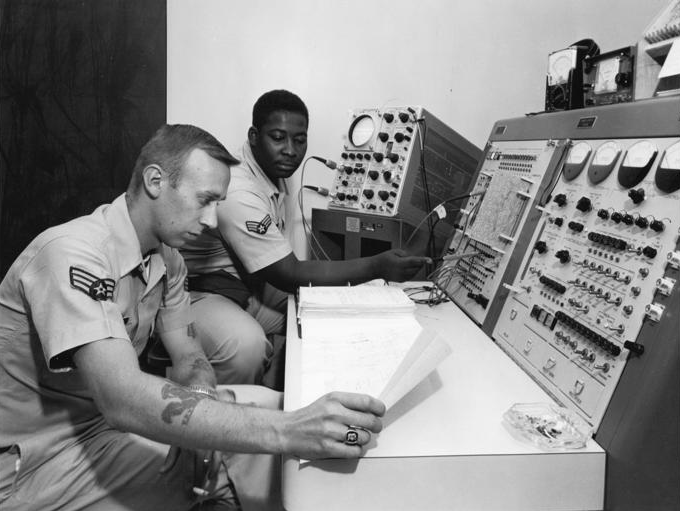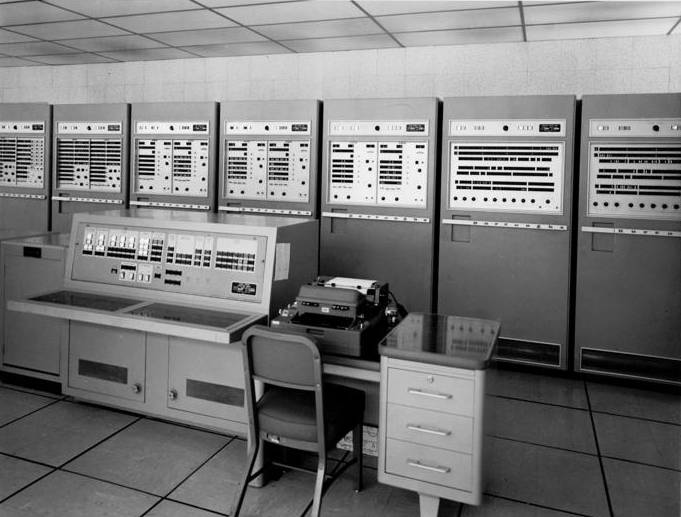 Mike Loewen - BUIC lab in Bryan Hall - Keesler AFB
These pictures were taken during 305x4 Computer Maintenance training at
Keesler AFB in the latter part of 1982 in the BUIC lab in Bryan Hall. The
yellow-rope A1C is me (Mike Loewen). In the group picture, Sgt. Mike Best
is on the extreme left, and Amn. Dan Setaro is in the middle of the front
row. The three of us finished school in December of 1982 and went to
McChord AFB to work on the AN/FSQ-7 until it was decommissioned in August
of 1983.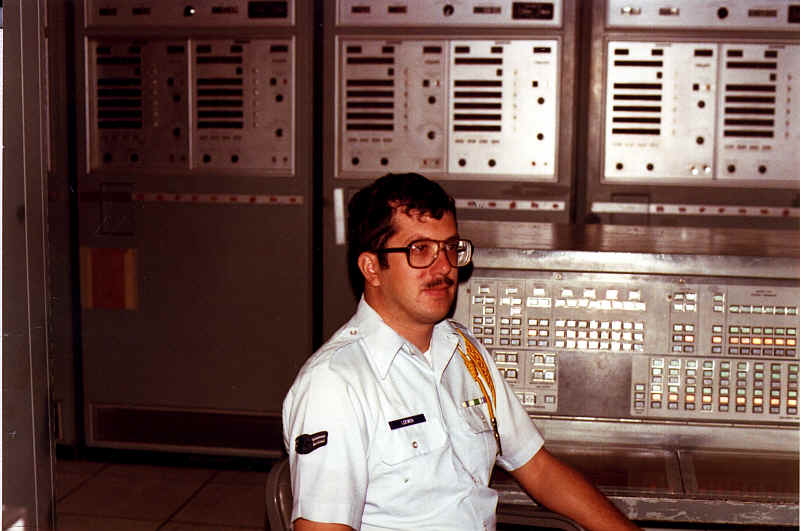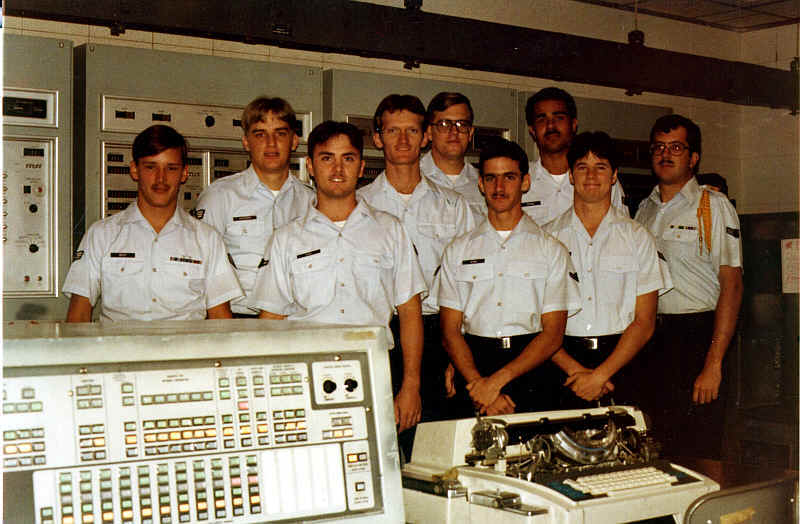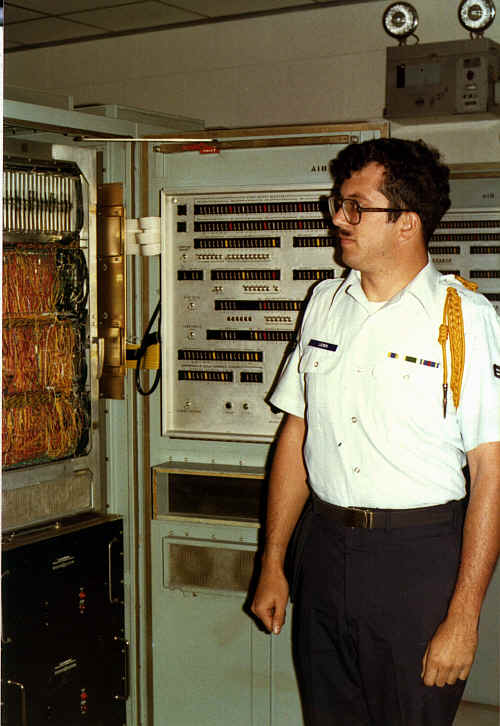 ---
The BUIC project development was located at the Burroughs "Great Valley
Labs" facility. The facility was located in a rural area several miles west of
main Burroughs facility at the intersection of Rts.30 & 252 in Paoli. The GVL
facility consisted of a secure fenced compound with a main building complex
consisting of three large Quonset-type structures. At the time that I worked
at this facility (1964-'69), what I remember seeing of the BUIC equipment was
located in Building 2. I was an engineering programmer, working on the
development of the "George" system for Trans World Airlines and we were
across the hall from the BUIC area (the Quonset's had a main hallway running
from one end to the other down the middle of the building). We started out on
the D825 computer but as development continued, our version was renamed the
"8500". I can remember the large BUIC consoles with the large, round CRT
screen and the light pen control. Also remember watching non-spec "games"
being played on the console during late night shift hours :o) I don't have any
of my old documentation left from those days and can't think of anything else
that might be of interest relating to the BUIC, BULLSEYE or RADS military efforts.
E. MacDonald
K.C., MO
---
I was in the Air Force from 1972 till Sept. 1976 and sometime in 1973 the BUIC III was put into moth balls. I was a technician on the system working at Charleston AFS in Maine on the BUIC III.. Lot's of blue neon lights that I with my punch card program I turned into a 3 million dollar digital clock in the off hours. A dual CPU computer but not a true dual CPU as it swapped the running from one CPU to the other... back and forth only one active at a time. I wish I had photo's but cameras were not allowed on base. I remember the wind on top of the mountain. I remember the incredible view. I was transferred to the SLBM DET6 14 MWS and stayed at CHAFS until I was discharged in 1976. I went there once not too log ago the radomes are gone the place is just weeds and old buildings behind a chained gate.

I remember the programming language called Jovial "Jules Own Version of the International Assemble Language"

As I remember the BUIC III operated at 3 MHZ and had thin film memory in the CPU and 64k by 48 bits in core octal in the memory cabinets.. Many blue neon lights there!!

Bob McClure
Clinton, Ma.
Former first term airman of the quarter det 6 14 mws
SGT Robert C. McClure when discharged

The Automatic Message Processing System at the Pentagon was there at the turn to the 1970 decade. The log entry read, "End of 'decade'", instead of "shift".
Although it was still a "dual, parallel, fail soft with graceful degradation, and automatic recovery" system, there were software changes from the BUIC mission.
One was it didn't swap master and slave functions automatically by time; It swapped when either any backup system failure was detected, or either CPU detected a failure of the other CPU to increment a real time clock count in memory. The current CPU master could, of course, initiate a "recovery cycle" of diagnostics for any detected error, peripheral, or system element. If memory (mine) serves, it was a 99.996 % uptime system. It failed about once every six months. Sometime(s) this was due to both CPUs claiming fault in the other. Failure to auto-recover resulted in many 132 column width pages of memory dump printing loudly (printer solenoid hammers striking ribbon + paper against a rotating metal mandrel), followed by a pathetically short last line spit print of "help", followed by "Pat" the Burroughs programmer eventually arriving from PA to analyze the dump.
A few hardware details are: 3 MHZ oscillator, thin film memory, 48 bit word length, 64K "memory modules" – not pcbs, but ~6' high X ~3' wide cabinets. Bryant Drums, disks, tapes, Uptime (& an MDS) printers, card readers, all in duplicate, except for the card punch.
The push buttons for operators on the message consoles were an alphabet soup of every "XIA" agency, and departments, and some individuals near, or at the top of US government you can imagine, who might need to get a message.
That's all I have time for right now.
---
---
BUIC: Many sites-When used for North American Continental Defense, the sites
were at the periphery of the continental U.S. And, they were placed so that
all sites had ~100% radar overlap coverage. This was done so that if any
individual radar site went down, the adjacent (about geographically left and
right) sites' beams very nearly met. EC121's provided off-coast "look-down"
radar to overcome clutter & low-level intrusions. Eventually, as parts
became scarce, many, if not all, intermediate sites were scavenged for
parts.



At monkey mountain, Vietnam, shrapnel pierced a sturdy steel cabinet. The
cabinets' doors were designed with copper electrical grounding "fingers",
which provided shielding against "tempest", or the interception of any
radiated signals, even electronic noise detection.



When a D825 was dropped off a ship into "the drink", it was salvaged by
Burroughs, and sold back to the US Gummint for spare parts.



The Msg consoles at the Pentagon (my civilian tour was 1969-1970), in the
Joint Chiefs of Staff's Message Center of course didn't display radar target
data. They displayed military "traffic", meaning transmitted and received
communications messages. They were displayed in "plain text" on the
consoles, meaning that they had been unencrypted, or decrypted, by a
corresponding KG26 encryption device. (You can try, but Google no longer
returned a valid result after years passed in between searches.)
Anecdotally, I knew them as "Krypto Gear" ##. And one had to be vetted to
get the Top Secret clearance with "Crypto rider". I was asked (baited with?)
the question, "Can you people still diagnose and repair the consoles if you
can't see them?" The (my) answer was "No". I didn't explain further that
fixing bit failures, and erroneously displayed English alpha-numeric
characters while wearing a blindfold, would have required a "seeing eye
serviceman", and impractical-and hazardous-delay, if we had to feel our way
around the equipment. The foregoing question was in my opinion the result of
(every one at one time or another in) our group hanging around and reading
the screens over the operator's shoulders. Actually, and technically, we had
no "need to know" a single displayed character of any of the "live traffic".
Some of it at the time was interesting and revealing, but I don't remember a
"bit" of it now.after 42 years have passed.



(As previously submitted)-The D825 had a 3MHZ clock, or oscillator, for
system timing. The 8500 had a 15MHZ clock. Initially there were hardware
problems with this clock rate, and with the ICs' synchronization.



That's enough for now.


Charles
Long ago and far away (but still on planet earth) computers had evolved from the original tube types.
See: SAGE , BUIC-I [-II, -III], Whirlwind computer, IBM 7090 "Stretch"-history and forebears, Ed Thelen, et al.
http://www.radomes.org/museum/buic.html
http://www.smecc.org/burroughs_buic_-__an_gsa-51__sage_backup.htm
Defense computer lore from before my time: The earliest North American Continental defense systems, such as SAGE, sometimes required men with wheeled carts, which held vacuum tubes, pushing them along the computer's aisles to replace failed tubes. This happened routinely.
The only tubes I was involved with were from commercial electronics products.
As an original geek, but not quite the fictional Mr. Spock, my very first, "darling computer", which could neither make coffee, nor love (nor kids, etc., etc.), was the Philco S-2000. I mention it, because it's architecture had advanced features at the time, such as a double-length word of 48 bits. Functionally, this really was two, 24 bit machines operating sequentially. Since memory was slow [ALL COMPUTER MEMORY FETCHES NOT FROM LOCAL REGISTERS ARE SLOWER-due to bus access and transfer times- RELATIVE TO CPU EXECUTION SPEEDS, ERGO A PC'S L1, L2, etc,(Level/Local REGISTER memory caches for the execution Unit)] this enabled a two-fold speedup in two ways. Doubling memory speed by accessing two memory words at once, and doubling processor speed by executing two instructions (~left and then right) before needing to "reload" the Program Register. Also, UNLIKE IBM's 7090, and Burroughs's D825, it was an ASYNCHRONOUS processor. The architectural engineer's theoretical argument went thus: It works near the speed of light, since the logic just passes electronic signals, and never waits for the "clock" output pulse of an oscillator. That sounds great, but real-world factors, such as variations in the rise-and-fall time of early transistors required accommodation by a gating pulse. This pulse was timed to arrive at the end of the greatest time it took for any 2N404 transistor to change states, from conducting (the "on" or binary 0 state) to non-conducting, and vice-versa. This was the timing requirement for how a 48 bit (bits in parallel) register word was transferred, or "built-up" by transistors changing states in parallel.
So, where did the gating ~=(approx. equal to) settling time ~= transfer pulses come from? They came from three, identical, main CPU, specialized type of circuits, each called a "single shot". When I later worked on the SDS 940, and Xerox Sigma 2/3/6/7/9 asynchronous CPU/I-O systems, the single shots were replaced by "delay lines" with the same function.
Thus, the Synchronous computer designer (IBM, Burroughs D825, et al, and all PCs) had some counter points, or counter claims: "The asynchronous system needs and uses pulse timing, so the logic waits for a pulse anyway; The clock pulses of a Synchronous system are so fast, that they are everywhere, and the circuitry never needs to wait for one." Burroughs' system designers, however ran into timing problems with the later 8500, because the pcb's different foil leads' lengths themselves acted as delay lines (and radiative effects) at higher clock rates. Some circuit chips may have been more sensitive, also.
[more other "stuff" possible later, unless it's too boring]
I'll tie it together now: The D825 and the Philco S-2000 had something in common. They had very expensive operating Control panels. Virtually every CPU register and all memory bits each had an on-off light. Although the Philco S-2000's was the size of a church organ, it was not a system-wide, multi-element status indicator; One had to figure out what/why there was a malfunction. The D825 had both a front panel with it's own tri-lead, green, mini neon bulbs$, and a separate, church organ sized bank of system-wide, multi-element status indicators. It had red (failed), yellow (suspect with some diagnostic requirement), and green (good), DUAL bulb-ed (in case one burned out) indicators for each, and every system device, and processor! When, rarely, there were many problems, and at Christmas time, when a special deck of punch-cards was entered, the console was lit up with red, yellow, and green lights. Via the cards, they were ALL blinking like a Christmas tree. It was really just a bulb test program.
The D825's original mission was as an air defense computer system, and SAGE BUIC, like and after SAGE, was for U.S. continental defense. However, it had a phenomenal (for the time) up-time rating, due to it's proprietary, and highly specialized, HardWare-S/W combination. Decades(?) later a company called Tandem specialized in high up-time systems for commercial markets, banks, etc.
More? A precursor of the Philco S-2000 was an Octal Philco system, lent/rented/sold-for-cheap to the Israelis for their air defense, and six-day war. Though I was not involved in that in any way.
-------------------------------------------------
To clarify, "Doubling memory speed by accessing two memory words at once..." is not to be taken literally. The memory speed wasn't doubled. Accessing a 48 bit memory once to get two, 24 bit instruction op codes-&-operands, meant that that type of fetch for instruction op codes-&-operands took half the time, by eliminating another, second fetch. AND, two memory words weren't fetched. Rather, it just equaled double the bit length. Raw data could still be 48 bits long, and require two fetches for, say, an ADD for the two "terms", also called the "addends".
---------------------
Philco 1000 computers were used by the Israeli military.
See Appendix B, columns 2 and 5 of the attached system description. Why? This is the "rare" information that defines it (definition of the code type) as an octal system.
Also, a correction: The prior emailed text should be "...all Memory Address Register bits...", not "...all memory bits..." Every memory bit was NOT displayed on the console!
Charles