WWS MEMOIRS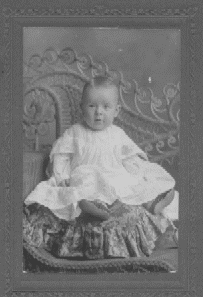 Winfield W. Salisbury 8 months old.
Approximate date September 8 1907
I was born on December 27, 1903 in Carthage, Illinois. Carthage is situated about fifteen miles east of the Mississippi River, opposite the boundary between Iowa and Missouri, in Handcock County, and is the county seat. Carthage is an Infamous town where the local company of militia (equivalent to today's national guard), which was appointed by Governor Ford to protect the Mormon Prophet Joseph Smith, removed part of their uniforms and formed a mob to shoot Joseph and his brother Hyrum where they were held in the city jail. This event was a kind of precursor of the civil war. The Mormon city of Nauvoo in Handcock County was then the largest city in Illinois. The Mormons voted unanimously against slavery in Illinois. The Southerners in Carthage believed they could not farm successfully without slaves and, in anger, attacked the Mormons. Joseph Smith was, at that time, Grand Master of the Masonic Lodge in llinois and some of the mob were Masons. As a result, the Masonic Lodge Charter for Carthage was voided by the Grand Lodge of the United States. There was no Masonic Lodge in Carthage for 60 years. Carthage was not a comfortable place for a relative of Mormon Leaders to grow up. I will say more about Carthage later. (1)
I was born at the home of my parents with my grandmother Scott assisting, since she was a practical nurse and sometimes acted as midwife. Grandmother Scott brought her youngest
daughter, Laura, only six years old at the time and attempts to prevent Laura from understanding the proceedings (in accordance with the customs of that time) were not very successful, as she has told me many times.
Soon after my birth, my parents moved to the small town of Ferris, which was about five miles north of Carthage. My Salisbury grandparents had moved from their farm to Ferris and persuaded my father to move there so as to be near them. Although my father was a geologist by training, he served as County Surveyor for Handcock County for many years. Since Ferris was also in Handcock County, the move didn't affect his job.
Ferris was a town of about 300 people (compared to Carthage's 2000 people). Ferris owed its origin to the parsomony of the Carthage merchants. Two railroads crossed at Carthage: the C.B.& 0. (Chicago, Burlington, and Quincy - running between Burlington, Iowa and Quincy, Illinois) and the Wabash Railroad (which ended at Keokuk, Iowa). When the Toledo, Peoria & Western Railroad proposed to build a line from Toledo, Ohio to Keokuk, Iowa, the merchants of Carthage decided that having three railroads cross at Carthage would be advantageous and so they agreed to furnish the land for a T.P & W. depot in Carthage. (2)
After a considerable part of the railroad grade approaching Carthage was in place, the railroad asked for the land so they could begin construction on the depot. Believing that the completed grade work had the railroad committed, the Carthage merchants decided that furnishing the depot land wasn't necessary and since it would be costly, they reneged on their promise to the railroad. The railroad countered by moving their depot five miles north and abandoning the completed grade work. Thus the T.P.& W. railroad crossed the C.B.&O. railroad five miles north of Carthage and the town of Ferris grew around that crossing, with grain elevators, stores and a bank to attract the surrounding farmers.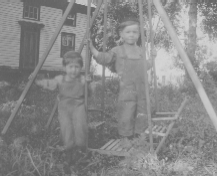 Winfield 3.5 years and Scott about 1.5 years on the farm at aunt Mary's near Burnside Illinois Summer of 1907
After my parents moved to Ferris, my grandfather Salisbury became the Justice of the Peace and my father was elected Village President. My first memories are of our home in Ferris and certain incidents that were dramatic enough, from my perspective, to be remembered. During the first few years we were in Ferris, my grandparents had not completed their move from the farm and so my father's younger brother ran the family farm. I remember some visits with my grandparents at the farm, which was about seven miles west of Ferris. At a very early age I was eager to hear the stories my grandfather told about his experiences as a Union Soldier and also the experiences he had after the war when he was running a way station for the Adams Express Company in Utah. The stories he told of his experiences with the Indians were especially exciting to me, one in particular about eating bear meat supplied by the Indians really Impressed me.(3) I was about two years old when visiting my grandparents at the farm one time and caused quite a rumpus when I declared I was hungry and wanted bear meat to eat, and I wouldn't settle for anything else. Grandfather called to my grandmother to come into the kitchen quickly, he was in trouble. She came in and asked what the commotion was all about. Grandfather said that Winfield was hungry and he had to have bear meat! Grandmother calmly announced that she didn't happen to have regular bear meat, but she had 'slow bear' and would that be all right. I was ready for a reasonable compromise and when she told me that 'slow bear' was the Indian name for pigs and she could supply a pork chop quickly, I settled for that very happily.
Another time at the farm when I was about three years old, there was a conversation going on between my cousins (my aunt Mary Salisbury Dean's daughters) about some bees swarming with a new queen in a hive just south of the house. I found this so interesting I decided I'd like to see the process. The family looked out the back door and saw me dancing on top of the hive, beating a pie tin with a spoon. Bees were coming out of the hive and surrounding me. I was rescued with great commotion and amazement that I hadn't received a single sting. (I have worked with bees at various times in my life and have never received a bee sting!) (4)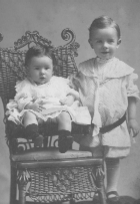 Winfield and Younger brother Scott,
approximate date 1907
Another vivid memory is of the 1906 Fourth of July celebration, when I was about two and a half years old. Ferris had two parks, each a block square. We lived in a house on the corner across the street from the North Park, which was the park used for the fireworks. My grandfather had driven his horse and buggy over to our house and hitched the horse to the rail in front of our house. He invited me to sit in the buggy with him so as to have a choice seat from which to view the fireworks display. The fireworks were brought up in a large wooden box and placed in the center of the cross street between our house and the park. The box was full of sky rockets, roman candles, fire fountains, etc. As we watched from the seat in the buggy, a young man named Forn Bell decided to start the show. He took a silver paper cone with a fuse at the point and set it beside the box. Before everyone else was ready, he lit the fuse. A fountain of fire spread out all over the rest of the fireworks in the box. The result was a grand display as all the other fireworks started to erupt from the box. The unintentional display was spectacular! My grandfather tried to cover me with a lap robe for protection, but I clawed it away, determined not to miss anything. Sky rockets took off, roman candies spewed fire, and burning blobs and fountains erupted into a magnificent sight! One sky rocket fell to the ground and chased one young man along the street until he was caught by the barbed wire fence at the north end of the street, then the sky rocket proceeded ahead of him, going between his feet.(5) I will never forget the shouting and the excitement! No better entertainment could have been devised on purpose! I certainly felt that Fourth of July was a great success! I sometimes wonder that the old white horse did not stir and seemed undisturbed by all the commotion. I think my grandfather was reliving some Civil War experience during this episode, which might explain his trying to protect me with the lap robe. The sights and sounds of that evening are still vivid in my memory.
My father gave me a lot of attention. We went on hikes together, looking for fossils and geodes. We also went hunting for squirrels and rabbits for food. I would pester him when he was reading the newspaper or other reading materials, so he would give me his attention and in the process taught me to read. By the time I was four years old I could read books and a good deal of the newspaper by myself, and was continually learning new words. I remember reading in the newspaper about the Wright Brothers flying. When I asked my father about it he told me heavier-than-air flight was impossible, as everyone knew, and I shouldn't believe things just because they appeared in the news. He then read me a poem entitled "Darius Green and His Flying Machine" which ridiculed flight by recounting a farm boy's attempt to fly with some kind of wings he had made and jumping from his barn roof.(6)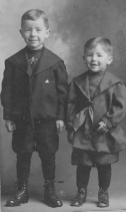 Winfield and Younger brother Scott.
I respected my father and considered him a fountain of knowledge, but in this case I was skeptical of his opinion. I tried to build my own airplane from baby carriage parts I found in the woodshed. Needless to say, at that age (4 yrs.) I was not experienced enough to get very far with such a project!
Another memory of that time of my life comes to mind. We moved back to Carthage, temporarily, into a house built on stilts because a nearby stream frequently flooded. I believe we moved because a new courthouse was to be dedicated that July and my father, as county surveyor, had done the survey work and the grading of the lawn surrounding the new courthouse so that the surrounding lawns all sloped away from the building in the center of a city block. I can remember a flood while we lived there and the people living across the street from us had to be rescued in a rowboat from their flooded homes. My Aunt Mary and my cousins came to town to the dedication. On this special occasion I was dressed up for the ceremony and told to lie on the bed to keep clean until time to go to the festivities. I felt very mistreated when a wasp fell on me from the ceiling and stung me. Very soon after this we moved back to Ferris.
Mrs. Sullivan was the teacher of the one-room school in Ferris, and she roomed at our home, which was the custom at that time. When she found out I could read, she suggested that I start the first grade.(7) After a lot of argument, my mother finally agreed to let me start school. I was five years old, the youngest and the smallest in the first grade class.
On my first day at school, during the morning recess when all the children were allowed a half hour playtime in the school yard, I joined the line of children waiting to get a drink of water from a tin cup which hung on the iron pump at the school yard well. When it was my turn to drink, the first grade bully, Paul Darrow, came up and pushed the cup into my face, spilling water all over me. I was short tempered in those days and I tried to fight him, ending up crying with a bloody nose. From then on I had to fight Paul at least once a week until the summer before I entered the sixth grade. That summer I was walking along main street and saw a piece of 2 x 3 wood that looked promising. (I was always building things and was always on the lookout for raw materials.) I had just picked up the wood when Paul came along shouting that the wood was his. I felt he had no more right to it than I did, so I vigorously defended my right by using the wood on his head. He left the battlefield well vanquished. I figured I would have to fight him again but I didn't mind, it had been worth it. Later that afternoon I again met Paul on main street. His head was all bandaged and I was surprised to see him smiling. He came up to me and said "You really gave me a bashing, let's be friends." After that he was always bringing me things I could use for my projects, such as an old sewing machine he got from the town drunk. I reconditioned the machine and soon had it sewing again.(8)
Our one room school in Ferris had grades one through eight. This had certain advantages, especially for the lower grades. We would hear the upper grades recite their lessons and ask questions so that when we advanced to a higher grade we were already familiar with the new material. It made school more interesting and was a great way to start an education. I was passed through the third and fourth grades in one year so was well ahead of my own age group. I can still remember many of the children in my first grade class. There was Paul Darrow, of course, and Gerald and George Davis. George Davis had only one good eye as a result of a family accident. The story went like this. One day George decided to play William Tell and wanted to shoot an apple from the head of his younger brother, Gerald. Gerald refused to cooperate, so George said he would be the one to hold the apple on his head and Gerald could be the one to shoot it off with an arrow. Gerald agreed, but was not very accurate and the arrow hit George in the eye.
Others in my class were Shirkey Sherwood and his sister, Pansy, Naomi Emmert, the Flynn girls (can't remember their first names), Morris Brown, and Bryce Fritz, who's father was an engineer for the T.P. & W. Railroad - commonly called the tip up and walk back railroad. When I was advanced a grade, some mothers objected that their sons were just as smart as I and should have the same advancement. Morris Brown's mother was particularly irate, but Mrs. Sullivan was not intimidated and stood by her judgment. (9)
At Christmas time when I was about to be six years old, I saw a toy steam engine at the local store and I wanted it as a Christmas present. I was promised that I could expect to have it. However, my father had once witnessed the aftermath of a railroad collision where one of the locomotives exploded so he decided steam was just too dangerous, even on such a small scale. When Christmas morning came, I found a small electric motor and a couple of dry cells as my present. This probably had a special effect on my career. I soon felt that I understood this electric motor and made a sample of my own by winding wire on a checker with a nail through the center as an axle. Two brads formed a commutator and a piece of a coffee can with wire wound around it formed a field or stator. When connected to a battery the checker spun very satisfactorily and I felt I was understanding electricity, with the help of my father's college physics book (Steel's Popular Physics or Ten Weeks in Natural Philosophy). I then made a shocking machine out of a buzzer I found in the house, and found out how to electroplate copper in a copper sulphate solution. I soon decided that I would become the greatest electrical engineer in the world. I felt encouraged in that goal when, many years later, E. 0. Lawrence (of cyclotron fame) told Vannebar Bush that I was the best electrical engineer in the whole world. (Bush headed up the governments scientific effort during World War II).(10)
After I finished the sixth grade in the Ferris school, we moved back to Carthage and I did the seventh and eighth grades in the Carthage grade school. While we lived in Carthage this time I had several interesting adventures. I found that I had enough experience in fighting that I needn't be afraid and that it was a good idea to show that I wasn't afraid. I was able to face down the local bullies, some of whom were much bigger than I, without having to take many blows. I had long ago learned how to knock a chip off the shoulder of someone looking for a fight. A good, strong fist to the eye knocks the chip right off and discourages any further proceedings. I had heard that a tight can with a small amount of water in it could be made to explode. I found a suitable cocoa can with a screw-on lid and was trying it out in a small bonfire in our yard when I noticed the can bulging. I remarked to my brother, Scott, that I thought a good kick would cause an explosion. To my surprise, he rushed up and kicked the can. It exploded and the escaping steam burned his leg. He was very angry and always claimed I asked him to kick the can. This was not true. My observation was not intended as a suggestion, but only as a remark about conditions of the experiment. I was actually astounded by my brother's action, and sorry and dismayed by the result.
About this same time, I came across an article in the Boy Scout Magazine about how to make a ham radio set. In those days radio was done with electric sparks. The article said a minimum requirement for a transmitter was a 1/4 inch spark coil. It took a little thought on my own to realize that the 1/4 inch was not the size of the coil, but rather referred to the length of the spark that could be produced in air at atmospheric pressure. (11)
After reading in Steel's Popular Physics book a description of a Rhumkoff Coil, I decided I could build one. With Iron clothes line wire in a bundle for a core, and wire from the dining room buzzer arrangement for a primary, I had the start of my coil. I needed many turns of fine wire for my secondary. I consulted a local electrical shop and found a spool of #36 wire available at 35 cents per pound. When I explained my project, the local electrician agreed to sell me the wire which he had decided not to try to use in rewinding a sewing machine motor. He also offered to let me use his lathe, powered by a foot treadle like a sewing machine, to do the winding. Using waxed butcher paper for insulation between layers, I started the winding process and spent time after school each day for several weeks winding layers of fine wire on my coil.
When I believed I had enough turns of wire, I took it home for testing with discarded #6 dry cells, given me from the junk pile of the local telephone company. I had found I could rejuvenate these batteries considerably by punching holes in the outer zinc container and electrode then soaking them in water. (12) I made a buzzer system with a piece of a coffee can at the end of the coil and a make and break contact. I was triumphant when the coil produced a respectable spark. That success had me hooked. I knew I could understand electrical things and do successful experiments. The thrill of seeing that spark, as a result of persistent planning and tedious labor, is still fresh in my mind.
My father was the President of Graceland College in Lamoni, Iowa and my mother was a student of Elocution there when they became engaged to marry. There was some jealousy on the part of some of the faculty members who thought my father should have chosen an older woman from the faculty to marry instead of a young student.
Joseph Smith III (son of the Mormon prophet Joseph Smith Jr.) was the minister of the Reorganized Latter Day Saint Church which sponsored Graceland College. My parents were married in the RLDS Church by Joseph Smith III, who was known to the family as Cousin Joseph, since my father's grandmother was Katherin Smith Salisbury, the Prophet's sister.
My father was not reappointed as president of the college, so after the wedding my parents moved back to Carthage where my father took the job as County Surveyor and later also became a successful insurance salesman. The first Salisbury ancestor settled in Topsfleld, Mass. and came from Wales. He was killed by Indians during the French and Indian Wars. (The ancestors of Joseph Smith are well known so I won't attempt to recount that genealogy here.) (13)
My mother's maiden name was Scott. She was descended from a first cousin of Sir Walter Scott, the famous English author. My mother's grandmother Scott was a McKinley and was a first cousin to President McKinley.
Of course, one doesn't have to go back very far to find too many ancestors. My mother qualified for the D.A.R. and was a member for many years. My father belonged to the Sons of Civil War Veterans, and Sons of the American Revolution. Both lines of my ancestors had many who lived long lives, so I have a very strong heritage.
My childhood was a happy one. I enjoyed the Ferris one room school. Each morning the teacher began the day by reading to us for about fifteen minutes from an adventure book. No one was late for school for fear of missing the next part of the story. We always clamored and begged the teacher to read a little more each morning. I remember one series of books about the adventures of Frank Merriwell, a Yale football star.
I found the class recitations of the upper classes to be very interesting and I learned a lot from them, ahead of my time.
We played some rather wild games at the morning and the afternoon recesses, and at noontime. I remember a kind of continuous baseball game called 'one ol cat' or 'three ol cat', depending on how many were available to try their skill as batter after the pitcher, catcher, and basemen were provided for. The batters could keep battling until they were out. The score was an individual count of runs as each one became a batter, so each player had a score but there was no team score. (14)
Another game was 'duck on a rock' which had the elements of being so dangerous that I am sure no such game would be allowed today. The playing field consisted of a baseline and a large flat rock placed about 10 or 15 feet in front of the baseline. A tin can on the rock was the 'duck'. One player was 'It' and it was his duty to keep the duck on the rock. The rest of the players were equipped with half-bricks, or rocks about that size, and they stood behind the baseline and tried to knock the duck off the rock by throwing their bricks at it. If the can was on the rock the person who was 'It' could tag anyone in front of the baseline and make him a helper to keep the can on the rock. If the can was off the rock then the players could retrieve their bricks without being tagged. This produced a lot of traffic to retrieve bricks in a kind of hail of bricks intended to keep the duck knocked off the rock. Throwing half bricks and dodging them at the same time as dodging taggers created a lot of confusion that looked and felt dangerous. I don't remember anyone getting hurt, although this was a favorite game that went on almost every school day!
We also played a game called 'sockey bum'. Each boy placed his cap in a circle around the one that was 'It'. (15) The one in the center of the circle turned round and round and then dropped a ball in some cap. The cap's owner picked up the ball and tried to hit one of the scattering players with it. If he succeeded, the one he hit was 'It' for the next game. If he didn't hit anyone, he had to be 'It" for the next game. Running and looking over your shoulder to avoid being hit by the ball could be dangerous, as I found out. One day I was running as fast as I could and watching behind me for the ball so I didn't realize I was on a dangerous path until I turned my head just in time to butt it into a large maple tree. It was an old 'soft maple' tree, but as I hit it while running at my top speed, it didn't feel very soft! I was unconscious for about an hour, and when I did come to I couldn't see a thing! The blindness persisted for about 24 hours. My parents were really shaken. As the severity of the concussion receded, my sight returned. I have often wondered if that accident was the cause of my dyslexia and the difficulty I had copying Morse code as a radio ham. I don't remember having difficulty reading or writing before that accident.
Another favorite game was "andy over"' for which the whole school split into two teams and took turns throwing a baseball over the school house and catching it. It the catching team caught the ball before it hit the ground, the catcher could run around the school house and tag a member of the other team, who then had to change sides. When the majority of players were on one team, that team won. (16) We seldom had time to make a complete shift of players. We looked forward to recess and these games. The girls did participate in "andy over", but usually had their own games such as hide and seek".. "tag", and "jacks". I didn't pay much attention to girls at that time so I don't remember much about their games.
I had only been in school a few days as a first grader when some older students approached me at recess and persuaded me that a little first grade girl named Naomi, who was sitting on the steps crying, would be comforted if I would sit beside her and kiss her on the cheek. I felt sympathy for her and so I very willingly followed their suggestion and found the results to be successful. However, one of the older students quickly told the teacher. I was unaware that a new rule against boys and girls kissing each other was in effect that day and that I was being used as a test case. The teacher, of course, had to stand by her rule, and I was made to stand in a corner of the school room, facing the wall in disgrace and weeping copiously. I felt very disgusted by a rule I had known nothing about, and since my motives were kindly and my action successful, I felt terribly mistreated!
Outside of school, my brother and I had our most happy times when we could play with our cousins, Roma and Ruby (the twins) and Dorothy Dean, the daughters of my father's sister. The girls were like our older sisters and we had wonderfully happy times whenever we could be together. (17) The girls lived on their family farm, which we visited frequently, and they often came with their parents, Uncle Joe and Aunt Mary to spend a day with us at our home.
Every summer there would be a traveling tent show come to town. They would set up in Ferris (they found the authorities in Carthage too difficult to deal with, so they wouldn't set up there), and had a good attendance by people from Carthage and the surrounding farmers, as well as Ferris residents. My grandfather was Justice of the Peace in Ferris so he always got a lot of free tickets to the show. One year they did a show of "Uncle Tom's Cabin". They gave two shows a day for a week. Aunt Mary's three girls and my brother and I went to almost all of the shows! We later spent may happy and hilarious hours doing our own version of the play. We especially enjoyed acting out the parts where Simon Legree abuses Uncle Tom and Elijah escapes over the ice blocks on the river from the chasing bloodhounds! We soon branched out and began writing our own plays with villains and mortgages due and abused heroines. We were both the actors and the audience.
We also had our secret society called "The Order of The Crawfish" with the secret signal being a pinch. We had our own Indian tribe. We went hunting together. I had a 22 rifle from the time I was 8 years old. The tribal rule was that we had to eat anything we killed. I remember well the time we shot a wood-pecker by mistake (we were actually aiming at a squirrel) and decided we had to obey the rule anyway, so we boiled it and tried to eat it, but it was so bad we just couldn't! We went hunting quite often and enjoyed eating squirrel and rabbit that we shot. Our usual fare, however, was fried chicken. (18)
I remember one time on one of our adventures, Roma was bitten by a copperhead snake. We took turns sucking the poison from the wound on her ankle. We were successful as she didn't have any noticeable after effects.
One summer, after getting to attend a Barnum and Bailey Circus, we spent the rest of the summer holding our own circus. We used an empty corn crib on the farm as our tent. Ruby allowed us to decorate her with fruit coloring from the kitchen so she could act the part of the "Wild Man from Borneo". We painted stripes on a calf with green paint for our zebra. An old sow provided circus rides and we persuaded Nell Shirey, a blonde girl about my age, to allow us to try lifting her by her hair with a rope over the beam in the grainery. We got her feet off the ground before her screams induced us to stop. Just as we did with our plays, for our circus we furnished our own acrobats and audience. We felt a bit disappointed that we had to use cider for our drinks instead of real soda pop. Of course the apple cider was actually much better than the artificially flavored soda pop of those days. (19)
We thought our circus was a great success, but Uncle Joe was somewhat put out by the paint on his calf and he said we rode 50 pounds of lard off his sow!
Whenever a doll was broken beyond repair or an animal pet died, we would hold a funeral. We had our own special graveyard in a small area at the farm for these private funerals. Ruby and I were the leaders at our funerals and would take turns preaching the sermon and acting as chief mourner with plenty of tears and sobbing!
We were inventive and ready for almost any occasion. One time an old hen escaped from Grandmother Salisbury's yard and took her little chicks with her down to the railroad tracks where she could always find grain spilled from the grain elevator there. This time the train came by and killed all the baby chicks except one. This one escaped with his life but lost one of his legs. We children prevailed on Grandmother to let us keep the chick and take care of him. We nursed it carefully and then supplied it with a series of wooden legs as the chick grew into a large Rhode Island Red Rooster, which we named 'Peter the Great'. Peter lasted for several years and then one day he made the mistake of wandering into the pig pen on the farm and was killed by the pigs. We rescued his body before the pigs could eat him and held a grand funeral!
We observed all the holidays , but I think the favorite was the Fourth of July because we children loved the fireworks so! We were always very careful and none of us were ever hurt by our fireworks.(20) Another thing we loved about the Fourth was the annual hot air balloon ride and the big dinner at our house. Also, the band concerts in the park across the street from our house were much favored, as well as the speeches (my father was often the main speaker), fireworks, and soda pop.
Other happy times were Thanksgiving and Christmas when our families would get together. Uncle Joe frequently dressed up and acted as Santa Claus at the family Christmas gathering, which was usually at the grandparents home.
We had moved back to Carthage so could attend the 7th and 8th grades. My cousin, Dorothy, attended those grades with me, although she was two years older. I was only 11 years old when I passed the 8th grade exams and was entered into high school!
After 8th grade graduation, my father took me to the courthouse in Carthage and introduced me to Mr. Ferris, the County Superintendent of Schools. (I don't remember, but it is possible the town of Ferris was named after his relative.) He was very friendly to me and said that he had noticed that had gotten very good grades in the eighth grade. He asked me to do a little chore for him. He wanted me to take an exam. I agreed. I wrote out the answers to his questions and finished in about an hour. He took the exam and graded it then told me I had rated about 9O%. He also told me it was the same exam he gave to the County school teachers and if would come back to him when I was 16 years old, he would give me a teaching certificate! I never did, however, because we moved away about a year later.(21)
One of the good things about living in Carthage was the Carthage College, sponsored by the Lutheran Church. My father received his Batchelor's Degree from Carthage College and then went on to the University of Illinois where he received his Master's Degree in Geology. Years later Carthage College gave my father an Honorary Doctor's Degree. The College ran an academy department equivalent to high school. I think my father may have done his high school work there, but I am not sure.
I was so young and so small I thought I would be more comfortable at the academy than at the local high school, so my father managed to get me registered in Carthage College Academy for my first year of high school. I liked it and felt I did well there.
One of my courses that year was Latin, taught by Miss Emily Pennock, a professor. Each year it was the custom to have a 'stunt fest' at the end of the academic year, with each class in the college and the academy eligible to enter a performance. We, in the Latin class, proposed to present a play in Latin to represent the Freshman class of the academy. Our play was called 'Medicus" and the plot was about a doctor who treated a twin for measles, gets her confused with the other twin and believes he achieved a one-day miracle cure for measles.(22) I was cast as one of the twins. Our play was a success and we were declared winner of the stunt test and received a $50.00 prize. Miss Pennock guided us to spend this prize on a bust of Julius Caesar for the Latin classroom. I felt very satisfied with my first high school year and made better than average grades.
It was after my first year of high school that my father felt he had a call to work in the RLDS Church and my mother wanted to move to Missouri to be nearer her parents, so we moved to Independence, Missouri. My father became Church Historian with a grand living allowance of $40.00 per month. So, at the age of 12 years, I entered Independence High School as a sophomore.
Money was so tight that I went to school in shabby clothes that didn't meet the standards of that time, which were for much neater dress than was acceptable years later. I believe this was part of my difficulty. Another thing that was difficult was the existing general prejudice against anyone connected with the Mormon faith. Sixty years before, Governor Boggs had issued a decree declaring that all Mormons in Missouri should be shot on sight. This rule was not actually rescinded until 105 years after its first declaration.
I still have a foot stool that I made in manual training class that sophomore year in Independence. My disaster came after the first six weeks of school. I was called into the School Principal's office to explain why I had not attended the first six weeks of Latin class.(23) I had not missed a day of class and I had a student who had sat next to me in class testify to that fact. However, the teacher's attendance record showed no attendance credited to my name on the class roll. The problem was compounded because the teacher had left the school for a distant job, and the new teacher took up the class with a faulty record to go on. A great fuss was made of my supposed dereliction and a lot of pressure was applied to me to admit my absence from class. I refused to confess to something that wasn't true. I had not missed a single class during that six weeks!
This argument continued until the original teacher returned for a visit just before the Christmas holidays. A grand inquisition was held and I was confronted by the original teacher. She said, Oh, is this Winfield Salisbury? I thought he was ____(she named a student that had officially dropped the class) She assured the principle that it was a case of mistaken identity. The principal and other school authorities chose not to believe her nor the student who had testified in my behalf. At the start of the second semester, I was introduced to each class with the explanation, "This is Winfield Salisbury, he is incorrigible. He does not believe in obeying the school rules." As a result, all of the students, except a few of my friends, treated me as though I had a contagious disease. I found that I could get good grades in Math and Science courses where definite answers were required. History, Civics, English, etc. where essays were desired, my efforts were never satisfactory. I got A's in Math and Science, but only C or C Minus in all other classes.(24)
Near the end of my senior year, the principal, Mr. Street left for another job. (He was the one who gave me a bad time over the mix up about my Latin class attendance.) A committee took over his duties. This committee was headed by a 90 year old teacher we knew as Miss Brown. Just before graduation she called me into her office and informed me that, although my record and grades entitled me to graduate, she would not permit me to have a diploma because, quote: 'you would be a disgrace to the school." This was the same Miss Brown who told Harry S. Truman that if he ever amounted to anything to give her a phone call. She didn't even give me that option! So I never actually graduated from William Christian High School in Independence, Missouri, even though I completed all the requirements!
I had never told my father about my difficulties at school. He had a quick temper and I knew that it he knew what was going on, he would raise such a rumpus that I would never be able to remain in school. Strangely enough, the school authorities never notified my parents either. (Perhaps they knew they were in the wrong!)
By the time I would have graduated, my father had accepted a position as professor of Geology at Texas A & M and had been there a year. After that school year ended, we bought a Model T Ford and when Dad found difficulty in driving, I, at age 15, drove us to Texas.(25)
When we arrived at Texas A&M we found that there were no faculty houses available on campus, so we rented an upstairs apartment in Bryan, Texas, a few miles away. I presented my high school record to the college and was told my record was satisfactory and they were not interested in whether or not I had a diploma. So I was accepted into college.
At that time Texas A&M was an all-male military school, as provided in the annex agreement when Texas became a state. Therefore, I was required to join the R.O.T.C. A provision of the statehood treaty allowed that all graduates of Texas A&M were to be accorded the same privilege of joining the Armed Services of the USA as were the graduates of West Point.
When I went in to register and get my uniform, the sergeant in charge looked at my registration papers then looked up at me.
"We have a problem here" he said, "Please stand at attention".
I stood up as tall and straight as I could. He looked me over again.
"Well," he said, "You look sturdy enough. I believe you can hack it".
He then took a black crayon and wrote the number 16 on a slip of paper which he handed to me and told me to put it in my shoe. After I put the paper in my shoe, I again stood up straight and tall.(26)
"NOW," said the sergeant, "You're over 16, aren't you?"
"Yes, Sir!" I answered, straight-faced.
"You're in," he answered.
That's the last I heard about entering Texas A&M at age 15. I was allowed to live at home with my parents because of my father's professorial status. This was unusual, because all students were generally required to live in dormitories on the campus. Freshman (or "fish" as they were required to call themselves when addressed by upper classmen) were assigned three to a room in a dormitory appropriate to the section of the service which they had chosen. Because of my ham radio experience I chose the Signal Corps. I was assigned to a room with three other young men and was required to be there during study times during the day.
I remember one of my roommates was named Muller and he was part American Indian, a very likeable guy. Another roommate was Stubberman, who was blond and showed his German descent. His grandmother belonged to a wealthy Texas family who owned the largest ranch in Texas at the time (a whole county). She and her immediate family were bitter because she had been excluded from her inheritance because of her marriage to a young man of German descent who was not approved of by the head of her family. Stubberman was my special friend and I still remember our association with a friendly feeling. He was from Quero, Texas, a place famous for the turkeys raised there and for the big yearly turkey round up called the 'Turkey Trot' round up. I heard that he became a successful lawyer there. (27)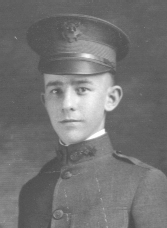 The hazing of Freshmen was supposed to be suppressed by the college because of an accident that happened two years before I arrived there. Evidently a young man had been killed by being forced to eat soap in a hazing incident. However, hazing still went on. A particular sophomore took me and my roommates on for his special attention. We were required to stand at attention and answer with our title and name., such as 'Fish Salisbury, Sir!" Infractions, or imagined ones, might call for the freshman to bend over in what was called 'the position of a soldier' and be paddled with a broad, flat paddle. Sometimes the paddle had a lot of one inch holes in the blade, which made it a lot more painful. I had a few blood blisters on my rear for a while.
We stood up stoicly to this hazing, as it was the custom, until the first six weeks ended and we got our grades. All three of us had gotten an 'A' in Military Science (commonly known as 'Bull Ticks'). Our sophomore tormentor only made a C in this course and so he proceeded to punish us for getting a better grade than he did. We had had enough! We decided this was unfair hazing and worked up a plan of revenge.(28)
I had learned a lot of chemistry on my own during high school and I was taking the freshman chemistry course . I soon had the chemistry laboratory class organized. The lab was in an old building that didn't have plumbing, so the sinks in the lab all drained into a large stoneware jar at the end of each counter. After the first two weeks, with the help of my classmates , I instigated a system so that when we emptied our test tubes at the end of the class period, the stoneware jars would explode with fireworks. It drove our poor instructor up the wall!
All this experience came in handy when we decided to take revenge on our sophomore hazer. I told my roommates I could make an exploding bomb. I did this by mixing dry chemicals in a Prince Albert tobacco can with some small pebbles. When we were all ready, one of us asked our sophomore for some study help and got him out of his room while another of us slipped into his room and smoked the end of his rifle barrel with a candle. When the sophomore returned to his room, I went up to the top floor of the dormitory and threw my Prince Albert can down on the concrete in the center court of the dormitory. The explosion echoed and sounded like a rifle shot. As it was against the rules to have ammunition or fire a rifle in the dormitory, the of officer of the day immediately called for everyone to be confined to quarters for inspection. This inspection consisted of testing the end of our rifles with a white glove. Of course our sophomore's rifle was the only one that produced a black smear so he was convicted by circumstantial evidence. He received so many demerits that working them off kept him away from us for the rest of the year. (29)
I have since thought that some of our officers may have suspected what actually happened but approved the precision of the action as an example of military planning. I took a course in blacksmithing that year in which I learned to weld pieces of black iron with the aid of a forge, using an air blower on a coal fire to produce enough heat to get the iron white hot. I made a pair of tongs, an iron chain with each link welded, and a hardened cold chisel. I enjoyed this work and received an 'A' in the course because my cold chisel could be driven deep into a block of iron without being so brittle as to break or lose it's edge.
I did well in all my classes that year except my last semester of English. Just as the end of the last semester was nearing, it was decreed that an 800 word test in spelling was required for for credit in English. A grade of 80% or better was required for credit. I didn't then realize that I was dyslexic which interfered with my spelling ability. I took the exam in spelling six times and got a grade of 79% each time so I was denied two hours credit in English.
After the first year at Texas A&M, the college agreed to give us campus housing. My father went to claim his assigned house and found someone else moving in.(30) When questioned, the college authorities blandly explained that the house had been assigned twice and so it was first come, first served. My father was insulted by this and felt it was discrimination against a northerner whose father had fought for the north in the Civil War. As a result., he resigned from his professorship and refused to return in spite of many conciliatory telegrams and phone calls, none of which solved the housing problem. We moved back to Independence, Missouri, so I didn't get to continue college at Texas A&M as I wanted. My mother felt that age 16 was too young to be so much on my own.
At that age I liked the military drills and the discipline of a military environment and would have liked to continue school at Texas A&M Also I was very much in love with a young girl about my age named Frorence (Floy) Sherril. I met her when attending the RLDS Church in the country near Bryan, Texas. Her father was a medical doctor and lived on a large ranch he had inherited that was near Caldwell Texas Floy and I both felt very much in love and were disappointed that I was moving away. When we were all packed and ready to begin our trip back to Independence, Floy and her parents came to see us off. Floy and I kissed goodbye and assured each other we would soon be together again. I never saw her again. We wrote for a while, but soon realized that she wanted to marry and many years before knew it would be many years before I was able to marry and support a family, so I stopped writing and didn't respond to pictures she sent me. (31)
Floy did marry about three years later. She had two sons who died in a tragic attack of a childhood disease. Soon after that she was divorced.
I had a long way to go before I eventually had a new love and a family.
During my years in Independence High School (before my Texas A&M experience), I really led two lives. When I came home from school each day, I would try to forget the disappointments and stings of misery I had to endure at school by immersing myself in the study of chemistry, especially as it related to explosives and fireworks (which I had loved ever since my first Fourth of July experience). I also studied electricity, which I found exciting from the time of my success in making a spark coil, and 'wireless' as a ham radio operator.
I had one success in high school that the teachers saw fit to ignore in their zeal to torment me. When the ham radio club was asked to demonstrate wireless telegraphy at a high school auditorium session, I was chosen by the club to be the speaker and demonstrator because of my ability to understand and explain each part and it's function in a wireless system. George Plank (who had fine equipment because his wealthy parents indulged him in his hobby requirements) was a radio club member who operated a spark transmitter a few blocks from the school and I operated a receiver in the auditorium. Loud speakers had not yet been invented, but the students were able to hear the Morse code signals from a pair of ear phones we put on the stage, if they remained remarkably quiet.(32)
I explained how wireless waves were generated and the function of a crystal detector and ear phones to make the signals audible. I also explained the new invention of the DeForest electronic triode, which was already changing the whole process.
After my lecture and demonstration, the science teacher (physics and chemistry) congratulated me on explaining electron emission from a heated wire in a vacuum, which was the basis of the DeForest triode. She told me she understood clearly for the first time several things she had previously found to be obscure. (I had received A's in physics and chemistry.)
My performance on that occasion changed the way the other students perceived me and afterwards I found acceptance by them. However, except for the science teacher and the geometry teacher (who considered me a star pupil) my relations with the teachers didn't seem to change. Most of them treated me very shabbily.
I had my own laboratory in the basement of our house, next to the old coal furnace. I continued to learn, experiment, and had many successes. I had a regular gun powder factory there. I made my own cannon and furnished my own gun powder for it. I used a steel pipe, originally a support for a bicycle seat. I spent many afternoons firing china marbles through the side of our woodshed when we lived on Short Street in Independence.(33) (There was a rumor that a gang of teenagers known as the 'Short Street Terrors' existed. All the parents believed the gang did exist, but they all believed that their sons did NOT belong. The truth was that no such gang existed at all! There was just me and my explosives!) I was known to the neighborhood boys as the explosive expert. I won't give my formula for explosives here, since it might be misused by some enterprising youngster. It I had tried to buy gunpowder at that time, at my age, I'm sure I would have been refused. However, I could buy the ingredients I needed from the local drug store and hardware store without any questions asked. Many of my explosives were much more sensitive and powerful than black powder, but I was also able to manufacture ordinary black powder based on the information I got from my father's chemistry book.
One of my favorites was a mixture of powdered ingredients which included red lead and powdered aluminum, used as a basis for aluminum paint. This mixture was soaked in a solution of old movie film dissolved in acetone so it could be easily molded in solid pills of one fourth inch diameter and one fourth inch thick. These pills would explode with a very satisfactory bang If they were ground under a shoe heel on a concrete sidewalk. They also worked very well on the track of a street car that ran between Independence and Kansas City, Missouri. This street car passed within about a block of our house on Short Street.(34) I used to line the track with those pills, held in place with tiny wads of chewing gum. The first World War was beginning about this time, so the street car line had a uniformed army soldier on the car and when they passed over my banger pills the car would stop and the soldier would get out, look all around, then fire his rifle into the air. I thought that was splendid cooperation in enhancing my fireworks!
One day I put about an ounce of my explosive mixture in a lead foil package and placed it on the track that ran in front of the drug store at Union street, where got my chemical supplies. When the street car arrived, the first wheel mashed the package and the second wheel set it off. There was a tremendous bang. The big front window of the drug store seemed to bow inward, but, fortunately, it didn't break. The steel rim of the street car wheel was flattened and when it started up and moved on, it went bump, bump down the track. I think the druggist who sold me chemicals suspected who was responsible for the explosion, but he didn't say anything, probably because he was afraid of being considered an accomplice.
I once placed three of my 'torpedos' on the railroad track that ran between Independence and Kansas City, Missouri. When the train ran over them and caused the explosion, the train came to a grinding stop. According to the standard emergency stop policy, the conductor had to walk a mile into the station to get permission to move the train. (35)
I was never discovered in these escapades because I felt I couldn't trust any helpers. However, enough was known about me to result in a reputation among the neighborhood boys as an explosive expert. This reputation led to my experience with nitroglycerine.
I had tried to make nitroglycerine and was, I'm glad to say, unsuccessful, and when had tried to make the explosive picric acld, I poured the nitric acid too fast and the reactive heat blew it out of the test tube and onto my face. Fortunately it didn't get into my eyes. Dr. Cowan, who lived across the street, treated my face, but I had yellow nitric acid spots that remained for the next month.
About six weeks later had another close call. I had been drying a batch of gun powder on top of the furnace and when I began to mash up the lumps that had formed in the drying process, it exploded in my face. Again, I was able to protect my eyes but my lower face was badly burned. My father called to me to come up from the basement as it was time for school. When he saw me, he told me to go wash the black from my face before going to school. I washed the black off and in the process washed off the burned skin, leaving my chin and lips and part of my cheeks red and raw. When the feeling returned I had my first and worst experience with real pain!(36)
Dr. Cowan again treated me, then coated the burned area with a low temperature wax. This was evidently a good treatment as I have no noticeable residual scars. My face was NOT an appealing sight for several weeks so I wore a cotton mask so as not to be so offensive to others while healing. I was such a sight that the family had me eat in the kitchen, alone and out of sight, for the next few weeks, until I was healed enough so as not to blight the family meals!
About a block from where we lived on Short street , there lived a man who worked as a 'powder monkey' in the stone quarry at the west end of the street. His doctor told him he was prescribing nitroglycerine pills for his heart condition. He found the pills so expensive he looked for an alternative, which led him to bring home from the quarry a pint whiskey bottle full of nitroglycerine. Fortunately his wife was able to convince him not to use that instead of his pills! (Even a micro amount of that would have been an overdose and surely fatal) After this pint of nitroglycerine had sat on his fireplace mantel for a week, his wife finally persuaded him to get rid of it. He called his young son, who was about my age, and told him to dispose of it. Because of my reputation with explosives, he brought it to me. Although I had no real idea of the power of nitroglycerine, I was experienced enough to be cautious.
I decided to try out a small amount. I got my pipe cannon and stuffed some newspaper wadding in the muzzle.(37) Then I dipped about an inch of ordinary twine in the nitro. I carefully threaded this into the touch hole of the cannon. I carefully placed the bottle of nitro on the thick grass in the yard to the side of the house. I then carefully dipped the end of the string in kerosene. I lighted the kerosene and then cautiously stood back a good distance. When the flame reached the nitro it exploded so violently that it split the steel barrel of my cannon into an almost flat sheet. The violence of the explosion was very frightening to me and I didn't want any more to do with such wild stuff. With the help of my friend, I tied a long string to the neck of the bottle containing the nitroglycerine and very carefully carried it to a manhole in the middle of the street. We lifted the heavy lid to the manhole, then carefully lowered the bottle of nitroglycerine down the hole. (We had removed the cork from the bottle.) By manipulating the string, we managed to gently tip the bottle over so it emptied itself into the drain. A rainstorm that night washed the nitro away and eased my mind about the street exploding. I was very glad to be rid of such a powerful and dangerous explosive!
I had a friend named Vance Eastwood who ran the projector in the local movie house. I sometimes helped him in return for a free movie. The projector had to be hand cranked at a very uniform speed and it helped if the job could be shared. The projector light was a carbon arc light and I learned how to make arc lights.(38) We used some of the movie house carbons to do home experiments with arc lights, run from the 60 cycle house current at home. I made a resistance from a series of iron wire springs, taken from curtain rollers, to limit the current. I found I could make a satisfactory arc light to use as a search light from a lard can and a reflector from an old fashioned acetylene car head light. I had to put pennies under the fuses at the house electric meter to prevent the fuses from blowing when I ran my arc light. The windings of the watt-hour meter smoked a little and I am sure did not keep up with the power drain I imposed.
I learned to do arc welding and had sore eyes for about six weeks because I didn't have protective goggles. I also made an arc furnace from a nest of flower pots with the holes in them being used to adjust the arc carbons and for connecting them to the electric current. I was able to melt a small batch of metal with my arc light.
At the end of the first World War, several young men in the RLDS Church had returned from the Signal Corps of the service. Arthur Church, Paul Anway, and Justice Allen formed a ham radio club for boys in the Sunday school. They persuaded F. M. Smith, the RLDS Church President to allow them to erect a 100 foot high windmill tower in the church yard. I and others in the club laid bricks to erect a small building in the base of the tower as a radio and club room. After the war many of the military people wanted to continue the wartime ban on amateur radio operators.(39) However, there were enough officers and men returning to civilian life who had been radio hams before the war to question this policy quite actively. They prevailed on the navy communication people to OK ham radio, provided it was confined to wave lengths of 200 meters or less, which were considered by the navy experts to be forever useless. Thus, the exploration of short waves was left to the radio hams. A few special ham radio licenses were issued to special radio clubs for the operation of spark telegraph at 375 meters.
Arthur Church obtained a special license for 375 meters and one kilowatt transmitter power for our radio club. An antenna was erected from the windmill tower we had installed on the church steeple. F.M. Smith was sympathetic because he had wanted to study electrical engineering but was persuaded by the church authorities to take a Doctor's degree in Psychology instead, as preparation for succeeding his father as church president.
This is how I became introduced to the theory and practice of wireless, as it was then called. Justice Allen became my special friend and eventually spent one semester at the University of Iowa while I was there. Justice had a commercial wireless license and spent some time at sea as a wireless operator on freighters, until he became a radio operator for one of the big Chicago radio broadcast stations. I was very sad when he died of a brain tumor not so long after we spent our time together at the University of Iowa.(40)
I had a number of friends in the wireless club. Paul Thompson lived on Short Street a few houses away and we had many adventures together. Another friend was Warren Peak (known as Peakle), and also Harold Edwards. Harold Edwards had worked as a line telegraph operator for Western Union. He had a fabulous knack for Morse Code. He could copy at least 60 words per minute on a typewriter and switch from telegraph sounder Morse to wireless Morse (international Morse) in an instant at any time. Harold had grown up in Sand County in Colorado where he started riding a bicycle at an early age. The muscles he developed riding in sand made him a champion. He won the Kansas City, Missouri bicycle race over a lot of hills year after year. It was a 25 mile race and he usually made it in a few minutes less than an hour. In fact, the local street car company hired him as an electrician at a young age just to have him wear their logo on a sweater during his races. He learned practical electric lore at our wireless club and was considered an expert electrician. Harold and I had some interesting projects together. George Plank gave us a form he had made for a Tesla Coil secondary. It was about a foot in diameter and five feet long made of wooden slats set in round wood ends. We wound it with about 18 gauge wire with cotton string in-between the turns. We had heard that this would increase the voltage, but no one we knew, knew why. In fact I heard later that Tesla himself did not know how to predict the voltage he could get from a given design.(41) The voltage is not determined directly by the turns ratio as it is in an iron core power frequency (60 cycles per second) transformer. This was known. But the true formulation was not then generally known. A Tesla transformer consists of two coupled resonant circuits, one of low characteristic impedance (the primary) and a secondary (high voltage last) of high characteristic impedance. The mathematics of two coupled resonant circuits is somewhat complicated because even it each is tuned to the same frequency the coupled pair will have two response frequencies. One, if the two circuits are in phase (come to a high positive voltage at corresponding ends at the same time) and another if they are 180 degrees out of phase and come to peak voltage in the cycle with a positive potential at opposite ends. This was not well known. The step up ratio of a Tesla transformer is the inverse of the ratio of the tuning capacitances of the two resonant circuits. Since the capacitance between the turns of the secondary adds to its capacitance, higher voltage is produced by reducing the high voltage secondary natural capacitance by separating the secondary wires by approximately an individual wire diameter.
Harold was willing to work with me on this and his family lived in a large house with a completely empty upstairs bedroom. We were allowed to use this room to set up our Tesla coil. We traded with some other ham wireless buff for a I KW- 25,000 volt Thordarson spark transformer such as was then used in ham spark transmitters.(42) We decided to make our own condenser (capacitance) for the primary. We made this with window glass plated in a soldered tin container and with copper sheet conductors against the glass. The container was then filled with transformer oil to suppress corona which we knew would allow the gases to be punctured by our 25,000 volts primary voltage. We used a customary rotary spark gap to produce a train of 120 pulses of primary spark oscillations from our 60 cycle house current. The results were beyond our expectations. We produced sparks five feet long with satisfying roars. We found we could take these sparks to a hand-held screwdriver without any shocks. And when we were in operation anyone touching a metal door knob in the whole house encountered a spark at least an inch long. We tested the glow in nitrogen filled light bulbs, which was spectacular, and in any other glass contained partial vacuum we could find. We operated this for about a month after school and on some evenings, until we encountered a line surge where we got a momentary much higher voltage. Our oil and glass condenser blew up and spewed glass and oil all over the room. The glass was imperfect and had failed where it contained some very small bubbles. I did not know until decades later that line surges propagate through the whole power system which will only last a microsecond but are produced because power operated contactors used to start electric motors do not close cleanly but bounce. The reopening on the bounce can cause very high voltage pulse because of the self inductance of the distribution transformers.(43)
Harold and I worked on wireless receivers also. Many years later Harold owned a motel in St. Joseph Missouri and invented a closet fold up bed which he patented and sold to a famous company for a considerable sum.
My friendship with Paul Thompson was closer and lasted a longer time while I was having my dreadful high school experience.
My parents frowned on my doing any work to earn money as they felt a boys work was relatively worthless and any payment would be a form of charity. Paul on the other hand was encouraged to mow lawns and run errands and have a paper route so he had money to buy fancier wireless equipment and also an old motorcycle which I sometimes rode with him. We tacked a clothesline wire on various telephone and power poles and had a telegraph line between our basements. I somehow managed to save up six dollars and bought a bootleg vacuum tube of a type then made from a test tube and peddled in defiance of patents. We had several radio receivers with crystal detectors. My fathers geology collection furnished galena crystals that worked best. The vacuum tube was a great step forward. Before it was available Paul and I would fly a kite with a copper wire string for an antenna and listen to Navy station N.A.A. at Annapolis, VA. Some of the weather reports were in clear Morse but most of the transmissions were in a five letter Navy code. (44)
We decided to put up an antenna mast on his house. We made one by bolting 2 by 4's together and bolted almost 60 feet of this to his chimney with appropriate guy wires. When we had it all in place we found we had neglected to place the rope in the pulley at the top to hoist the antenna. Taking the pole down and re-erecting it seemed too big a job. I finally volunteered and climbed the wobbly 2 by 4's and threaded a hoist rope of clothesline through the pulley. It was a scary project. Fortunately, I succeeded with only a few splinters in hands and legs, a minor damage.
With the antenna erected between this pole and a tall tree we could receive the navy long wave station quite well using a receiver consisting of three long coils (stove pipe coils. we called them) and a vacuum tube with a regenerative connection. Final tuning was done by the operator waving his hands near the coils to change their capacitance and fine tune the received frequency ( 16-20 K.C. for long waves in those days). When I discovered how to apply Armstrong's feedback system for a regenerative effect on my one tube radio receiver the results were so fabulous in terms of additional and more distant stations that I felt a great thrill of discovery and progress.(45)
Paul had a one cylinder motorcycle with a belt drive. The leather belt was old and frequently broke, so I often rode with him to help hold up the vehicle while Paul repaired the belt.
I remember a time when Paul rode alone and broke his leg when the machine fell over on him. Later that day he called me to come and help. His leg was in a cast but Paul wanted to go for a ride anyhow and needed me to help hold the machine up when we stopped or it the belt needed repair. So we went motorcycle riding in spite of Paul's freshly broken leg in a cast Paul was a very enterprising guy. Later he became a motorcycle racer. He went so fast through the center of Independence, Missouri many times that the police patrol could not catch him to give him a ticket. The local police asked him to come to their office and solved their problem by making him a deputy so that under the rules of that time they no longer felt it necessary to chase him.
Paul also bought a Gnome rotary engine at an auction and built and flew his own aircraft with the French World War I Gnome engine.
Paul was one of the members of the church radio club. With the 100 foot tower we erected and the brick building that I and others laid bricks for at the base of the tower, we had a specially licensed ham radio station with call letters 9ZH. (46) The special license allowed us to operate at 375 meters wave length when the post war agreement confined ham radios generally to wavelengths of 200 meters or less because the U.S. Navy, when they wished to eliminate ham radios after the first World War, were persuaded by the many ham operators in the Navy to accept the limit of these short wavelengths. They believed at that time that short wavelengths would never be of any value for communicating. We were also limited to a maximum power of 1 kilowatt for ham spark transmitters. Soon after we got into operation we were communicating with a ham in the state of Maine from our station in Missouri on a regular basis. Later developments of course proved the Navy's estimate of the value of short wavelengths to be spectacularly wrong. Soon after we got into operation we were amazed to hear voice transmissions on our receiver. The development of vacuum tube oscillators had made this possible in a limited way even at the later stages of WWI.(47)
End of this section - E.A.S