Here is an interesting
group of items from
the museum's collection.
(Click on text and images to go to separate sections.)
A SERVICE OF
NTA TELESTUDIOS LTD.
JANUARY, 1960
THIS WILL INFORM YOU ON Q&A ABOUT VIDEO TAPE COMMERCIALS
NTA TELESTUDIOS LTD.
1481 BROADWAY
NEW YORK 36, NEW YORK
TO TELL YOU:
WHEN - WHY - WHERE - HOW
TAPE SHOULD BE USED FOR YOUR COMMERCIALS
Editors Note: This Booklet Documents An Early Company That Produced Commercials for Agencies Outside the Network Environment - 1959/1960
---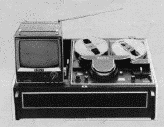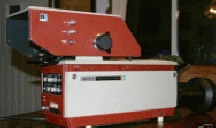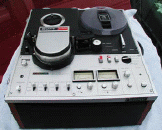 Videocorder TCV-2010, Sony Trinitron Color Camera & DXC-1200 & AV-8600 Recorder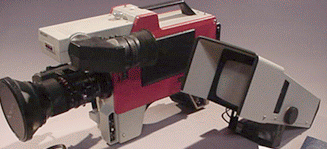 ---
Early Users of portable VTR Equipment


POP'tronics NEWS SCOPE
DO-IT-YOURSELF TV TAPE may be in the home sooner than you think, thanks to Westinghouse and a new slow-scan vidicon camera tube, Type 7290. With this tube, the TV camera produces one picture every eight seconds which can be stored on an ordinary hi-fi tape recorder. It is expected to open up applications for televised pictures in education, commerce and journalism at reasonably low cost. The major advantage of the system is its ability to use telephone lines and mobile two-way radios to transmit pictures. Future home applications may make the candid camera a thing of the past.
POPULAR ELECTRONICS
June, 1962
The section below is for single items...
when enough of them come
in to make a separate section, we shall do so.
---
Need spare parts for our Shintron Color Special Effects Generator/Switcher
Shintron, Model 370 Mark III Chromatic
Made in USA, circa 1983
With instruction manual # IM-370-5
---
General Electric Video Camera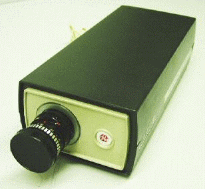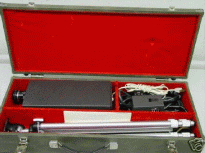 AKAI VC-X2U VIDEO CAMERA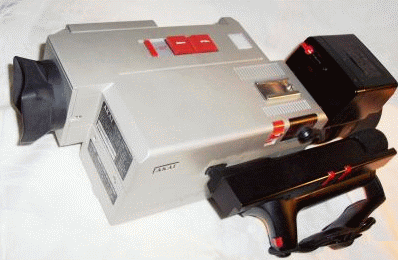 CONCORD COMMUNICATIONS SYSTEM Model TCM-55 Video Camera.
Concord Division of Benjamin Electronic Sound Corp. Farmingdale New York
Sylvania 600 Television Camera
Sylvania 600 TV television camera, with one lens, and Sylvania carrying case. Lens is a Cosmicar Television Lens 8.5mm, The Sylvania 600 is in excellent physical condition, is not solid state but has tubes in circuitry, is clean inside, working condition unknown, but is complete, no tubes or other components missing. We will look forward to testing this soon!
Looking for manuals and old ads that will help date this Sylvania 600 TV television camera.
Peek inside the Sylvania Model 600 Television Camera!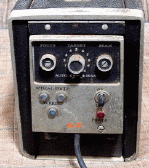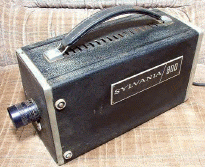 SYLVANIA 800 USED BY NASA
CLOSED CIRCUIT VIDEO CAMERA.
Vidicon tube with the rest solid state.
Can anyone shed some light on where this camera was used?
NASA Property Book 17 is probably early... Tell us more PLEASE!
Sony Video Equipment A V Series 1/2 inch Tape Videorecorder and Accessories Catalog Vintage 1971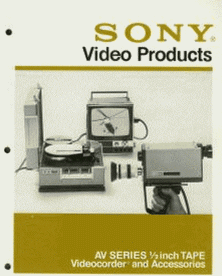 16 pages of photographs, specifications and features of the Sony Video Equipment A V Series 1/2 inch Tape Videorecorder and Accessories Catalog Vintage 1971. Models AC-2000, AC-3400, AV-3400, AV-3600, AV-3650, , AVC-3000, AVC-3200, AVC-3200DX, AVC-3210DX, AVC-3210, AVF-3200, AXC-1, AXC-5, AXC-10, BP-20, BP-30, CCB-5, CCB-10, CCF-10, CCF-25, CCF-50, CCJ-1, CCJ-5, CCJ-10, CG-1, CMA-1, CMC-1, CVA-103W, CVA-104W, CVM-110UA, CVM-192U, CVM-920U, CVM-1200UA, CVO-4, DCC-2400, EC-5M,EC-10M, EC-25M, SCM-19B, ECM-21, ECM-22, ECM-50, ECM-53B, ECM-21, ECM-22, ECM-50, ECM-53B, EXC-1A, EXC-1B, EXC-1C, F-98, GC-3, LC-100, LC-3400, 214 LENS, 507 LENS, MX-300,PC-1, PC-2, RFU-53W, RFU-54W, RGC-5, RGC-15, RGC-25, RGC-50, RH-5E, RH-5V, RH-7V, RH-72V, RK-34, SEG-1, TD-1, TUM-100, V-30D, V-30F, V-30H, V-31, V-32, VCL-8, VCL-16, VCS-31, VCT-1, VCT-20A, VMC-10A, VMC-25A, VMC-1B, VMC-10B, VMC-25B, VMC-50B, VMC-1C, VMC-1D, VMC-1H, VMC-1M, VMC-1Q If you have interesting Sony Videotapes that need converting we can help! TAPE TRANSFER! SAVE YOUR MEMORIES NOW! EMAIL INFO@SMECC.ORG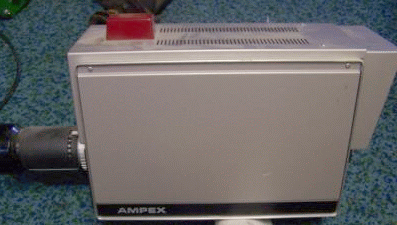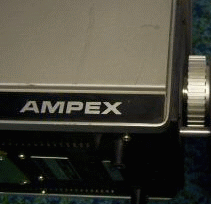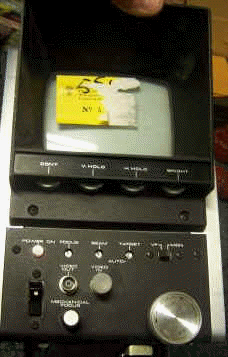 AMPEX MODEL CC-452... With FUJINON ZOOM LENS 1:2 F=14-70MM....
AKAI VT-100 & Vt-110 reel to reel VTR'S
with optional TV tuner.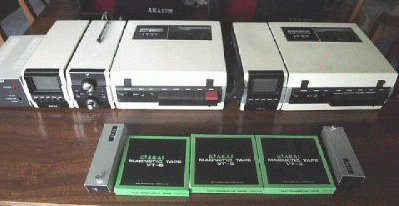 What's peculiar to this format was it's use of 1/4" tape. Even standard audio tape could be used, although without question, better image quality was obtained using Akai's recommended video tape.
The head configuration consisted of 2 heads in an Omega wrap. Tape speed was 11.25 ips which yielded a 20 minute recording time on 5 inch reels. The machines were monochrome and were capable of only monophonic audio. There was a later machine that recorded and played back in color also using 1/4 inch tape. A special version of this color machine actually had a time base generator or ability to connect to one according to rumor. This would account for it to be used as a field recorder for a local TV station. Not a great picture, but at the time a picture that could be recorded at a very low cost in comparison to the high priced ENG equipment.
Their strong selling point was their amazing compactness and light weight, though studio machines were also available. Image quality was just fair and no match for 1", but neither was their price nor their weight - making them truly portable.
We are always looking to acquire Video Tape Recorders (also known as VTR's, and cameras to go with them by Adda, Akai, Ampex, Apeco, Arvin, Asaca, ATV Research, Audiotronics, BASF / Eumig, Bauer Video. B&K Precision Instruments, Bang & Olufsen, Bell & Howell, Blonder Tongue, Cartrivision, CBS Laboratories, Conar, Concord, Craig, Crosby Enterprises, Dage, Diamond Power, Electron Corporation, Fairchild, Funai, GBC, General Electric, Fisher Price, Grundig, Gyyr, Hitachi Denshi, Ikegami, IVC, International Video Corporation. Javelin Electronics, JFD Manufacturing Co., JVC, Japanese Victor Corporation, Loewe - Opta, Machtronics Corp, Motorola, Machtronics, MVR, National, NEC, Nippon Electric, Nivico, Norelco, Panasonic, Peto-Scott, Philips, Polaroid, Precision Instruments, Quasar, RCA, Radio Corp. of America, Roberts, Sanyo, Shibaden, Sharp, Singer, Sony, Sylvania, Technicolor, Telcan, Televue, Toshiba, Videmo, Volna, Wesgrove, Westel Co., Westinghouse, Wollensak, Zenith and others...
Any format is sought EIAJ, quadruplex, EIAJ-1, EIAJ-2, , skip field, skip field video, non standard video, reel to reel video, vx format, ampex avr, pilot tone, M-II, MII, M format, 3/4-U skip-field, one-inch, two inch quad and helical scan units.
Some of the model numbers are: reel to reel, Umatic, AV3600, AV3650, AV3400, AV8600, AV8650, AV8400, NV3020, NV3085, WV3020, WV3085, VTC150, VTC300, VT700.
WANTED! Early black and white and
color large studio television cameras wanted!
Since we have a large Sony collection we are looking for any sony part numbered video equipment from the 60s and 70s and some later...
An interesting group is some of the equipment from the Sony Video Equipment A V Series 1/2 inch Tape Videorecorder and Accessories Catalog Vintage 1971.
This contains models AC-2000, AC-3400, AV-3400, AV-3600, AV-3650, , AVC-3000, AVC-3200, AVC-3200DX, AVC-3210DX, AVC-3210, AVF-3200, AXC-1, AXC-5, AXC-10, BP-20, BP-30, CCB-5, CCB-10, CCF-10, CCF-25, CCF-50, CCJ-1, CCJ-5, CCJ-10, CG-1, CMA-1, CMC-1, CVA-103W, CVA-104W, CVM-110UA, CVM-192U, CVM-920U, CVM-1200UA, CVO-4, DCC-2400, EC-5M,EC-10M, EC-25M, SCM-19B, ECM-21, ECM-22, ECM-50, ECM-53B, ECM-21, ECM-22, ECM-50, ECM-53B, EXC-1A, EXC-1B, EXC-1C, F-98, GC-3, LC-100, LC-3400, 214 LENS, 507 LENS, MX-300,PC-1, PC-2, RFU-53W, RFU-54W, RGC-5, RGC-15, RGC-25, RGC-50, RH-5E, RH-5V, RH-7V, RH-72V, RK-34, SEG-1, TD-1, TUM-100, V-30D, V-30F, V-30H, V-31, V-32, VCL-8, VCL-16, VCS-31, VCT-1, VCT-20A, VMC-10A, VMC-25A, VMC-1B, VMC-10B, VMC-25B, VMC-50B, VMC-1C, VMC-1D, VMC-1H, VMC-1M, VMC-1Q
Early closed circuit cameras even have a fond place in our collection here at the museum by manufactures such as:
1972 Dage 800 Studio Television Camera
Yep! it's big and heavy, it uses a 1" vidicon tube and the CCU (Camera Control Unit) and a Canon Lens in very good condition. The lens is really an entire cable drive system to operate this camera effectively. The lens itself is a Canon TV Zoom lens V6 x 16 16.5mm - 95mm 1:2 No. 22822.
---
Dage TV Camera
Tell us more! More photos and detail on this page HERE
Who was WCSC-ETV? Anyone out there worked for them?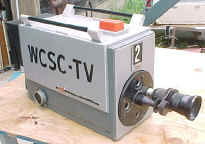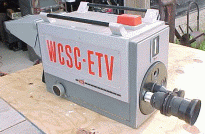 SINGER EDUCATION & TRAINING PRODUCTS
The new GPL 5000 changes the whole complexion of color TV..
Audiovisual Instruction November 1969 p. 13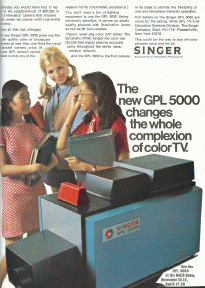 Yesterday you would have had to lay out in the neighborhood of $60,000 to get a television camera that renders flesh tones-all colors-with true-to-life accuracy.
Today all that has changed.
The new Singer GPL 5000 gives you the studio quality color of broadcast cameras at less than one-third the usual broadcast camera price. (A unique GPL sensor/optical system is only one of the reasons for its colorimetric excellence.) You don't need a ton of lighting equipment to use the GPL 5000. Being extremely sensitive, it serves up studio quality pictures with illumination levels as low as 80 foot-candles.
There's never any color drift either. The automatic NTSC single line color bar (SLCB) test signal assures accurate color throughout the entire transmission network.
And the GPL 5000 is the first camera in its class to provide the flexibility of one and two-piece (remote) operation. Full details on the Singer GPL 5000 are yours for the asking.
Write GPL TV/Link Education Systems Division,
The Singer Company, Dept. AVI-119,
Pleasantville, New York 10570.
This could be the way to ban off-color pictures once and for all.


We would like to buy this camera or other examples of SINGER
video Equipment. Please call us or drop a line!
added comments from viewers
In Boston, there were several of the B&W version of this Singer-GPL camera. What was intriguing was that the viewfinder was a bare-bones Conrac II B&W monitor rigged up inside a special frame and holder. Made a decent picture for a B&W vidicon, and surprisingly, used standard TV-33 B&W camera cable to link between the camera head and the small rack-mount CCU/power supply. This Model 5000 was probably all vidicon, and used dichroic mirrors, rather than a prism for light splitting.
Shibaden-Hitachi also introduced their version of a similar camera called the FP-1000, and a series that followed. God help us, but we worked with them and thought they were pretty good…. But compared today with the least expensive DV Camcorder, they were atrocious. That's progress for you….
Paul R. Beck
Paul R. Beck
Television, Radio & Film Group
Emerson College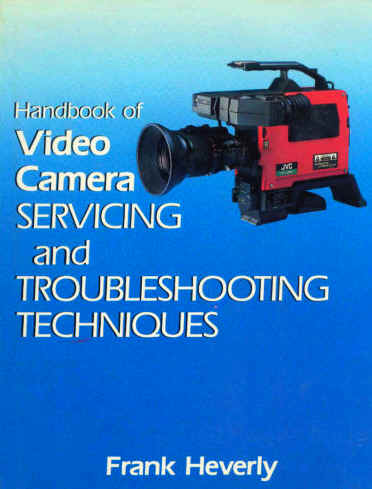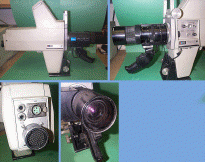 IVC 7000P Television Camera

International Video Corporation (IVC) model
7000P color Television Camera as shown.

This is an older unit and is probably a tube-type camera.
The lens is a Cannon TV Zoom Lens (PV10 x 12B,
12-120mm,1:2).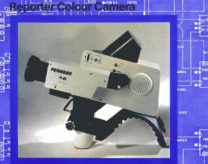 Bosch KCR40
Portable Camera
Sanyo VTR Portable Viewfinder "Vidicon" Camera (VC 500) with the Sanyo Portable Video Cassette "Videotape" Recorder (VTC 7100),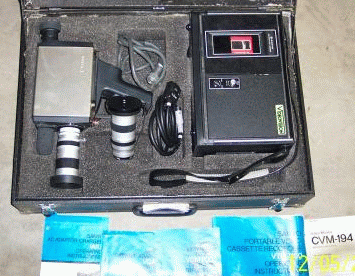 This grouping also includes 2 special lens, the Canon TV Zoom Lens, the J6 x 12, 12.5 - 75 mm, 1:1.8 (No. 801234) with both covers, and the Kowa TV Zoom Lens 1:1.8/12.5 - 75 (1311443), cables and manuals and a very nice customized factory suitcase to carry this equipment
CONAR MODEL 800 TV CAMERA
We are always looking for more of these and parts, and ads and
manuals and your personal experiences of using or building one!
More info, photos and ads HERE
---
---
International Video Service Center,
Canetronics and Richard Cane History
Link above to PDF of Catalog sheets and Articles! Click it!
Ed: Just a quick story on how the Video Power Supply came about. In 1980 I
opened a company with another partner called International

Video Service Center, located in North Miami, FL. I also had purchased a small
local power supply company who was doing the assembly of another product I
developed, It was an electronic currency validator, it detected the magnetic ink
in currency.
There was a need to power the portable VTRs of that era when batteries failed
or for indoor use. So the power supplies which were mostly sold for two way
radio base station use, I added the common EIAJ 10 pin connector and RCA
connectors to output the video and audio.
The Video power supply sold ok for awhile but then equipment started to change
and no more famous 10 pin connector, and then came the Asian competition.
I could no longer compete with their lower pricing.
Enclosed is some literature of the products, I have
more and will send it when I find it in my junk pile.

Regards,
Richard Cane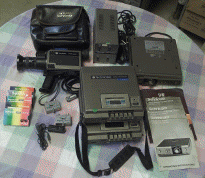 Funai / Technicolor CVC Video Recorder System
- 2 Recorder/Player Units
- 1 Color Camera
- 2 Power Units
- 1 Tuner Unit
- 1 Wired Remote control
- 2 RF Adapters
- 1 Carrying case
- 6 Video tape cassettes
- Instructions for each component plus a sales brochure.
---
The CVC (Compact Video Cassette) format was introduced by Funai in 1984. The small cassette size enabled a compact portable deck design. The format however was limited to a 30 minute recording time and used V30 CVC cassettes which was adequate for field recording but somewhat limited for situations not requiring portability. The cassettes used 1/4" tape, which was more prone to dropouts than wider tape formats.
Although it was 1/2 inch tape, the picture quality was comparable to early VHS machines!
Though various CVC machines were manufactured by Funai, most models were also re-branded and sold under the Technicolor label. These units also made an appearance with the MUNTZ Label on them and it is rumored that 'Mad Man Muntz' bought up large quantity of these units when they were discontinued.
Thee was even a version of the recorder with a small screen television also buit into the same unit!
The tape cassettes for the day were refreshingly small! They measured about 4" x 2.5" x .5" high - or a size similar to the standard day compact (although now getting obsolete) audio cassette.
Video Recorder Specifications:
Twin Rotary Head Helical Scan

Tape speed: 1.26 ips (32.1 mm/sec)
Video S/N: 43 dB (Y channel)
Resolution: 240 lines
Audio S/N: 40 dB
Audio Freq Response: 100Hz to 8 kHz
Airborne Westel Model WR201-BH-AGN
Video Tape Recorder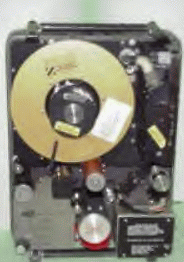 Airborne Westel Model WR201-BH-AGN. This unit was aledged to have been used in military aircraft. I don't really know what it is for. It takes 1inch. tape. and says it is an airborne video tape recorder with equalizing pulse. It has several connectors - bnc, and multi-pin connectors. E-mail is at info@smecc.org if you have any data or stories about one of these!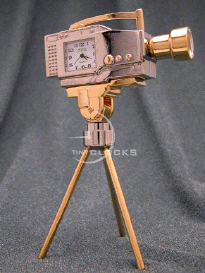 Tiny Betacam Clock! Cute!
TRIVIA!
One of the most popular of the coaxial connectors, the BNC was developed in the late 1940's. The name BNC stands for Bayonet-Neill-Concelman. Bayonet describes the interface coupling mechanism, while Neill and Concelman were the inventors of the N and C connectors. The BNC is essentially a miniature version of the C connector which is a Bayonet version of the N connector.
(or British Naval Connector) (or Bayonet Nut Connector)
Schofield on Saturday

---
Why VHS was better than Betamax
(from http://www.guardian.co.uk/online/comment/story/0,12449,881780,00.html)

In the first of his weekly columns for Guardian Unlimited, Jack Schofield debunks an urban myth

Saturday January 25, 2003

Read this, and the next time someone tells you that, of course, Betamax was superior to VHS, you can tell them that they are wrong. It's an urban myth.
This is not news: the information has always been available to anyone who could be bothered to look. However, it seems to me that the survival of this and many similar notions is not just a matter of techno-arrogance: it shows a failure to understand how technology markets work.
Soon after I joined the Guardian in 1985, to launch Computer Guardian, another journalist showed me an article he had written about the IBM PC. I went through the introductory paragraphs step by step and explained that, as a matter of fact, every single point was wrong. "Oh well," he said, "that doesn't matter. That's what everybody thinks".
That and similar experiences as an ordinary reader led me, eventually, to two conclusions. The first is that a lot of comment is based on a sort of received wisdom, a common currency, that appears to be picked up from the atmosphere. It certainly isn't based on reality. The second is that almost no journalists, and no geeks, have ever come across the concept of "the whole product", though it is well known to marketing people. Real people may not be aware of it, but the "whole product" model is an accurate description of the way they buy things.
Let's take a simple example: digital audio tape (Dat). Get someone to compare Dat with a humble C90 compact cassette and they will find Dat to be technologically superior, especially for recording music. However, if you consider "the whole product", Dat is vastly inferior for most people most of the time. This is why people still buy millions of cassettes, while Dat has virtually disappeared from consumer use.
The point is that when someone buys and uses a product, the technological aspects are a small and often uninteresting part of the decision. When you choose compact cassette, you are also buying into a vast infrastructure of capabilities, services and support. These include the availability of cheap cassettes on every high street, cheap personal stereos, and the ability to use the same format for a wide range of applications (personal stereo, portable radio/cassette players, in the car, in your hi-fi stack).
You are buying the ability to stick a cassette in the post to your relatives in Australia with 100% certainty that they will be able to play it - and what's more, you won't care about never getting that tape back.
Similarly, when someone buys a Wintel PC, they are buying the ability to choose from dozens of models from hundreds of hardware suppliers, or have one built to order, or build one themselves. They are buying the ability to access hundreds of peripherals, hundreds of thousands of applications, and millions of websites that work best with their system.
They are buying the choice of hundreds of magazines, thousands of books, and all the supporting services from educational courses to repair shops.
They are also buying the confidence that their system will keep progressing even if individual manufacturers fail.
In marketing terms, "the core product" - such as a car, a computer, or a video recorder - is just the start. You have to add on all the things like reliability, service and support (the expected product), its expansion capabilities (the augmented product), and its potential for future development (the potential product) to get "the whole product".
Since real people make real buying decisions based on "the whole product" (and if they didn't, we'd change the model), simpleminded comparisons of products by technological feature are very likely to get it wrong.
I've been operating with the concept of "the whole product" for about a decade. It's much older than that, of course, but I first discovered it in Geoffrey Moore's book, Crossing the Chasm: Marketing and Selling High-Tech Products to Mainstream Customers, published in 1991. That and Moore's follow up - Inside the Tornado: Marketing Strategies from Silicon Valley's Cutting Edge - are the two most important books ever written about hi-tech marketing. In the Valley, in the 90s, they were used as bibles.
It had a strong effect on me. When you get a new tool, you want to apply it, and I applied it. I'd spent half a decade deriding Microsoft Windows - as a user, I'd preferred Digital Research's Gem, and I was a keen supporter of open systems Unix - but it didn't take me long to work out that Windows had won.
"The whole product" model also provided a convincing explanation of why VHS had thrashed Betamax. VHS offered a bigger choice of hardware at lower cost, the tapes were cheaper and more easily available, there were a lot more movies to rent, and so on. All of this matched my own experience.
I remember perambulating Hammersmith (doing the Maplin run) and finding VHS recorders more readily available to rent, while the video shop had three walls of VHS movies and only one for Betamax.
Indeed, the main thing that didn't fit was the idea was that Betamax was "technically superior". Standing in a shop at the time, there was absolutely no visible difference in picture quality, and some reviews had found that VHS's quality was superior.
I "knew" Betamax was superior -- that was the received wisdom, even at the time - and maybe it was, in a lab. But I wasn't buying a lab test rig. In terms of "the whole product", VHS was clearly superior, so that's the way I went. Along with everybody else.
Later I found out that Betamax had owned the market, but lost it because Sony got one simple decision wrong. It chose to make smaller, neater tapes that lasted for an hour, whereas the VHS manufacturers used basically the same technology with a bulkier tape that lasted two hours. Instead of poring over the sound and picture quality, reviewers could simply have taken the systems home. Their spouses/children/grandparents and everybody else would quickly have told them the truth. "We're going out tonight and I want to record a movie. That Betamax tape is useless: it isn't long enough. Get rid of it."
Betamax was the first successful consumer video format, and at one time it had close to 100% of the market. All of the video machines in use and all of the pre-recorded movies were Betamax. It had a de facto monopoly, and an element of lock-in (because of tape incompatibilities). It lost because, at the time, it could not do what consumers wanted: record a whole movie unattended. And although Betamax playing times were extended, they never caught up with VHS.
Other elements of the oft-repeated Betamax story are also wrong. For example, while Sony was certainly slow to bring in other manufacturers, it had tried to license it to rivals such as JVC before VHS was even launched. Betamax was not generally more expensive: Sony had to slash its original high prices but generally it was competitive. Indeed, after it had lost the market, Betamax machines were often cheaper than VHS ones.
And at the beginning, there was no comparative shortage of Betamax movies to rent: actually, they were all Betamax. (Stan Liebowitz, Professor and Associate Dean of the School of Management, University of Texas at Dallas, has done most research on this, but see urbanlegends.com for a quick guide.)
Even if Betamax had been "technically superior", it wouldn't have mattered. VHS users have long had the chance to upgrade to the compatible SuperVHS format with superior picture quality. But rather than demanding better pictures for today's TV sets, consumers have shown more interest in LP (Long Play) modes that reduce the picture quality to provide longer recording times.
VHS won because "the whole product" did what people wanted at a price they were willing to pay. And when people use the VHS v Beta analogy, they are not indicating a market failure but their own ignorance.

Courtenay Browne
Econ 230
Dan Johnson
December 15, 2000
Sony pioneered the videocassette recorder innovations that opened the VCR market for heavy competition and continuing innovations in the field of video. The VCR was a novel technology that involved risk taking from companies developing it. Not only was it unclear whether the public would accept the VCR, but failures in the development process were common. VCR development is a prime example of Schumpeterian thought.
There was no clear public demand for home videocassette recorders but Sony took the supply-side initiative and risk and pushed the innovation. This indicates the ability of large firms to innovate well and the benefits of institutionalized research and development. The new innovations led to the emergence of the VCR industry and, therefore, many subsequent industries reliant on the VCR. Unfortunately for Sony, however, it resulted in being a victim, to a certain degree, of creative destruction. After Sony invented its Betamax VCR, the market opened up for VCR inventions and innovations by other firms. These firms chose to implement the VHS tape, which was non-compatible with Beta players, and the new technology destroyed the Betamax market.
READ THE ENTIRE PDF FILE! - It is great! CLICK!
Flying Toasters
High-flying NewTek, whose Toaster revolutionized video production, is screaming to the next level.
Flying Toasters - The story about NewTek and the Video Toaster
This is one of the best histories around - Ed Sharpe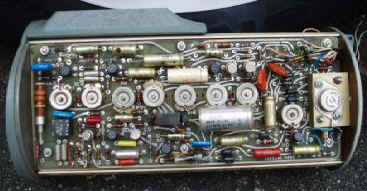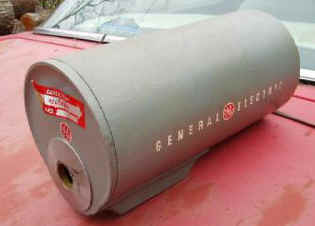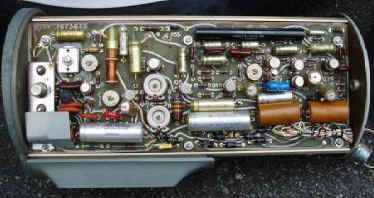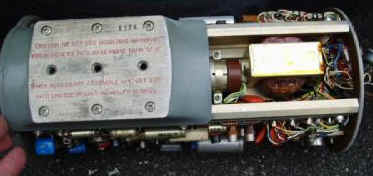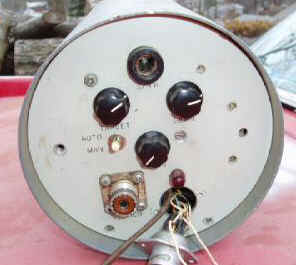 A television camera is focused by NACA technician on a ramjet engine model through the schlieren optical windows of the 10 x 10 Foot Supersonic Wind Tunnel's test section. Closed-circuit television enables aeronautical research scientists to view the ramjet, used for propelling missiles, while the wind tunnel is operating at speeds from 1500 to 2500 mph. (8.570) The tests were performed at the Lewis Flight Propulsion Laboratory, now John H. Glenn Research Center.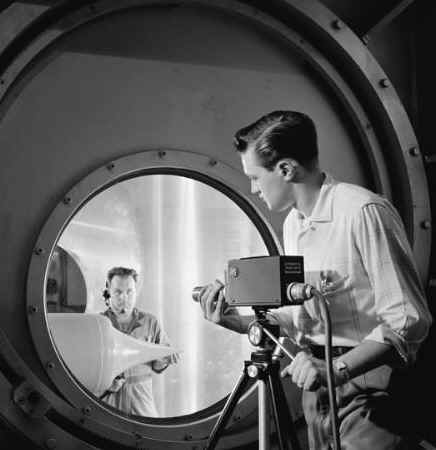 Vintage Motorola MOCAM
Television Camera V1000
Scott Time-lapse Box - U.S. Patent 4 271 437
To provide time-lapse of weather radar imagery on videotape.
By Xen Scott
just a quick pull of text from the embedded pdf we are doing....April, 1958 Technician-Engineer - thanks Ed Sharpe archivist for SMECC
IBEW Stations Get Ampex
Several stations employing IBEW technicians are on
the list as purchasers of the $45,000 production-model
Ampex videotape recorders. They include: KING-TV,
Seattle KGW-TV, Portland, Oreg.; KRON-TV, San Francisco;
WEAR-TV, Pensacola, Fla.; KENS (TV), San
Antonio, Tex.; WHAS-TV, Louisville, Ky.; and KHJTV,
Los Angeles. The first production model went to
KING-TV last November.

KGIL to New Building
KGIL, San Fernando, Calif., which employs members
of Local 45, has moved to new offices and studios at
1325 Van Nuys Blvd., Pacoima, Calif., where it has more
office space and two newly-equipped studios, plus a conference
area and an off-duty lounge. The station's
transmitter and towers remain at 14808 Lassen Street,
San Fernando.

AMPEX International
Two Ampex Videotape Recorders, which magnetically
reproduce all the sight and sound of TV, have been
exported to a London, England commercial TV firm.
Associated Rediffusion, a TV programming company,
plans to use the Ampex VR-I000's, as the machines are
designated, to pre-record complete TV shows for commercial
service throughout England.

Ampex Professional Products Division
has an export video specialist, Kurt
Machein, who is accompanying the two
1,350 pound machines to supervise their
modification to British broadcast standards.
Used in the British Isles only,

British TV. standard uses 25 picture
frames per second with 405 lines to the
frame, as compared with the US standard
of 30 complete frames per second
and 525 lines per frame. England will
be the fourth country outside the U. S.
to which Ampex has shipped Videotape
Recording equipment. Units have already
been shipped to Canada, Japan
and Germany.

Winner of the 1956 TV Emmy award
for the technical 'advance of the year,
Ampex has so far delivered nearly 100
Videotape Recorders to U. S. TV networks,
network affiliates, and independent
stations.
Technician-Engineer
TV/s Patron Saint
St. Claire of Assisi, a 13th Century nun who had
visions of a far-off church from her sickbed, was proclaimed,
last month, by Pope Pius XII as patron saint
of television. As such, she is protectress of technicians,
actor, announcers, stage hands, producers, directors, and
other toilers in the vineyard of TV.